Corbett National Park
The Corbett National Park has the glory to be India's oldest and most prestigious national park. Established in 1936 by the name of Hailey National Park it was renamed in1956 after Jim Corbett-the famous hunter, conservationist and author. The park is situated at the foothills of Himalayan belt and has unique geographical and ecological importance. The magical landscape of Corbett is well known and fabled for Royal Bangal tiger's rich presence. Spread across around 520 sq kms, the park has hills, river, forest, marshland and grassland. Over 650 species of resident and migratory birds can be found here. The park is divided into 6 zones – Bijrani, Dhikala, Sonanadi, Durga devi Jhirna and Dhela.
Dhela is a new eco-tourism zone of Corbett National Park included in tiger reserve zone in November 2014. This is the only area in the reserve's buffer zone open to tourists. The zone is retaining the attention of large number of tourist because of its wealthy flora and fauna open throughout the year, located at an approximate distance of 13 Km from Ramnagar City. It's a small village with around 250 families who are relocated from villages that were merged into the park. Dhela used to be the hunting block for the Britishers and in 1920 Sultana daku used it as a hide-out.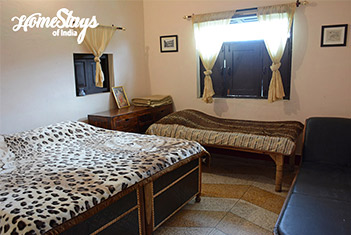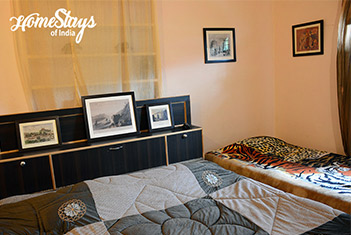 The HomeStay
The home-stay is located adjacent to the park in Dhela village. It is just 800m from the Jhirna entry gate and 400m as the crow flies from the park. You can hear a tiger roar or deer alarm calls at night in your room due to its close proximity to the park.  It has 4 spacious double bedded rooms, 2 western style toilets and a common area with television. All rooms have an extra bed. There is a beautiful terrace café from where you get a 360 degree view of the area.
Surrounded by the lush green farm lands, the home is a perfect example of eco-living. Most of the vegetables and herbs used in cooking come from our own kitchen garden. All the wastes are recycled and nothing in the house goes waste.
Know your Host
You will be welcomed by a charming couple, Sukhvinder and Sofia. Sukhvinder Singh popularly known as Sukhi, is a multi-talented person. He is an educationist, a naturalist, a collector and a great chef too. He also is an ex-hotelier and has worked with the Orbroi.  Do not forget to check out his huge collection of rare comics from silver age, the telescopes and other antiques he has collected over a period of time. He has great passion and love for nature and its creatures. It shows when he talks about the jungle.
Sofia is a Cultural Anthropologist from Finland. She is a very warm person, passionate about nature and an expert in baking. She can speak 6 different languages. After meeting Sukhvinder in 2011 she never thought to go back to Finland. Now both of them manage the homestay together with complete love and care.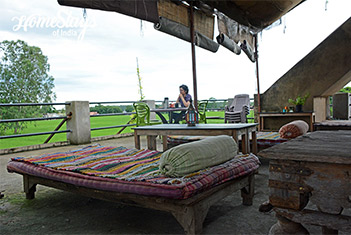 Food
This is probably the only place in Jim Corbett where you can have Continental, Indian and many other varieties of exotic dishes. Sofia cooks excellent Italian cuisine and baked stuff while Sukhvinder is expert in Indian cooking. Authentic Kumauni food also can be served on prior notice.
Activities
Jeep Safari • Nature Walk • Bird Watching • Village Walk • Bug Watching • Movie Nights • Star Gazing • Book Reading
Facilities
Parking • Running Hot Water • Laundry • Room Heater • Sauna • Terrace Cafe • Indoor and Outdoor Games • Tea and Coffee Maker • In-house Newtonian Reflective Telescope
Tariff
Double Room: 2100/-
Extra Person: 900/-
Including: Breakfast, morning and evening tea.
Lunch or Dinner: 250/- PP
Child Policy
Up to 6 years age: Complimentary
Note: We organise Tiger Safari also. Sauna, Bonfire, Extra food and Beverages are chargeable.
Points of Interest
Corbett National Park • Corbett Falls • Sitabani Temple
Note: Dhela and Jhirna zones are open throughout the year.