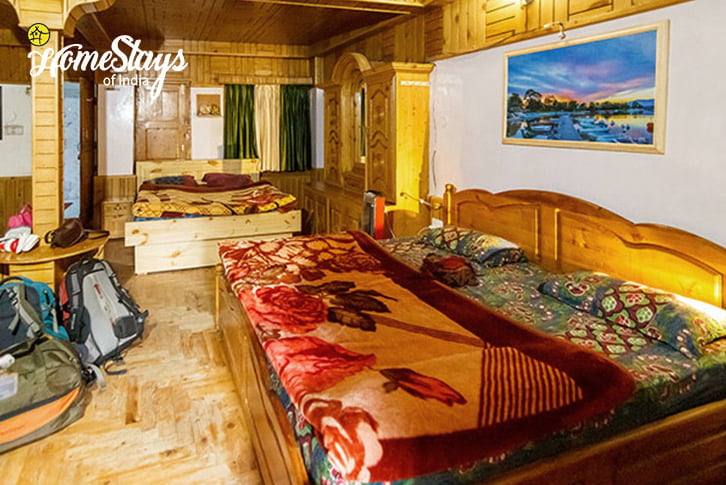 Parvati Valley
Once known merely for presence of Israeli tourists and touted as 'Mini Israel of India', Parvati Valley is much more than the simplistic label. A heaven for trekkers, hikers and for those driven by faith in the eternal, the valley offers something for practically everyone. Kasol is the main town which still holds that typical 'firangi' touch while Manikaran is home to ancient Shiva-Parvati temple, cluster of other temples and a very well revered Gurudwara. Sandwiched between tall mountains covered with thick Deodar and Pine forests, the valley floor has beautiful orchards and fields of apples, peaches, plums and other crops in abundance courtesy its fertile soil and water from Parvati river.
SumaRopa
A quaint settlement exactly 3 km short of Kasol town (towards Bhuntar), Suma Ropa offers you peace and freedom from noise and pollution that has already plagued Kasol town per se. A casual walk of about four km on an alternate route across the river takes you to Kasol and beyond via popular villages of Katagla and Chalaal. Five most popular properties are located in Suma Ropa, thus, creating a mini travel hub.
This is a soldier's dream. Colonel A.J.Raina bought this house from a friend in 2012 for his life after pre mature retirement which he already decided to be happen in 2017. Initially it was his summer home but once he was settled here permanently, he nourished it like a baby and officially opened its door for guests in 2018. Now it is an all seasons love affair. Every day of every season and every spell of weather is different and on a given day and at a given moment, the place holds more than one set of experiences for you. A young forest shields you from the busy road and voice of Parvati River which flow at walking distance, lures you into a peaceful sleep.
The homestay consist of a huge 5 bedded Attic on the top floor, a wooden Family Room on the first floor which is good enough for 5 people, a 3 bedded Executive Rooms and also a double bed room on the same floor. Ground floor has a standard room, best suited to backpackers. Best part of the homestay is a huge balcony cum sit out area where you can admire the nature around, while having a hot coffee.
While Colonel A.J.Raina and his team respect your privacy and choice of intake, they expect the guests not to ask any team members for marijuana or such like stuff. And yes, its a pet-friendly home.
Location: 3 km from Kasol.
Number of Rooms – 8; Total Capacity – 24
How to reach 
The nearest airport to Soma Ropa is Bhuntar (28 km). Kasol is 511 km from Delhi, you can also self drive and enjoy the beautiful route. 
Tariff
Niche: 2000/- (for 2 people)
Executive Room: 3000/- (for 3 people)
Attic Room: 3500/- (for 4 people)
Family Suite: 4000/- (for 4 people)
Driver's Stay: 450/-
Complimentary: Breakfast
Lunch/Dinner: Veg. 250/- pp. Non-Veg. 350/- pp
Child Policy
Upto 8 year: Complimentary (no extra bed)
What you pay for a homestay, brings a direct socio-economic benefit to locals. Be proud by not asking for a discount. 
Facilities
Running Hot Water • Room Heater • Seating Areas • Bonfire • Pet Friendly
Food & Beyond
We have an in-house kitchen that dishes out basic home cooked food for our guests. Meals and snacks can be served in your rooms as well as on the terrace. Bonfire on the terrace or in the jungle across the courtyard can be organised at small cost to have a musical jam session or just chat with your buddies.
A natural spring, colloquially called Teerath or holy place, is located at a walking distance from our homestay. Its history is associated with visit of the first Sikh Guru Nanak Dev ji. The water has amazing properties and is used by locals for treatment of respiratory diseases and general well-being. We shall provide two bottles of water drawn freshly from the spring to our guests on the day of arrival. Subsequent refills may be provided only if we have enough in our store and at a nominal fee. Cooking is done in spring water itself.
Activities
Riverside Walk • Trekking • Nature Walk • Hiking • Bird Watching • Star Gazing • Reading
Points of Interest
Parvati River (200 mtr) • Manikaran (9 km) • Kasol (4 km) • Tosh (27 km) • Malana (40 km)
Excursions
Trek to Kheer Ganga (6 hrs one way from Barshaini) • Walk to Malana Village (45 minutes from the road) • Drive to Magic Valley (Can be clubbed for a full day outing with Malana) • Trek to Rasol  (4 hrs one way)• Trek to Grahan (3 hours one way)
Know Your Host
Colonel Aj Raina, Sena Medal, a decorated veteran of Indian Army, owns the little jewel. A small team of dedicated personnel manage this place under the direct supervision of the owners. The team consists of young unemployed local guys who are bundles of raw energy and who have chosen to work and earn their bread rather than sulk and crib about lack of opportunities.
You may like to check more homestays for Homestay in Himachal