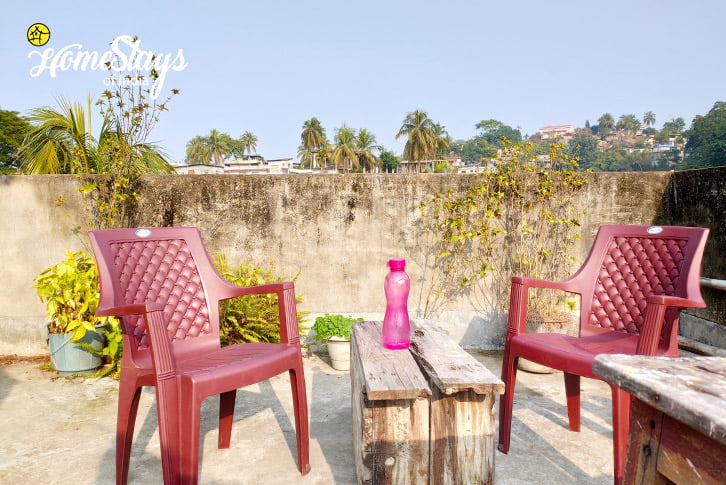 Guwahati
Guwahati in Assam is the second-largest metropolitan city in eastern India after Kolkata and is the gateway to the seven other northeastern states. The majestic Brahmaputra river is a focal point of the town while the lush hills of the Shillong Plateau provide a verdant backdrop for the suburbs. Legends says, the demon king Narkasura built this ancient city. Another reason for Guwahati's charm is its being the ancient 'Kamrup', the birthplace of Kamdeva, the God of Love. The most notable festival here is the Bohag Bihu that marks the beginning of the Assamese New Year and falls sometime in mid-April. The Durga Puja, celebrated in the month of October, is another major festival. In the months of Jun-Jul, there is the famous Ambubashi Mela at Kamakhya temple.
Located by the banks of majestic Brahmaputra River, the homestay is a double storied building, where the host stays on the ground floor. There are 4 guest rooms with king size double beds, a common room which is equipped with musical instruments, a kitchen where guest can cook their own food. Terrace is where you can sit and enjoy the view. The homestay has an easy access to most popular sights and Guwahati Railway Station is just 11 min drive. There is a shuttle bus service for Airport & Kamakhya Temple from nearby.
Location- 2.5 km from Guwahati railway Station
No. of Rooms – 4; Total Capacity- 10
Tariff
Single Occupancy: 1200/-
Double Occupancy: 1650/-
Extra Person: 450/-
Include: Room only
Child Policy
Upto 6 years: Complimentary (No Extra Bed)
6-12 years.: 50% (Extra bed provided)
Note: What you pay for a homestay, brings a direct socio-economic benefit to locals. Be proud by not asking for a discount.
Facilities
Wifi • Laundry Service • Balcony & Terrace Sitting Areas • Kitchen
Food
The homestay has its own café. You may order your food from a rich menu.
Activities
Explore new places on MTB cycle available on rent • Nature Walk • Reading  • Alfresco & Sukhapha River Cruise to witness the beautiful Brahmaputra river sunset.
Point of Interest
Belleview point • Umananda (Peacock) Island • Assam State Zoo • Pobitora Sanctuary • Orang National Park • Nehru & Dighalipukhuri Park • Accoland • War Memomrial • Deepor Bil • Assam State Museum • Guwahati Planetarium • Navagraha Temple Pandu  
Excursions
Kamakhya Temple (10km) • Hajo (25km) • Sualkuchi – The Weavers Village (32km) • Madan Kamdev (35km) • Pabitora Wildlife Sanctuary (60km) • Tegeria Water Falls (61km) • Chandubi (64km) • Shillong (96km) & Cherrapunji (147km) • Manas Wildlife Sanctuary (176km) • Tezpur (181km) • Narpeta (185km) • Kaziranga National Park (193km)
Know your Host
You will be welcomed by a lovely family of Partha Saikia. He is a law student and stays here with his parents. He is a Travel Guide also and knows the area quite well. He can help you plan your itinerary in Guwahati and around.
You may like to check more Homestays in Assam