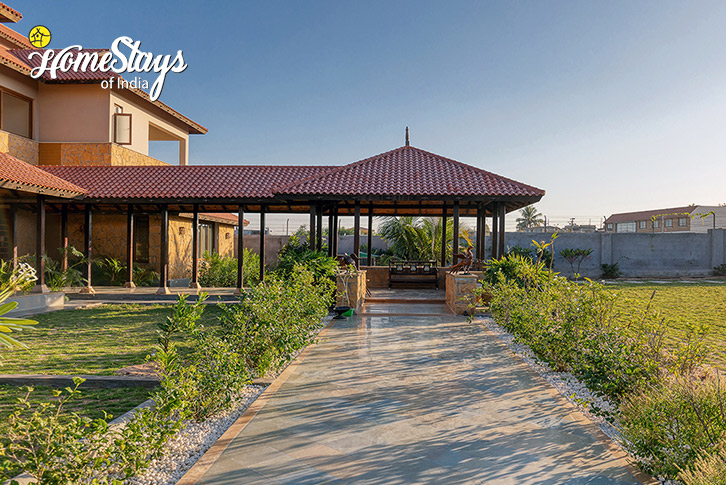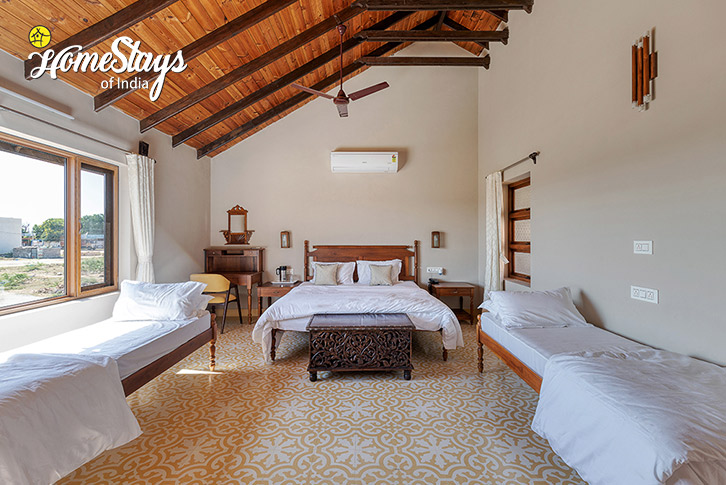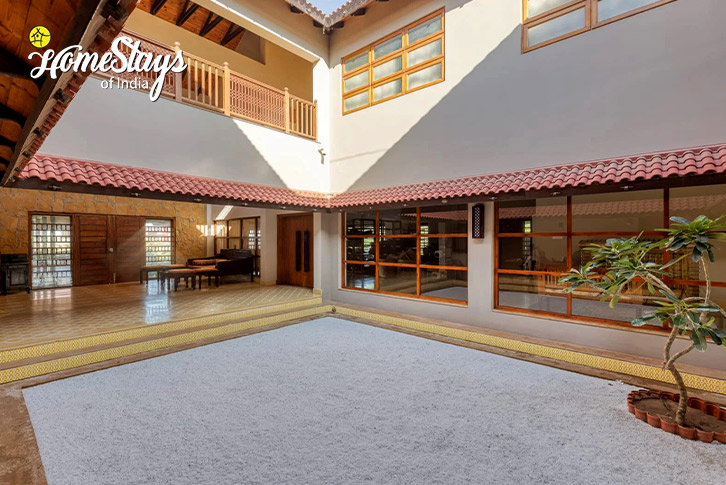 The Heart of Kutch Homestay, Bhuj – Kutch
Bhuj, situated in the lowlands between the Rann and the Gulf of Kutch is a major town located in Kutch District, Gujarat. Magnificent palaces, beautiful architectural treasures, vibrant market places, and world-class textiles and handicrafts make it a fascinating place to spend a couple of days. Bhuj is an ideal base for visits to the surrounding villages and to places of great natural beauty in the Great Rann. It also is known for the textile tourism attracting visitors from around the world. Kutch Handicrafts include colorful clothes and bags, leather work and gold, silver, metal enamel work done on bells, jewelry and toys.
This traditional yet classy abode with all modern facilities is set amidst a charming bustling weavers village in Bhuj. It is inspired by the traditional Indian architectural style of a centrally open courtyard, flanked by long corridors, thick natural stone walls and high wooden ceilings, not to mention the amazing display of antique furniture. It is an ideal place for people who want to pause and experience the slow pace of rural living. This house blends in seamlessly with the local way of life and its surroundings. Utmost care has been taken to see that nothing disturbs the rural culture, its natural environment or its peace. This thoughtfully designed home makes you feel right at home even in the middle of a desert and is worth experiencing once.
There are 6 rooms on the first floor, connected through a gallery. There are 3 double occupancy rooms, 2 triple occupancy rooms and 1 family room that accommodates 4 people. All the rooms have an attached bathroom. The family stays on the ground floor. Rooms are tastefully done with well furnished colonial style teak wood furniture and en-suite verandah. There is a sense of calm and luxury all around. The owners also run a boutique in the same premises. Their expertise in design and understanding of local handicrafts is visible all across the house.
Location: 9km from Bhuj City Center
Number of Rooms – 6; Total Capacity – 20 ;
How To Reach
The Bhuj airport is 6 km from the city center and Bhuj railway station is 2-3 km ahead. There are many private bus service providers within the state which provide regular buses from Ahmedabad, Surat, Vadodara, Rajkot, and Gandhinagar to Bhuj.
Tariff
1 Apr to 31 Aug 2023
Single Occupancy: 7,280/-
Double Occupancy: 7,840/-
Extra Person: 1,680/-
4 Bedded Family Room: 11,200/-
Complimentary: Wifi & Breakfast (Veg)
1 Sept to 31 Mar 2023-2024
Single Occupancy: 7,840/-
Double Occupancy: 8,400/-
Extra Person: 2,240/-
4 Bedded Family Room: 12,320/-
Complimentary: Wifi & Breakfast (Veg)

These tariff do not apply on Diwali/ Christmas/ Full Moon nights
Child Policy
Upto 6 years: Complimentary (No Extra Bed)
6-12 years.: 50% (Extra bed provided)
What you pay for a homestay, brings a direct socio-economic benefit to locals. Be proud by not asking for a discount.
Facilities
Parking • Wifi • Running Hot Water • Open Seating Areas • Air Condition • Library • Toiletries • Smoking Allowed • Bonfire • Electric Kettle • Iron on demand • Pick and Drop Service (Paid)
Food
Healthy pure home cooked meals are provided. The cuisine is 100% pure vegetarian, and always freshly cooked, with a touch of local flavors and traditions. Using the best of ingredients and home made spices, the food is mostly inspired from the culinary styles of Gujarat and Rajasthan. Ranging from thepla, bajra ka rotla, vatana nu shak, sev tameta ni bhaji to daal baati, gatte ki sabji, kadhi pakoda, each variety is mouth wateringly delicious. With great reverence, Smita and her team prepare and serve food with lots of love and care, in hope that it energizes you on all levels, be it physically, mentally or emotionally and rejuvenates your body, soul and senses.
Breakfast options range from aloo parathas & chola puri of the northern cuisine to besan kachori, methi aloo sabji from the east and idli sambar and uttapam from the southern part of our country. The locally made traditional jalebi fafda and dabeli is an all time favorite of the guests. Jain or vegan food or regular favorites like pizza, pasta, noodles or sandwiches too are available on request.
Activities
Bird Watching • Reading • Village Walk• Shopping • Stargazing • Forest Walk • Yoga and Meditation 
Local Attractions
Heera Laxmi Craft Park  (1.6km)  • Vande Mataram Museum (2km) • LLDC Craft Museum (7km) • Aaina Mahal Palace (10m) • Bharatiya Sankriti Darshan (10km) • Swaminarayan Temple (10km) • Prag Mahal Palace (10km) • Harmirsar Lake (10km) • Somnath Temple (10km) • The Kutch Museum (11km) • Sharad Baug Palace (11km) •  Dattatreya Temple (21km)
Excursion
Kaliya Dhrow (42km) • Bhuj Mandavi Beach (67km) • White Desert Of Kutch (93km) • Rann of kutch (93km) • Kalo Dungar (95km) • Mata Nu Math (104 km) • Dholavira (136km) • Indo-Pak Border (155km)
Hiking: Vad Varo Chello  • Bhujiyo Sunset Point
Know Your Host
Smita Dugar along with her warm and hospitable family will welcome you to this lovely stay. Smita has been working in crafts and textiles for the past 20 years and they have a craft store right in the property. It is an added advantage for people looking for high quality textiles and craft shopping. She stays in the property with her husband Abhinav Sharma, their son, daughter and mother. Abhinav is a lawyer by profession and helps Smita to run the homestay and is a strong support to her.
You may like to check more of our Homestays in Gujarat