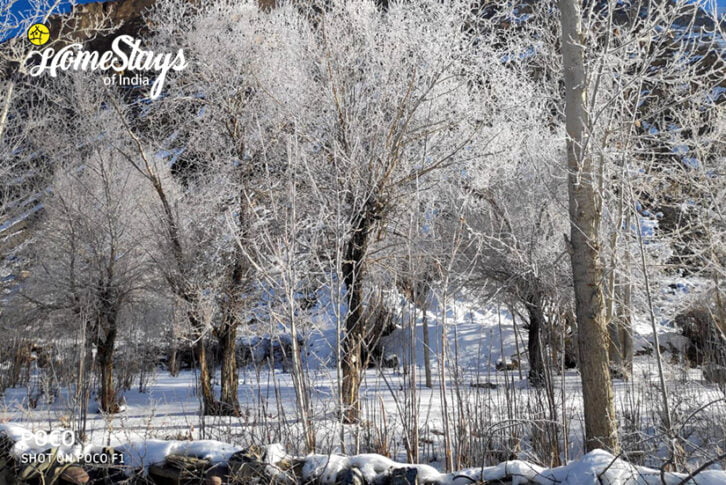 Dhankar
High above the confluence of the Spiti and Pin Rivers, located Dhankar at an towering altitude of 3894 mtr. An 8 km drive up from Sichling on the Kaza–Tabo road will take you to this oldest village and ancient capital of the Nono kings. Situated dramatically on a hillock, Dhankar Monastery is one of the most spectacular sights in Spiti.
The home is located right in front of Dhankar Gompa, almost at eye level. Built in a tradition Spitian style with a prayer hall for meditation and yoga, it has total 6 guest rooms. Ground floor consist of a hall with low floor setting which is big enough for 6 people, a double bed room and an English toilet with running hot water for both rooms. First floor has one double and a triple bedded rooms and another English toilet with running hot water for both rooms. You may like to join the family in traditional dinning room to eat or just to chat.
There are three rooms has attached bathroom and three bathrooms adjacent to bedroom but from outside entry.
Cafeteria is certainly a highlight of the home. Its a nicely done place, good enough for 15 people to enjoy your food. You mostly hear Tibatan or trans music here but can feel free to play your own.
The home is open to super adventurous people in freezing winter also.
Location: 300 mtr from Dhankar Monastery.
Number of Rooms – 6 ; Total Capacity -20
Tariff
Single Occupancy: 1800/-
Double Occupancy: 2500/-
Extra Person: 1150/-
Complimentary: Breakfast & Dinner 
Child Policy
Upto 6 years: Complimentary (No Extra Bed)
6-12 years.: 50% (Extra bed provided)
What you pay for a homestay, brings a direct socio-economic benefit to locals. Be proud by not asking for a discount.
Facilities
Cafe • Parking • STD • English Toilet • Hot Water • Trekking Equipment
Food
Food is a serious affair here. Breakfast can be Tibatan bread with Jam, butter n honey. Parantha with milk tea is everyone's favorite. You may ask for Tandoori Parantha also with hot tea. Daal, Roti, Rice and mix veg. is a staple food. Italian, Chinese, Tibatan, Israeli, Continental food and milk shakes can be ordered separately in cafe. Best of tea like, Ginger lemon honey tea, Green tea or Masala tea is available any time.
Activities
• Village Walk • Star Gazing • Trekking • Reading
There are some amazing Treks:
• Trek to Dhankar Lake (2.5 km). Its a steep trek where you go from 3894 m to 4270 m in just hours.
• Trek to Lalung (6 km)
• Trek to Gangchumik (2 hr) a serene place and to meet Evi Chhomo, meditating for 30 years
• Manirang Expedition 3 days to reach base camp and 1 day to come back. Its a twin peak, North (6593 m) and South (5550 m) Manerang. You have to drive to Mane village to start trek.
Point of Attraction
Dhankar Monastery • Dhankar lake
Excursions
Lallung (24km) • Tabo (30km) • Kaza (33km) • Demul (39km) • Mud (50km) • Nako (93km)
Know Your Host
Anil, a Gelupka Buddhist is a young, very soft spoken mountain lover and an experienced trekking guide. He is an educated guy and speaks fluent English. He also is diploma holder in Painting, Art & Craft. Otherwise he is a farmer.
You may like to check more Homestays in Spiti Valley