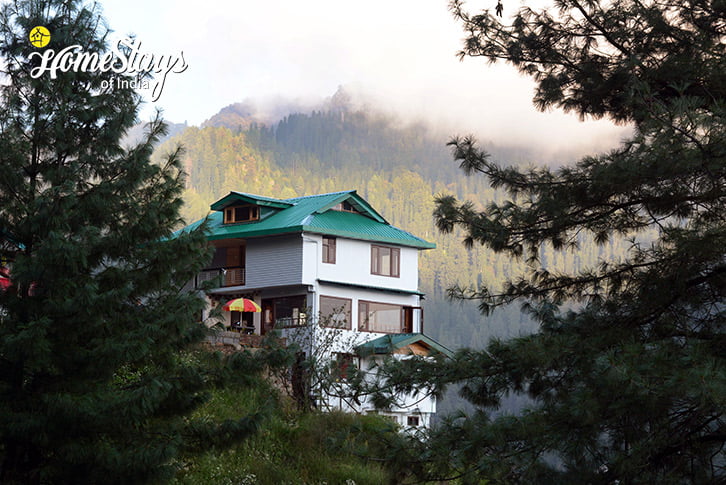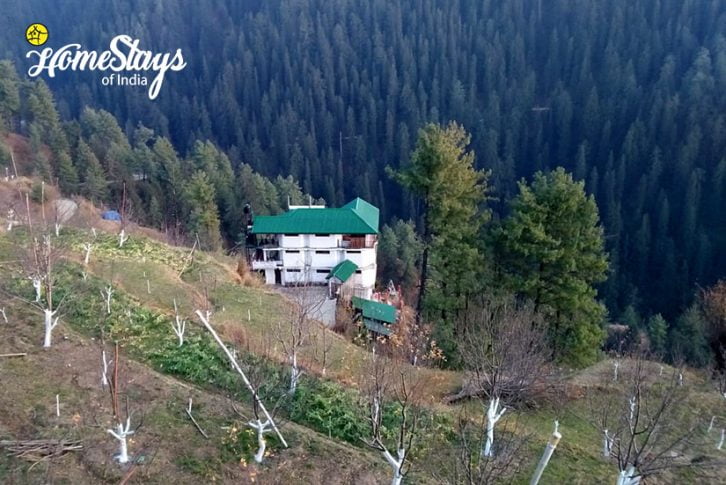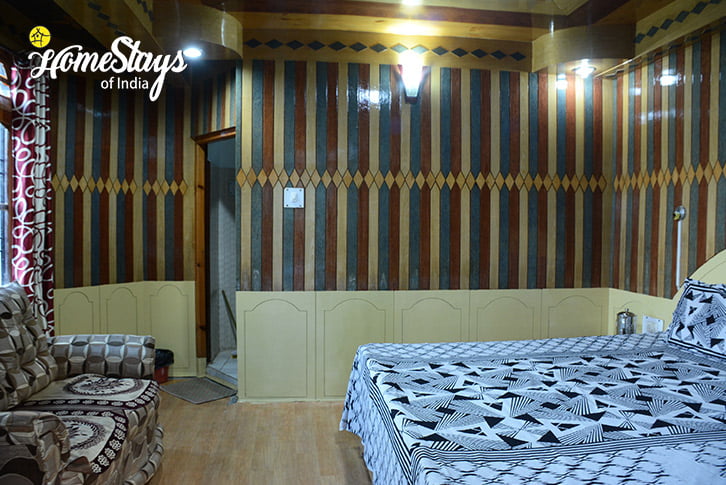 Narkanda
Nestled in Shimla district of Himachal Pradesh and surrounded by the Shivalik Range is a small town Narkanda. It is about 65 km from Shimla and boasts of beautiful apple and cherry orchards. This town experiences pleasant weather throughout the year. The place is covered in sheets of snow from October to March. The Hatu Peak is the second highest peak of Shimla at an elevation of 3400m above sea level. The Dhomli slope is a famous skiing slope. They have winter games and even skiing courses from October to March. It is perfect for people who want to relax in an undisturbed and tranquil location.
Narkanda Homestay is centrally located with access to the major tourist attractions, market and the eateries. This is a four storied house with two floors offered to the guests; 3 rooms on the first floor, all comes with attached bathrooms and a family suite on the second floor (2 interconnected rooms with one common bathroom). The ground floor is dedicated to the family kitchen with a dining area. The kitchen can be used by guests for cooking too. The terrace offers a grand view of the Hatu Peak and overlooks the beautiful Cherry orchard.
Location: 2.5 km from Narkanda main market.
Number of Rooms -5 ; Total Capacity -15
Tariff
Single Occupancy: 2100/-
Double Occupancy: 2600/-
Family Suite: 3700/-
Extra Person: 700/-
Complimentary: Breakfast, Morning & Evening Tea
Lunch/Dinner: 150/- pp
Child Policy
Upto 6 years: Complimentary (No Extra Bed)
6-12 years.: 50% (Extra bed provided)
What you pay for a homestay, brings a direct socio-economic benefit to locals. Be proud by not asking for a discount.
Facilities
Parking • Attached Bathrooms • Satellite T.V. • Running hot and cold water • Dining area that has a well equipped kitchen for self cooking
Food
Shashiji serves pure vegetarian food. Lunch and dinner will comprise of a dal, a vegetable, rice and chapattis. It can vary depending upon the guest's choice too. Breakfast is complimentary as per the guest's choice and will have choices like boiled and poached eggs, omelette, toast, fruits, cereals, juices, tea and coffee. Non-vegetarian can be either made by the guest in the kitchen or ordered from outside.
Activities
Trekking to the Hatu Valley • Walking in the dense thickets of the slopes • Local Shopping • Visits to the Apple and Cherry orchards • Visit to the historical church
Point of Interest
Hatu Peak • Hatu Mata temple • Dhomli slope • Mission School • Apple and Cherry Orchards • Church built in 1843 • Stock Farm
Excursions
Main Market (2km) • Thanedar (17km) • Shimla (60km) • Rampur Station (60km)
Know Your Host
The hosts Shashi and Sukhdev Singh Dogra would love to welcome you and will make an extra effort to make their guests feel at home. They can guide and plan your stay in Narkanda keeping all the major attractions in mind.
You may like to check more Homestay in Himachal