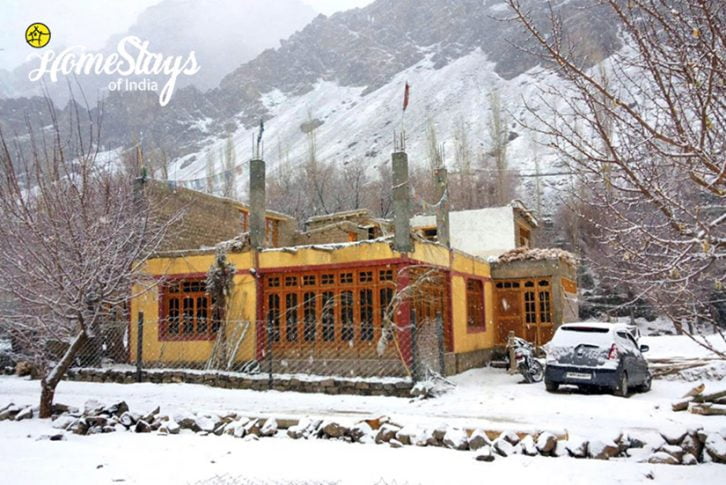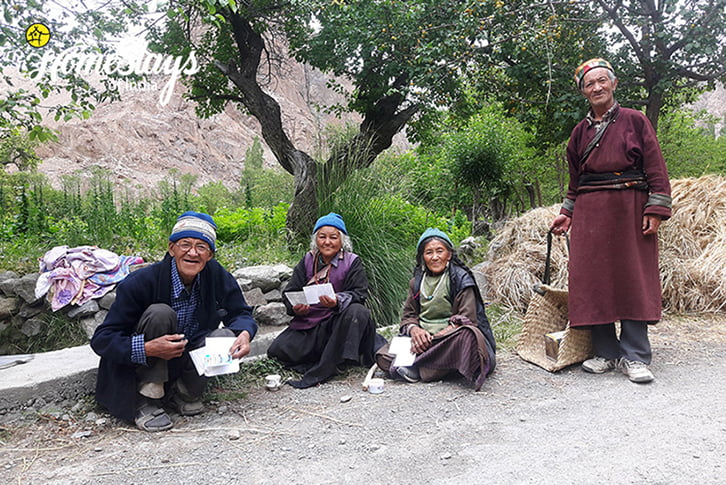 Achinathang
Achinathang is the last village of mongoloid race in Leh district. From here you enter in Aryan Valley where you can find a group of villages with a unique culture and identity totally different from rest of Ladakh. It is located 90 km from Kargil and 135 km west of Leh at an altitude of 9545 ft.
Achinathang is unique in many ways. Its small population of around 500 people is a confluence of Buddhist, Muslim and Aryan culture. Using pesticides and fertilizers in agriculture is totally banned in the village. Still they are rich in growing Apricot, Apple, Seabuckthrone, Mulberry, Pears, Grapes, Peach, Walnut, Cherry, Strawberry and Elaeagnus (Silverberry) and Almond. The source of water for the village is crystal ice melt water and spring water coming from the upper ridges of Himalayas. Its wildlife is enriched by Snow leopard, Ibex, Wolf, Fox, Marmot, Lynx, Partridges, Golden Eagle, Snow Cock, Hoopoe, Choughs and Magpie. A very rare bird Golden Oriole migrates to the village for about 3 months in summer.
Achinathang Homestay is built by well known historian, Sonam Phuntsog in 1988. For its proximity with the Aryan Valley (Dah, Hanu, Beema, Darchik and Garkon is just 7 km from Achinathang) Achinathang is the best place to stay and travel around. It is shadowed by a 7th century rock, curved in Ganhara art and surrounded by Apricot, Peach, Apple, Willow, Poplar trees, green fields and an organic vegetable garden.
Achinathang Homestay offers clean and comfortable accommodation set around a lovely garden full of beautiful flowers and fruit trees. It consists of 6 rooms with 3 toilets to share. There is local dining room to eat together and a garden to bask.
Location: 7km from Achinathang.
Number of Rooms: 6; Total Capacity: 18
Tariff
Per Person:  1050/-
Complimentary: Breakfast, Dinner, Morning and Evening Tea

Child Policy
Upto 6 years: Complimentary (No Extra Bed)
6-12 years.: 50% (Extra bed provided)

Note: What you pay for a homestay, brings a direct socio-economic benefit to locals. Be proud by not asking for a discount.
Food
The guests are served pure organic home cooked food in the garden or family dining area. Vegetables and fruits are organically grown in our own fields. Parantha, Egg, Omelet, Butter Jam is normally served in breakfast. Dinner can be Rice, Roti, Dal and Sesonal Vegetable. Ten Ten (Buckweat Roti) with Dal is also liked here. Non-Veg food is available on demand. You may like to ask for local wine Chhang which is made of Barley. In-house guest feel free and enjoy participating in cooking and learn Ladakhi recipes.
Facilities
Parking • Garden • Hot and Cold shower • Library
Activities
Village Walk • Lecture session with Mr Sonam Phuntsog • Heritage Walk • Trek to Dargoo (2km) • Dah-Hanu (7km) • Kukshow (6km) • Skurbuchan (10km)
Points of interest
7th century curved rock • Monastery • Rock Art
Excursion
Just opposite Achinathang on the other side of the Indus River located Dargoo, a beautiful hamlet.  From there a motor able road goes to historic village of Kukshow, Chiktan, Skurbhuchan and finally join Leh-Kargil highway. Kukshow is known for having inter religion marriages between Buddhist and Muslim families.
Know your Host
Mr Sonam Phuntsog is a well known writer, poet and scholar who specializes in the history of Aryan people. You can spend whole day with him in his library discussing about the history of Ladakh and Aryans. His son Konchok helps him manage the homestay.
You may like to check more Homestays in Ladakh