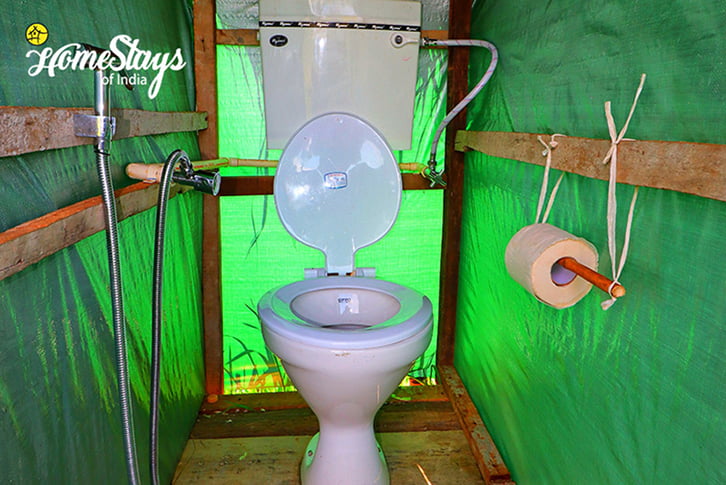 Keibul Homestay  – Loktak Lake
Loktak is the largest freshwater lake in Northeast India. It is located near Moirang in Manipur state, famous for Phumdis. Phumdis are a series of floating islands, exclusive to the Loktak Lake. The lake is also the home to world's only floating park, Keibul Lamjao National Park which is the last natural refuge of the shy and elegant, endangered dancing deer, Sangai (brown-antlered deer). The lake is also a source of livelihood for the rural fishermen who live in the surrounding areas and on phumdis floating in the lake.
The Homestay is located right in the middle of Loktak Lake. We pick you up and drop back at Moirang Bazar by local boat. This 2 km (15-20 mnt) journey is an unforgettable experience itself. The traditional thatched huts provide a cozy abode for the laid back travelers. We have pitched few tents also for adventure lovers to sleep under stars. Electricity is arranged through battery which will be replaced soon by solar panels. If you love fishing you can try your luck, while your friends cheer you on. Enjoy the local way of living and savor the lip smacking local meal served in traditional style.
Tariff
Single Person: 1250/-
Complimentary: Breakfast, Dinner, Morning and Evening Tea
Lunch: 100/- veg, 150/- non-veg
Child Policy
Upto 6 years: Complimentary (No Extra Bed)
6-12 years.: 50% (Extra bed provided)
Note: What you pay for a homestay, brings a direct socio-economic benefit to locals. Be proud by not asking for a discount.
Facilities
WiFi • Free boat pick up from Moirang Bazar • Western Toilet
Food
Oatmeal, Bread Omelette, Paratha, Noodle are basics for breakfast. To give our guests a feel of the local cuisine we serve traditional seasonal snacks. Roasted corn cobs smeared with lemon are lip smacking. Rice, Dal, vegetables and salad are normally served for dinner. We are fully aware of different food habits. Non-Veg and traditional cuisines can be prepared on request.
Activities
Natural trail Walk • Trekking • Bike Riding • Birding • Star Gazing • Swimming • Fishing • Picnic by the lakeside • War history site visits
Points of Interest
Moirang Bazar • Maibam Lokpa Ching • INA memorial • Sendra • Keibul Lamjao National park • Karang Island • Thangjing Temple • Sadu Chiru Waterfall
Excursions
Imphal (45km) • Moreh – border town to Myanmar (122km) • Ukhrul (132km) • Tamenglong (153km) • Senapati Mao (155km) • Churachandpur (168)
Festivals
Manipur is a place where Gods and Goddesses took to dancing. The state celebrates various festivals all round the year.
• Yaoshang (Holi) – Festival of colors (March)
• Sangai Spotting – The shy deer come out from their traditional hillock and make their rare appearance. (Feb- April)
• Kang (Rath Jatra) – Festival to offer prayers to Lord Jaganath. (June – July)
• Sangai Festival – (Nov 21- 30)
• Shirui Lily Festival – (Apr – May)
Know your Host
Ashok Samapcha's is a very warm and friendly local family who works tirelessly on their daily work of catching fishes from the lake and look after their guest. They are fully aware of different type travelers, their choices, and preferences. It's a very simple, cheerful and helpful family.
You may like to check more Homestays in Manipur