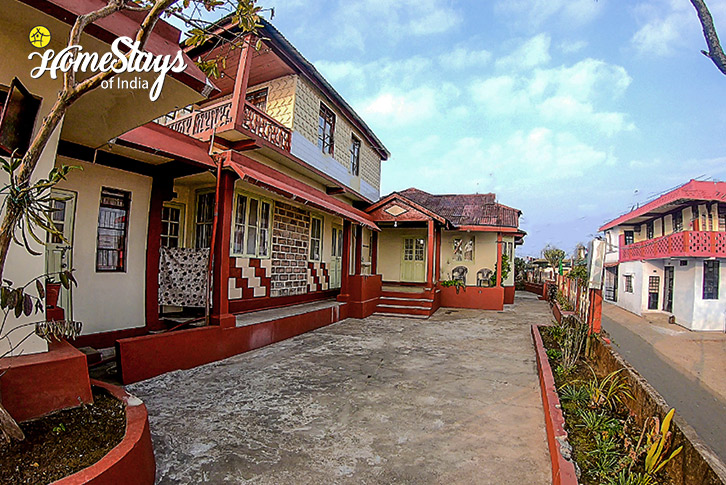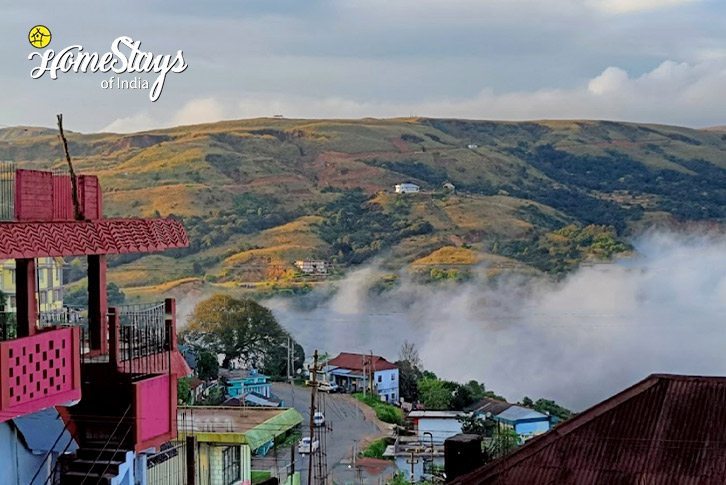 Khliehshnong Homestay – Cherrapunji
Hidden trekking trails, gushing waterfalls, pristine natural pools, amazing living root bridges, mysterious caves and adorable nature are few things, one must come to Cherrapunji for. It is situated on the southern edge of the Khasi hills in Meghalaya. Its dramatic location on a plateau, around 600 meters above the surrounding valleys, makes it one of India's most picturesque locations. The valleys are naturally lush and full of diverse vegetation and face the plains of Bangladesh.
Savor the authentic essence of Meghalaya while staying at this homestay. Located in village Khliehshnong, just 3.5 km from the center of Cherrapunji, it is a traditional two storied homestay hosted by a native Khasi lady. There are 4 comfortable rooms with all modern amenities. Ground floor consist of 2 rooms – one is a triple bedded and another is double bedded. First floor has one 4 bedded room and a double occupancy room. All rooms come with attached bathrooms. The common living area is beautifully done and gives you the warmth of a home. Outside the house there is a small garden with blooming colourful flowers.
Location- 3.5 km from Cherrapunji.
No. of Rooms – 4 ; Total Capacity – 14
How To Reach
Nearly 60 km from Shillong and 148 km from Guwahati, it can be easily accessed by an all-weather road round the year. The heaviest downpours span approximately five months from May until September, so the best time to visit Cherrapunji is between the months of October and May, when the weather remains cool and pleasant. 
Tariff
Single Occupancy: 1750/-
Double Occupancy: 2550/-
3 Bedded Family Room: 2950/-
4 Bedded family Room: 3400/-
Complimentary: Breakfast
Child Policy
Upto 6 years: Complimentary (No Extra Bed)
6-12 years.: 50% (Extra bed provided)
What you pay for a homestay, brings a direct socio-economic benefit to locals. Be proud by not asking for a discount.
Facilities
Parking • Attached Bathrooms • Running Hot Water • Laundry • TV • Garden
Food
Food is the highlight here. A variety of food is served. For breakfast there are options like bread omelette, sandwich, corn flakes, puri sabji etc. In lunch and dinner, both vegetarian as well as non-vegetarian options are available. Along with standard Indian dishes, traditional Khasi food is also served.
Activities
Caving • Nature Treks • Village Walk • Reading • Swimming in Natural Pools
Points of Interest
Nohkalikai Falls • Masmai Cave • Eco Park • Seven Sister Falls • Nongsawlia Presbyterian Church •  Double Root Bridge at Nongriat
Excursions
Nongriat Trek (12km) • Shillong (60km) • Mawsynram Village (80kms) •  Mawlynnong (81km) • Dawki (85km)
Know your Host
You will be welcomed by a cheerful lady Mrs Phanbuh.  After 36 yrs of service in a bank she took voluntary retirement and started this homestay. She along with her son Saindor runs the homestay and makes sure that all your needs are being taken care of. You will be delighted by their warm Khasi hospitality.
You may like to check more Homestays in Meghalaya