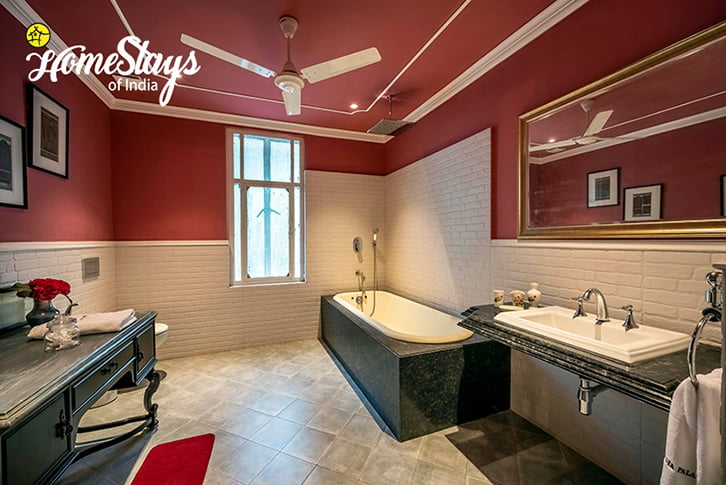 Mayurbhanj
Once a princely state, Mayurbhanj is Odisha's largest district which is renowned for its art and architecture. The Bhanjas are known to be the longest reigning clan who ruled Mayurbhanj for more than 1000 years, until their merger with the Indian Union in Jan 1949. Just three and a half hours drive from both Kolkata and Bhubaneshwar, it has unique ancient temples, museum, dense forest lands, green vegetation and rich wildlife as well. Simlipal, the second largest national park in India is just a few hours from here. Joranda and Barehipani Falls, 2nd and 8th largest waterfalls in India are also a part of this district. The best months to visit are from October to March.
The House of Mayurbhanj
If you are looking for an offbeat adventure that allows you to live like royalty, in a palace surrounded by art and culture, this is the place. The palace sits on a raised hill overlooking sprawling lawns on either side, with the entrance highlighted by a long drive-in with indigenous flora and fauna. It ends at the Elephant Porch or "Hathi Baramdah", which is a high arched porch built to accommodate the ruler when he would mount the howdah on an elephant for ceremonial processions. The interiors of the palace echo the golden era of the state with furniture and upholstery being re-purposed from the original palace, whose exterior was built to be a replica of The Buckingham Palace.  The annals of history come alive with vintage vinyl records, Persian carpets, old world chandeliers and century old oil paintings placed along the halls and porches of the estate.
This double storied mansion has rooms envisioned for work and leisure with the Maharajah and Maharani wing having black and white checkered marble verandas overlooking the sprawling lawns. A natural lake is situated at one border and a manicured walking path crisscrosses the entire estate. There are 10 rooms, each designed to highlight the numerous personalities who have either visited the Palace or have connections to the erstwhile royal family of Mayurbhanj. The suites offer hints and whispers of a royal era with the dark winding Mahogany staircase at the lobby draped with a red carpet used for receiving the Maharajah, connecting the first floor rooms to the upper chambers. With each step into the palace the jewel toned colors have a soothing effect with soft wooden finishes transporting you to a bygone era.
Tariff
Standard Room: 7,080/-
Deluxe Room: 10,880/-
Suite: 14,720/-
Tent: 2,500/-
Complimentary: Breakfast, Morning and Evening Tea
Lunch or Dinner: 900/- pp
Child Policy
Upto 6 years: Complimentary (No Extra Bed)
6-12 years.: 50% (Extra bed provided)
Note: What you pay for a homestay, brings a direct socio-economic benefit to locals. Be proud by not asking for a discount.
Facilities
Running hot n cold Water • Laundry • AC/Heater • Seating Areas • Camp Fire • Mango orchards with 7-10 different kinds of fruits and vegetables • Community Kitchens • Internet • Supermarkets and ATM machines close by • The Billiard & Bar Room • The Grand Library • The Spa • The Dining & Tea Room • The Temple • The Games Room • Pet-friendly rooms
Food
Food is a grand affair here. Freshly cooked local tribal cuisine with Nepali, Bengali and Rajasthani sensibilities is served. Most of the vegetables supplied to the kitchen come from own organic farm. We encourage guests to go to the local haat or tribal bazaar to pick fresh ingredients which are then cooked together over curated culinary workshop. If required Jain Food or even Vegan Food can also be served.
Activities
• Visit the tribal village • Witness age old art forms such as Black Stone Carving and Dhokra and learn Chhau (martial arts dance form)
• Visits to famous temples to understand the intricate architecture native to Odisha (Khiching)
• Visit British era buildings and structures such as Rani's Dharamsala, Palace Temple built in the 1930s, original Royal Palace with a 106 rooms and multiple courtyards, Haripur which was the original palace of the Bhanja kings.
Points of Interest
Haripur Ruins (1400AD Bhanja Palace) • Khiching Temple (8th century) • Pine Plantations • Orchidarium • Original Mayurbhanj Palace build in 1800 which resembles the Bukhingam Palace • Deokund, a beautiful scenic spot amidst green forests • The hill top temple of Goddess Ambika  •  Bhimkund • Jagannath Temple (1500 AD)
Excursions
Jambira Dam (10 km) • Lulung and Sitakund (20 km) • Dokra and Sabai grass artisanal villages (15 km) • Chandipur Beach (60 km) • Simlipal National Park, the 2nd largest elephant and tiger reserve in India (107 km) • Joranda Falls, the 2nd largest falls of India (59 km) and Bareihpani Falls (68 km)
Know your Host
You will be hosted by the royal residents of the House of Mayurbhanj including the queen mother Bharati Rajya Laxmi who is the daughter of King Tribhuwan Bir Bikram Shah of Nepal.  Her son Praveen Chandra Bhanj Deo who is the 47th ruler of the Bhanja dynasty and his wife Rashmi Rajya Laxmi of Mayurbhanj who belongs to the royal family of Jaisalmer.  The oldest princess Rajyashree is married into the royal family of Jhabua, while the younger two princesses Mrinalika and Akshita are social entrepreneurs and Directors of House of Mayurbhanj and its philanthropic arm The Mayurbhanj Foundation. During your stay, expect to hear multiple stories about the palace from the royal family in residence.
You may like to check more Homestays in Orisha