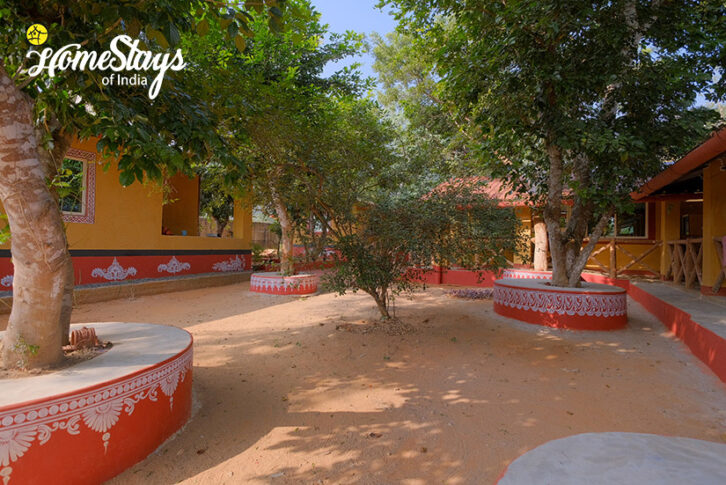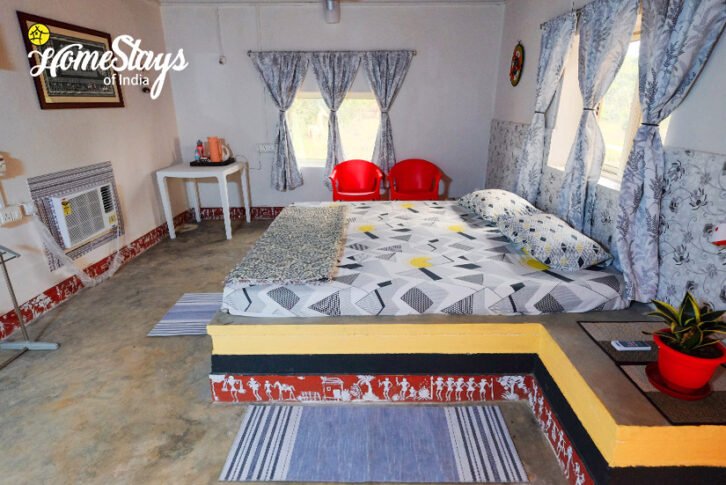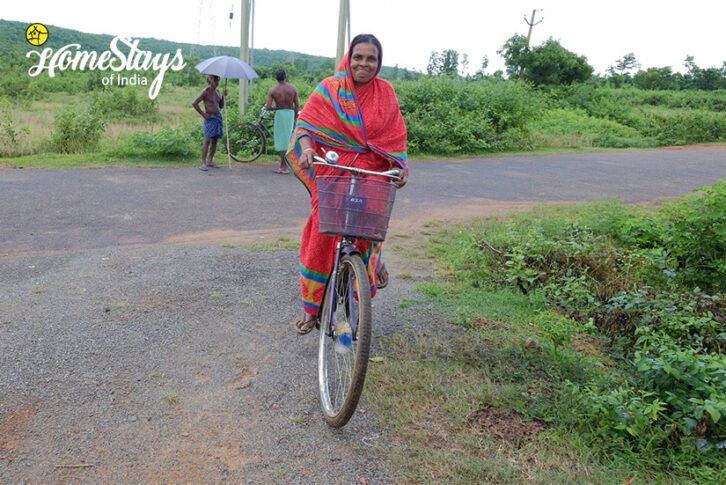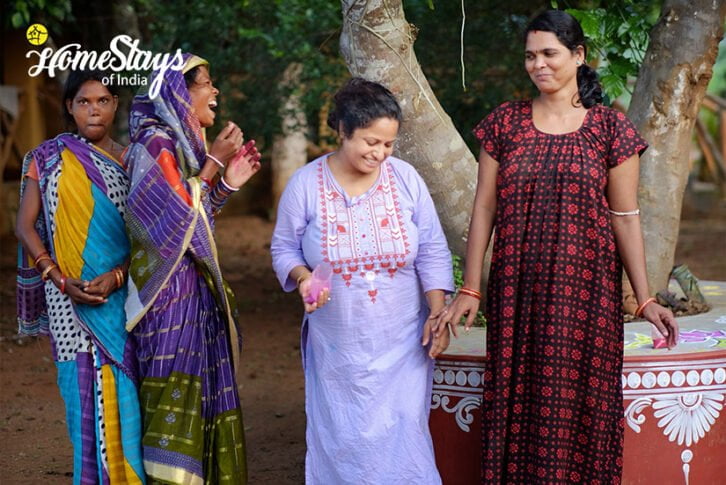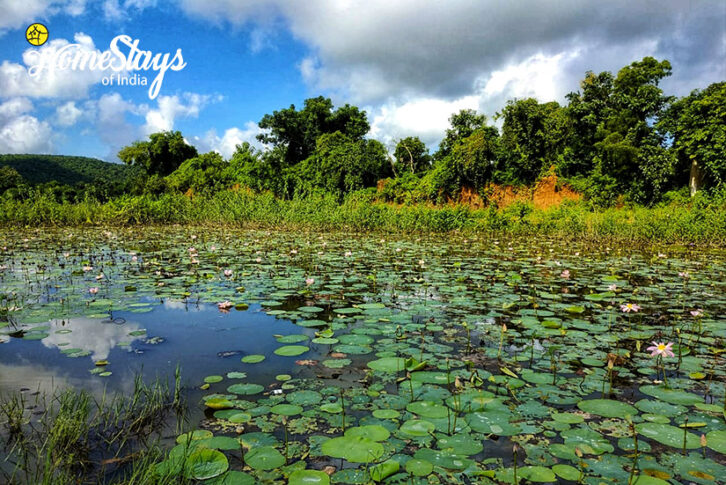 Chandaka Eco Homestay – Bhubaneswar
A sleepy metropolitan city till some years ago, Bhubaneswar is now a vibrant city, developing rapidly under the tag of 'smart city'. One of the earliest planned cities of independent India, Bhubaneswar is also known as the 'Temple City' because of the countless medieval temples dotted around the city. Most of the famous temples are located around a holy pond called Bindusagar in the center of old town. Most of the temples, including the Mukteshwara and Parashurameshwar, were built between the 7th and 14th centuries and display every phase of Odisha's architecture. Within the city are the rock-cut caves of Khandagiri and Udayagiri, a zoological and botanical park, and the ancient excavation site of Sisupalgarh. Chandaka Wildlife Sanctuary lies just west of Bhubaneswar.
Bhubaneswar is well connected with all metros and major cities of India. Winter months are best to visit when it becomes lively with music and dance festivals. The city has many authentic Oriya cuisine restaurants to suit taste buds of every traveler. Shop lovers will find it hard to resist buying famous Odisha Pato Sarees, Silver jewelry and other artistic work of Odisha.
Spread across one acre, it is an eco-friendly wilderness homestay located on the outskirts of Bhubaneswar near Chandka Dampara Wildlife Sanctuary. There are five spacious cottages constructed from locally available material, mimic traditional tribal architecture and provides for an ideal getaway for the weary traveler. All rooms have their own sit out verandah and large windows with views.
The hosts believe in Sustainable Tourism and community development. Drip irrigation, rain water harvesting and no showers in the rooms are just a few of the ways in which we save and recharge ground water. We have local villagers come and work for us. Its a small way in which we are trying to develop our surrounding through tourism.
No of Rooms: 5 Total Capacity: 15
Tariff
Single Person: 3125/-
Double Room: 3750/-
Extra Person: 875/-
Complimentary: ​Breakfast
Lunch: Veg./Non-Veg. 500/- pp
Child Policy
Upto 6 years: Complimentary (No Extra Bed)
6-12 years.: 50% (Extra bed provided)
Note: What you pay for a homestay, brings a direct socio-economic benefit to locals. Be proud by not asking for a discount.
Facilities
Running Hot Water • Laundry • Board games / puzzles • Seating areas • Outdoor dining area  • Shared kitchen • Mosquito net • Library • Umbrella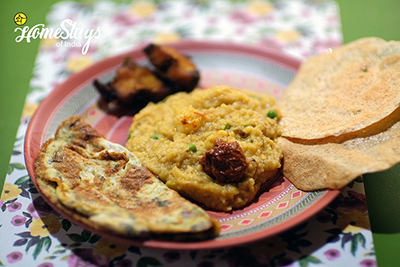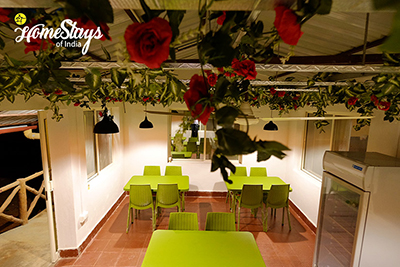 Food
A light breakfast such as juices, tea & coffee, toast and jam, or cereals and milk is provided. Apart from the local cuisine, continental, Indian Chinese, bakes etc are also available to maintain a good balance. Most of the times, there are some vegetables or other growing in our own 100% organic garden which guests can pluck and relish being served. Indrani loves experimenting with cooking and we encourage guests to share and learn recipes.
Activities
Village Walk • Bird Watching • Star Gazing • Reading • Wildlife Safari • Sunset picnic • Gardening • Cooking Lessons  • Photography Classes • Visit to Old Town
Points of Interest 
Lingaraj Temple • Isckon Temple • Raja Rani Temple • The Bindu Sarovar • Orissa State Museum • Brahmeshwar Temple • Nandan Kanan Zoological Park • Museum of Tribal Art and Artifacts • Ram Mandir • Chausath Yogini Temple • Kedar Gouri Temple • Regional Museum of Natural history • Pathani Samanta Planetarium • Udaygiri and Khandagiri Caves • Ocean World • Chilika Lake • Ekamra Kanan Park
Excursions 
Lingaraj Temple (6km) • Udaugiri & Khandagiri Caves (10km) • Pipli (25km) • Dhauli (33 km) • Sun Temple (60km) • Puri Sea Beach and Jagannath Dham (60km) • Raghurajpur & Pipli (67km) • Chilika ( 68km) • Puri (77km) • Konarak (81 km) • Bhitarkani Mangrove forest (120km) • Berbera Forest (120km)
Know your Host
You will be hosted by an energetic duo – Soumya Mukherji and Indrani Chakraborty. They both left their jobs and live in this tastefully done house with their one year old son, Ishaan. Soumya is an avid photographer and Indrani is a wonderful cook. Soumya gives a private lesson on macro photography and how to observe patterns in nature and would be happy to share his knowledge with guests.
You may like to check more Homestays in Orisha