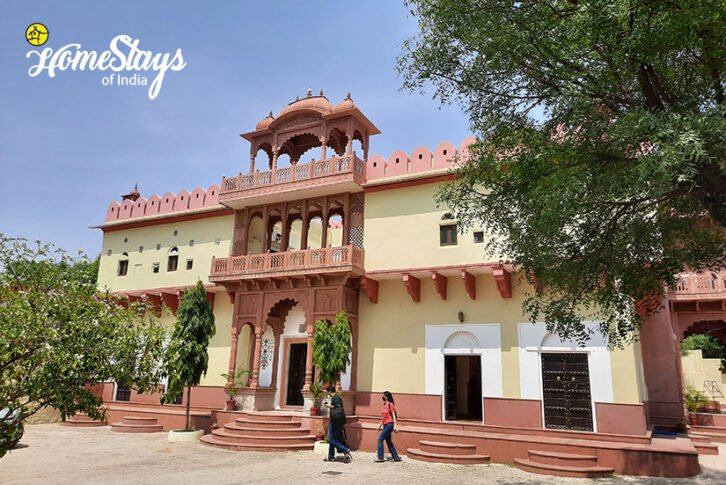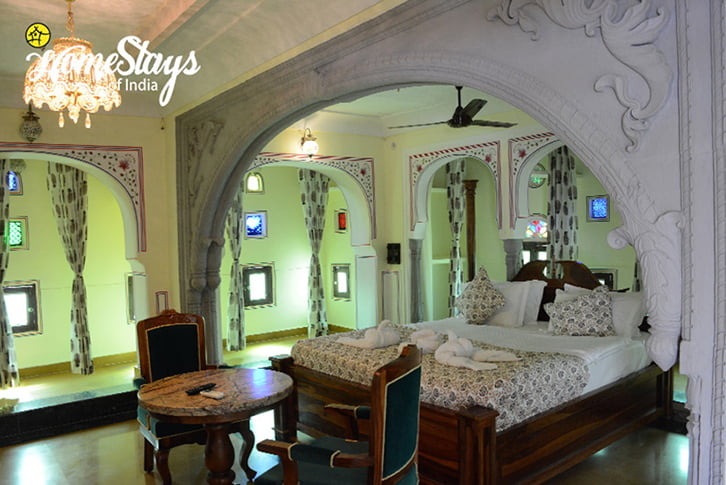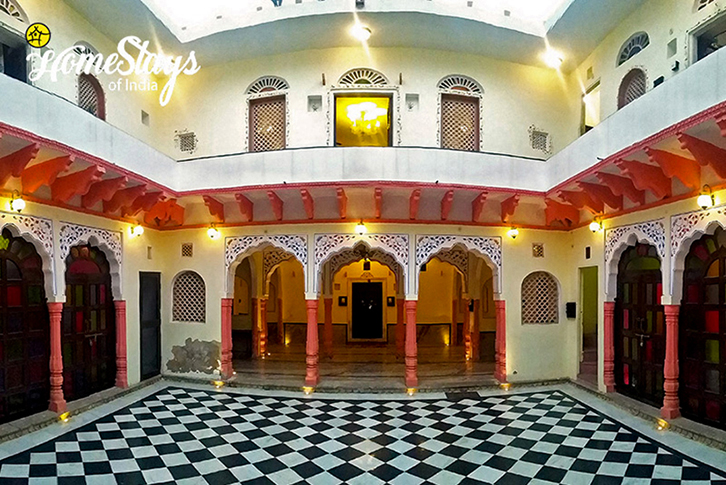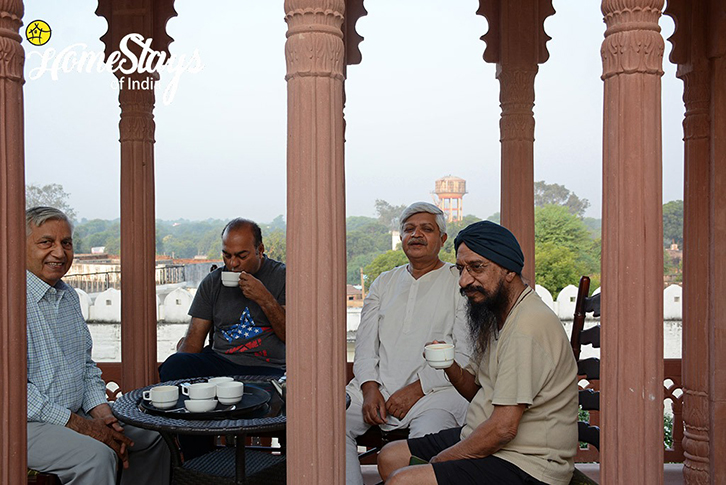 Lotwara
Lotwara is a surprisingly scenic village in Dausa district of Rajasthan. Surrounded by lush green fields it's located on the bank of pious Banganga River, which is believed to have emerged by the arrow of Arjuna to quench the last thirst of Pitamah Bhishma during Maharbharata. Probably most thickly populated with peacock, it's famous as "Peacock Town" of Rajasthan. But the highlight of this village is the Lotwara Fort where the royal family continues to reside for centuries.
Lotwara is located 110 km from Jaipur, 7 km off from Pilodi on Agra-Jaipur highway. Another 11 km will take you to largest step well of the world Chand Baori, Abhaneri. Lotwara was chosen by its founder for its fertile land where wheat, mustard, barley and other vegetables can be grown easily. The royal family has done a remarkable job for the village to create Lotwara Private ITI, a school and hospital. Recently a petrol pump has also arrived to make their life even easier.
The Heritage Homestay
This 17th century fort, built by Thakur Ganga Singh is now the home to his descendant Thakur Giriraj Singh Lotwara. Created on 52,300 sq ft of land, it's a fine example of traditional Rajput architecture. Invincible boundary wall, the main porch, rooms built around a courtyard, Kachehri (court) which is still used to meet common people of the village and Chhatries on the top makes it a complete Rajputana residence. It consists of 10 guest room; a King's Room which includes a private Dining Room, and 3 Queen's room on the first floor, 4 Prince's and 2 Deluxe rooms on the ground floor. Every single room is unique in design and comes with AC and attached toilet.
The Heritage Homestay is ideal for destination wedding. It offers one of its kind experience for wedding.
Tariff
Classic Room – 4300/-
Prince's Room – 4950/-
Extra Person: 1500/-
Queen's Room – 5600/-
King's Room – 7300/- (4 Bedded)
Extra Person: 1850/-
Complimentary: Breakfast
These tariffs does not apply during new year holidays.
Child Policy
Upto 6 years: Complimentary (No Extra Bed)
6-12 years.: 50% (Extra bed provided)
Note: What you pay for a homestay, brings a direct socio-economic benefit to locals. Be proud by not asking for a discount.
Facilities
IR Thermometer • Room Sensitization • Parking • Wi-fi • Iron • Garden • Roof-top Dinning • Bonfire • AC in summers and Blower in winters • In-room Tea and Coffee • Folk music & dance • Car Rental
Food
The rich variety of food is something Rajasthan is famous for. Apart from regular north Indian food, traditional Rajasthani cuisine like Kadhi, Gatta, Dal-Bati Churma and Laal Maans (Red Meat) is something you will cherish. Different types of chutney and pickles is to add some more spice to your meal.
Activities
Village Walk • Pottery • Camel Cart Safari • Horse Safari
Local Attractions
Radha Krishna Temple • Chhatries • Mehndipur Balaji (8 km) • Chand Baori – Abhaneri (11 km)
Excursions
Sikandra – the hub of stone carving (26 km) • Jhajhirampura (40 km) • Bhandarej (45 km) • Bhangarh (72 km) • Sariska (82 km) • Alwar (84 km) • Bharatpur (90 km) • Jaipur (110 km) • Agra (135 km)
Know Your Host
Thakur Giriraj Singh Lotwara is a highly learned person with special interest in history. Socially very active he also is the President of Shri Rajput Sabha, Rajasthan. A talk over evening tea with him can give you an insight to the culture and lifestyle of Rajasthan and Rajput clan. His son Kunwar Lokendra Singh is a proud youngest Sarpanch of Rajasthan, probably of India also.
You may like to check more Homestays in Rajasthan