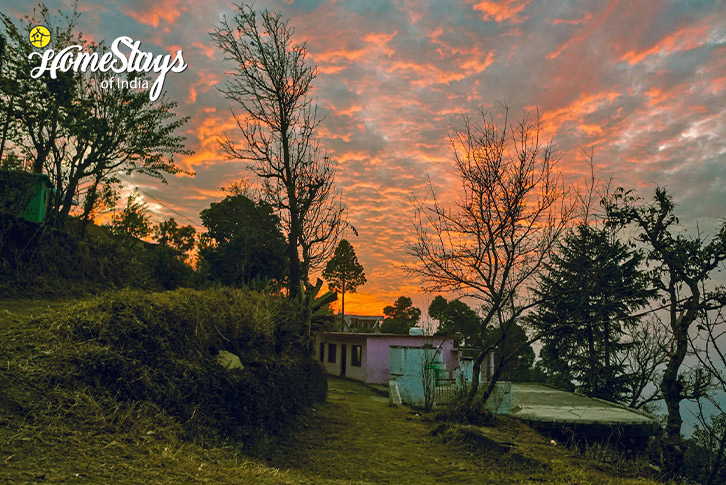 Pioneer Homestay Kasar, Almora
A small village not very far away from Almora (12 Km), Kasar promises to make your visit worthwhile with its quaint charm and beautiful views. Nestled between lush green Himalayan mountains, this village can actually slow time down for you. Whether you're looking for a quiet Himalayan vacation with scenic vistas or one full of fun and multiple cafe visits, Kasar can cater to all your needs. The centre of the village is the Kasar Devi Temple, which is dedicated to the goddess Durga and is famous as a pilgrimage site for locals and tourists alike. While Swami Vivekananda visited the temple and its nearby village in the early 20th century, artists like Bob Dylan, George Harrison, Allen Ginsberg, etc. came and spent time here in the 70s. Considering the fact that mountains are known for providing peace and solitude to every seeker who goes to them, Kasar again deserves a special mention – it is said to be one of the best places for meditation in the entire country.
Nestled in the lap of Kasar Crank Ridge 2 kilometers from Kasar Devi temple, it is the first homestay of Kasar Devi Village. It provides unbeatable views of the snow clad ranges of  Nanda Devi, Panchuli, Trishul and the atmosphere exudes peace and calm. If you're someone who needs some downtime with a breezy atmosphere, beautiful sunsets, healthy meals and great hosts, this is the place to be.
The entire building is open for the guests and the owners stay in a separate house which is just beside the homestay. First floor comprises three rooms and the ground floor has four rooms. This homestay provides its guests with all kind of facilities while retaining its old essence of Himalayan houses.  The rooms provide beautiful view of the valley from the large glass windows sitting inside the room only.  Each room can accommodate a maximum of three guests and extra mattress will be provided for third guest. All the rooms have free Wifi, power backup, electric kettle and have an attached bathroom. The balcony and garden area of the homestay gives you a picture perfect view of snow clad Himalayan peaks.
Location: Gadholi, Kasar Devi
No. of Rooms: 7; Total Capacity: 21
How To Reach
Kasar is easily accessible by road, railway and flight. Pantnagar Airport is the nearest airport (125 Km) and has frequent flights to Delhi and Mumbai. Kathgodam (90 Km) is the nearest railway station from Kasar. Being close to the district centre of Almora, there are frequent taxis – shared as well as private that can take you to Kasar easily.
Tariff
Classic Room
Single Occupancy: 1200/-
Double Occupancy: 1800/-
Extra Person: 550/-
Complimentary: Breakfast

Superior Room
Single Occupancy: 2500/-
Double Occupancy: 3200/-
Extra Person: 650/-
Complimentary: Breakfast
Note: The above tariffs do not apply during Dussehra and New Year holidays. 
Child Policy
Upto 6 years: Complimentary (no extra bed)
7-12 years.: 50% (with extra bed)
What you pay for a homestay, brings a direct socio-economic benefit to locals. Be proud by not asking for a discount.
Facilities
Hot Shower • Wifi • Power Backup • Electric-Kettle • Toiletries • Parking • Library • Open-Seating Area • Barbeque and Bonfire • Smoking Allowed • Pick and Drop Service (Paid)
Food
They serve home-cooked organic food.  Parathas, omelet, tea and sandwiches are available in breakfast. Lunch and Dinner has fully fledged meals, comprising dal, seasonal vegetables along with roti and rice. Suraj also can provide Chinese food on special request. The homestay has the option of both Vegeterian and Non-Vegetarian food. However, non-vegetarian meals are available on pre-order basis only.
Activities
Reading • Hiking • Village and Forest Walk • Yoga & Meditation • Photography • Stargazing • Birding
Local Attractions
Buddhist Monastery (1.5km) • Matena (1km) • Hippie Hill (2.1km) • Kasar Devi Temple (2.4km) • Almora Zoo (6km) • Mrig Vihar Zoo (7km) • Nanda Devi Temple (8km) • Almora (10km) • Golu Devta Temple (10km) • Binsar Wildlife Sanctuary (14km) • Binsar (14km) • Sun Temple (23km)
Excursions
Dhokane Waterfall (28km) • Kosi River (30km) • Jalna (31km)  • Jageshwar Dham (37km) • Majkhali (40km) • Shitlakhet (41km) • Someshwar (46km) • Mukteshwar (49km) • Bhalu Dam (52km) • Ranikhet (51km) • Kainchi Dham (53km) • Kausani (58km) • Bageshwar (63km) • Dhanachuli (64km) • Dwarahat (66km) • Binsar Mahadev Mandir (70km) • Bhimtal (72km) • Nainital (73km) • Baijnath (75km) • Kathgodam (90km) • Chaukori (108 Km) • Patal Bhuvaneshwar (111km)
Treks: Mukteshwar – Peora Trek • Riverside Trek • Darima to Mukteshwar Trek
Know Your Host
It is run by Suraj Mehra, who is a native from Kasar itself. The homestay was started in 1974 in remembrance of Suraj's grandfather, Mr. Ram Singh who was declared as the first man of Kasar. The family also carries a legacy of setting up the first PCO and Chai Shop in Kasar Devi. Suraj is a polite and humble guy who likes travelling and interacting with new people. He has a good knowledge about the local areas and can surely accompany you for nearby treks and tourist points. Suraj is very  courteous and not hesitate to go out of his way to make you feel comfortable.
You may like to check more of our Homestays in Uttarakhand