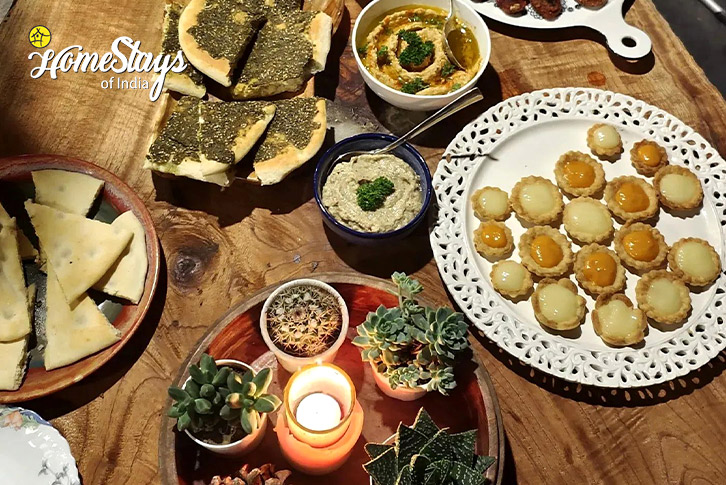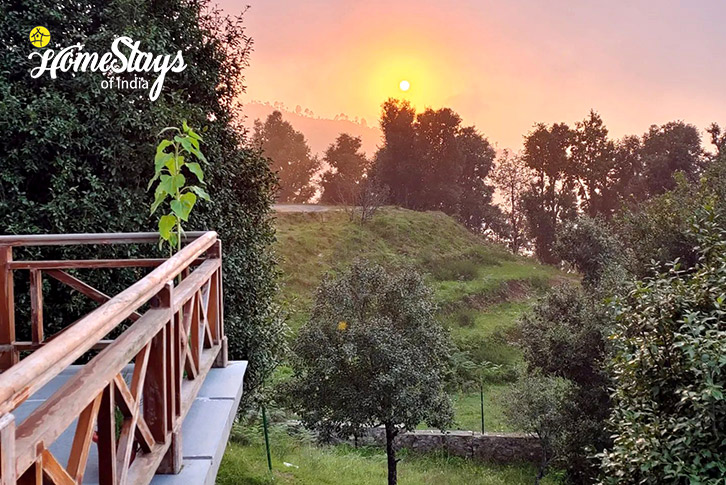 Ode-to-Sustainable-Living Homestay – Nata Dol Village, Almora
Nata Dol Village is a hidden gem located in the Almora district of Uttarakhand. The perfect geographical setting of this village offers the best Himalayan views. The village is situated at an elevation of 2153m above sea level and receives a good amount of snowfall during winter season. This place is good for those who love to explore the local areas and want to know about life in the Himalayan regions. There are various trekking routes and temple sites to explore along with the adventurous and tranquil river sites for the soul-searching kinds.
It is a beautifully constructed property in the Nata Dol village of Almora. Stay here will surely transport you away from your buzzing city life to days full of tranquility in the lap of nature. Immerse yourself into the local surroundings and live like it's your own home. The Hosts welcome the guests to become a part of the daily routine. They can join the owners in the farm activities as well. There's no internet or the room service but the panoramic views of the Nanda Devi and Kamet mountains, and the peaceful surroundings are luxuries in themselves.  It is a perfect place to enjoy a mug of hot coffee or chai with the view of snow caped mountains.
The house is divided into two connected floors where the owners stay on the first floor and the ground floor is reserved for guests. Ground floor has 2 bedrooms, one with double bed, attached bathroom, kitchen space, dinning, hall and the other with double bed, attached bathroom and kitchen space only. As you walk through the home, you will find Priya's photographs of local birds, her mini flower arrangements on the dining table, and her crochet pieces on the walls. The homestay keeps it simple. TThe homestay is well connected with road and has parking facility available.
Location: 1.3 km from Nata Dol Village
No. of Rooms: 2; Total Capacity: 4
How To Reach
Nata Dol is easily accessible by road, railways and flights. Pantnagar Airport is the nearest airport (100Km) and Kathgodam (66Km) is the nearest railway station. The village is well connected with road transport from Nainital (61 Km), Haldwani (72 Km) and Dehradun (348 Km). Local Taxi Services are also available.
Tariff
Single Occupancy: 8000/-
Double Occupancy: 9500/-
Extra Person: 7500/-
Complimentary: All Meals (Breakfast, Lunch & Dinner), Tea and Snacks
Child Policy
Upto 6 years: Complimentary (No Extra Bed)
6-12 years.: 50% (Extra bed provided)
What you pay for a homestay, brings a direct socio-economic benefit to locals. Be proud by not asking for a discount.
Facilities
Access to Farm and Lawns • Parking • Running Hot Water • Open Seating Area • Home Slippers • Television • Smoking Allowed • Bonfire • Barbecue • Heater • Cooking Gas and Stove • Fridge • Microwave • Driver Stay (Paid)
Food
The host serves delicious home-cooked regular meals that include Dal, Rice, Chapati, Vegetable etc prepared with the organic ingredients grown in the backyard of the stay. You have the option to pick your own fresh vegetables, fruits, herbs and eggs (depending on season) for your meals. They make cold press oils for cooking and home made and grown wheat flour. During the fruit season they have plenty of peaches, plums, apricots, apple, pear, walnuts, and cherries. Only vegetarian meals are available in the homestay.
Along with regular meals, there is also the option to get the baked products, such as pizza, cookies, etc. All meals are inclusive in the tariff, and you do not have to pay anything extra for it. You get the access to Cookies, Breads, Chips, Coffee, Tea, Maggie, Milk, Butter and Cheese. The host makes jams and preserves that the guest can enjoy and also pack a few as return gifts.
Activities
Reading • Hiking • Baking • Village Walk • Yoga & Meditation • Photography • Sunrise • Sunset • Stargazing • Birding
Local Attractions
Vishnu Temple (7km) • North Gola Range (7km) • Sunderkhal (12km) • Dol Kalyani Ashram (12km) • Dhanachuli (16km) • Mukteshwar (27km) • Bhalu Gaad Waterfall (28km) • Mukteshwar Temple (29km) • Chauli Ki Jali (30km) 
Excursions
Nanda Devi Temple (46km) • Almora Zoo (48km) • Mrig Vihar Zoo (48km) • Bhimtal (48km) • Jageshwar Dham (50km) • Naukuchiatal (51km) • Golu Devta Temple (52km) • Buddhist Monastery (53km)  • Hippie Hill (53km) • Kasar Devi Temple (53km) • Kainchi Dham (57km) • Dhokane Waterfall (60km) • Nainital (61km) • Kathgodam (65km) •  Majkhali (79km) • Ranikhet (90km)    
Treks: Mukteshwar – Peora Trek • Riverside Trek • Darima to Mukteshwar Trek
Know Your Host
This beautiful home is built as a retirement dream project by the owners, Priya Vajpai and Capt Sanjiv Vajpai. The couple originally belongs from Delhi but had always dreamt of having a home in the Himalayas. Priya is an artist and Sanjiv is the retired military personnel. They brought together their passion for architecture and art to build this home, so they could fulfil their dream of living in the hills. The homestay became fully functional in 2018, after the combined efforts of husband and wife for a span of 1.5 years.
Sanjiv and Priya are nature lovers and follow an organic and sustainable lifestyle. They only survive on water harvesting and have an organic farm and fruit orchard. They also own cows, few chickens and dog. The guest are free to roam around the farm and orchard or help them in their chores. The couple is always ready with open doors and hearts to welcome you to their little piece of heaven on earth.
You may like to check more of our Homestays in Uttarakhand