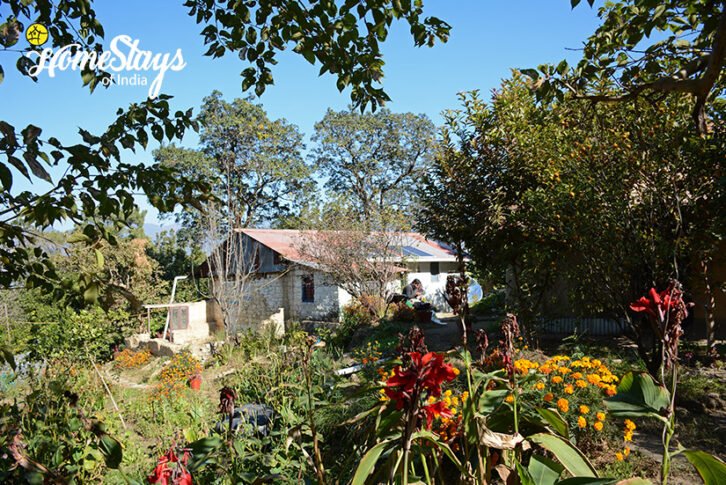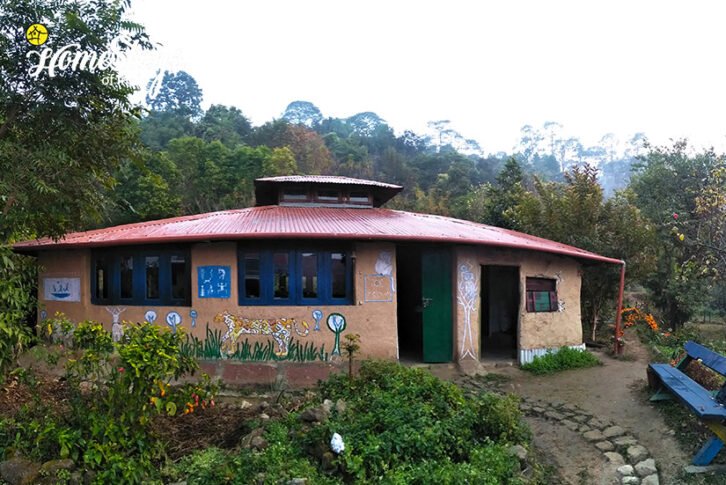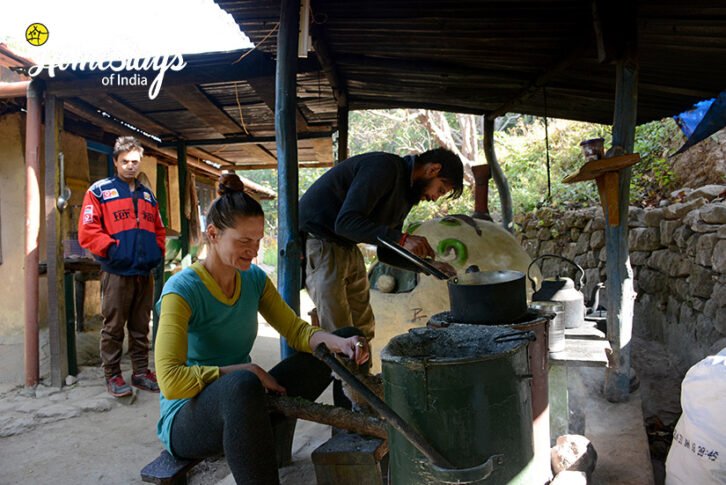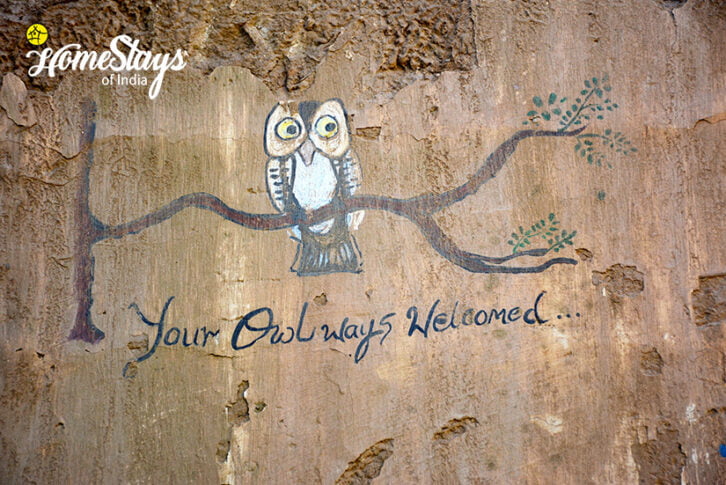 Raila – Nainital
Raila is a small, exotically located village in the hill state of Uttrakhand near Nainital, at a mild altitude of 4863 ft. You need to leave your car at Do Gaon and trek up for about 2 km through the forest to reach the village. It is sparsely populated with only 25 houses. Like most of villages in Uttarakhand, they also have a local God, Harju Devta who look after the village. The main occupation here is farming.
October to March is the best season to visit Raila. Oct-Nov is mild winter. Dec- Feb mornings, evenings and nights are cold, but days are generally warm and sunny. Feb-March is a small spring season. From April it starts becoming warm and it rains in June which goes up to Sep.
The Homestay
Its not just a homestay, its an organic farm spread across three acres of land. It was totally abandoned till 2011 when Pankaj and Vlatka came here and fell in love with the place. They worked day and night to develop the wild land into an organic farm. They harvested varieties of crops, planted hundreds of trees, created a garden and made it a heaven for nature lovers. Their mission is to find solutions for local farmers, so that they don't migrate to cities.
The homestay is a 100 year old traditional mud and stone house. Far away from city's chaos and pollution, it is up in the hills surrounded by birds, wildlife and pure nature. The place is full of seasonal fruits like Banana, Guava, Orange, Mango, Litchi, Apricot and Mulberry. There are 2 rooms; one is used by the host, another is a hall for guests that can accommodate 8-10 people easily. Everyone sleeps on wooden floor on mattress. There are 2 common bathrooms and 3 toilets for all. You may also pitch your own tent. The homestay welcomes volunteers who come from all over the globe to share their knowledge, experience and culture with the local community, and this is the beauty of this place.
Number of Rooms: 2, Total capacity: 8-10
Tariff
Per Person: 1700/-
Complimentary: All Meals (Breakfast, Lunch & Dinner), Yoga, Medita Morning & Evening Tea.
Child Policy
Upto 6 years: Complimentary (No Extra Bed)
6-12 years.: 50% (Extra bed provided)
What you pay for a homestay, brings a direct socio-economic benefit to locals. Be proud by not asking for a discount.
Facilities
Pure drinking spring water from mountains • Solar Electricity • Seating Areas • Bon-fire • Open Kitchen • Solar Cooker • Farm Library • Pick-up & Drop (paid) • Pet Friendly
Food
The duo is vegetarian by choice and aiming to develop the homestay as a holistic healing center. Vlatka cook fresh, pure organic seasonal vegetable from the farm. Her Porridge mixed with Raisin, Coconut Powder and Special Puri with fresh fruits jam is a surprising breakfast. You may ask for Poha and Paratha with curd. Dinner can be a mix of white sauce Pasta, mix vegetable with Daal and Chapati or Daal and Rice. She always cook in an open kitchen on wood fire oven which can be an experience for some. You can also cook your special food and share with others.
Farm Special: Pizza on demand in mud Oven, Carrot Tikki and Nettle vegetable (Bichoo ghass in Uttarakhand), healthy drinks made by farm healing herbs like, Cinnamon, Nettle, Mint and Lemon grass tea available all the year, Nettle Juice.
Activities
Farming  • Reading  • Night Jungle Walk  • Bird Watching • Waterfall View • Swimming and bath in Natural Pool in middle of forest • Star Gazing • Trekking • Collecting wood, pine cone and mulch from jungle to build healthy soil • Rock Climbing
Point of Interest
Jeolikot, popularly known as gateway to Nainital is just 6 km away from us. Its an ideal place for floriculture and butterfly lovers.
Excursions
Nanital (24km) • Bhimtal (25km) • Naukuchiatal (31km) •  Sattal (37km) • Ranikhet (70km) • Jim Corbett National Park (70km) • Almora (77 km)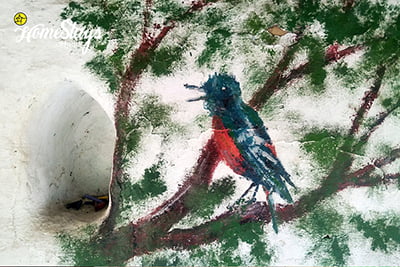 Travel Logistics
New Delhi is the nearest Intl. and Pantnagar is the nearest domestic airport to us, whereas Kathgodam would be nearest railway station. If you are coming by road from Delhi, take a late night Volvo bus to Nainital from Anand Vihar Bus Station and get down at Do Gaon.
House Rules
1. Check out time: 10:00 am
2. Kindly bring limited baggage as you have to carry it yourself to the farm. If needed, help can be provided on chargeable basis. (Rs 200)
3. Because we support alternative and healthy lifestyle, we choose not to consume alcohol, drugs or smoke on the farm. If you want to smoke, please do out of farm.
Note: What you pay for a homestay, brings a direct socio-economic benefit to locals. Be proud by not asking for discount.
Know your Host
You will be hosted by a warm couple Pankaj and Vlatka who decided to leave city's materialistic and luxurious life and live with nature. After working in different fields like Radio Station, 5 Star hotel for years, Pankaj realised something is missing from his life. He found the farm as his dream land and never looked back. Vlatka, a Pharmacist from Croatia came and fell in love at first sight with India and its people, got married to Pankaj and decided to live here forever. Having positive thoughts and faith both of them want to create a small heaven where people come, stay, share, learn and spread their knowledge and life experience with others.
You may like to check more Homestays in Uttarakhand