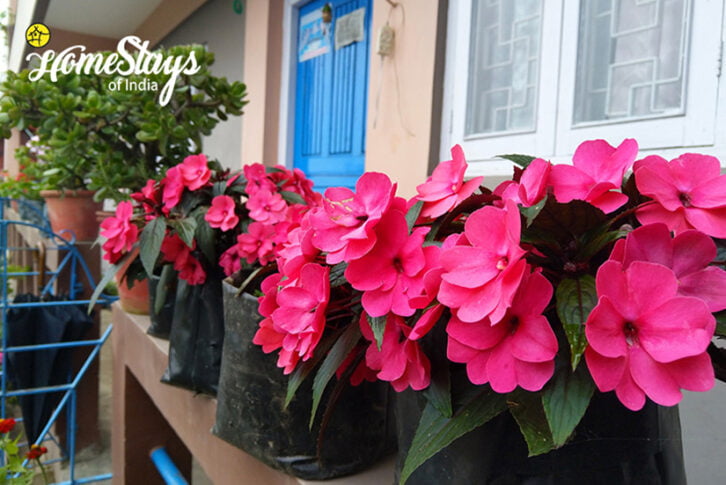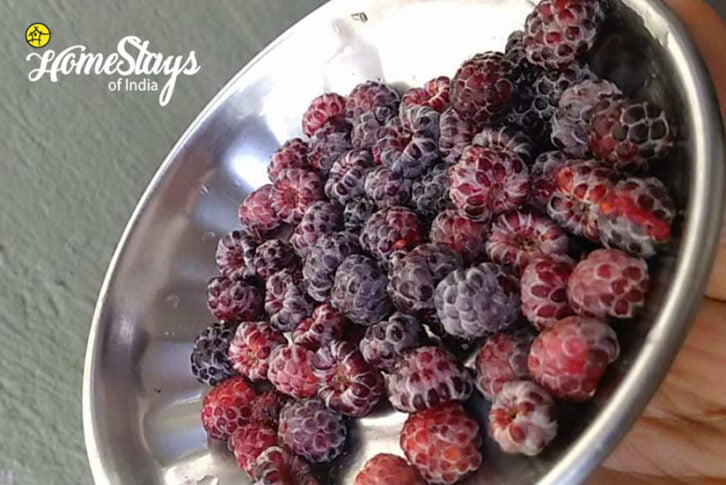 Pedong
Pedong is a picturesque little hamlet located 96 km from Bagdogra and just 20 kms from Kalimpong, West Bengal. It is an emerging travel destination which is gradually gaining popularity among travelers who love solitude and proximity to nature. The area is home to rich pine forests and offers enchanting views of the mountain ranges. It is also a starting point to some interesting hikes. One such hike will take you to Damsangudi fort. It is a historically important site that witnessed a long ethnic war between Lepchas and Bhutias. The village used to be a major transit hub on the ancient silk route that connected Tibet with India through the Jelep La Pass.
The Homestay
This homestay in Pedong is situated 3 Kms before the heart of the town and is therefore secluded from all the noise and the hustle bustle of the city. On one side is the Damsang forest and the other side lies the valley. There are 2 rooms with a capacity of 3 adults each, and 1 cottage style rooms with 3 adults and other with 2 adults. Host family stays on the first floor. Roof is accessible to the guests as well. There is a small kitchen garden where local herbs and seasonal vegetables are grown. In the front of the house is an open space where you can sit and enjoy nature or do bonfire at night.
No. of Rooms: 4, Total Capacity: 11
Tariff
Per Person: 1450/-
Complimentary: Breakfast, Dinner, Morning and Evening Tea
Note: These tariffs do not apply during Durga Puja and New Year holiday.
Child Policy
Upto 6 years: Complimentary (No Extra Bed)
7-12 years.: 50% (Extra bed provided)
What you pay for a homestay, brings a direct socio-economic benefit to locals. Be proud by not asking for a discount.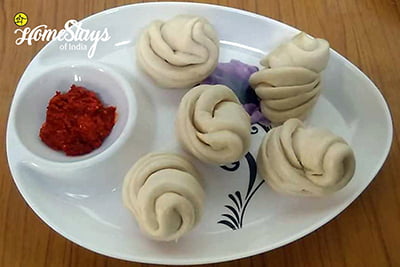 Facilities
Running Hot Water (Premium rooms only) • Room Heater • Seating Areas • Bon-fire • Barbecue (extra charges) • Alfresco seating for breakfast (optional, can be arranged) • Parking • Common TV
Food
Food is always freshly prepared and option of both veg and non-veg is available but a prior request for non-veg is required. Popular cuisine mostly is a mix of Tibetan and local Nepali style. However, you also get Indian snacks like Pakodas served with flavorful CTC tea from Darjeeling/Sikkim. Homemade pickles from local vegetables like Dalley, Rukh, Tomato, Redish and Gundruk are relished by guests. Most of the vegetables/herbs used in cooking come from own organic kitchen garden. Other than food, seasonal fruits like Guava, Plum, Strawberries and Blackberries grow in the premises itself and you can freely enjoy them.
Activities
Trekking • Nature Walk • Village Walk • Hiking • Feeding the Birds • Bird Watching • Star Gazing • Reading • River side picnic • Paragliding and River Rafting can also be organized on request.
Points of Interest
Damsang Fort Ruins • Sanchen Dorejee Monastery • Silence Valley • Teen Chuley View Point • Reshi River • Delo • Hill top Hanumna Temple • Chummerchin Monastery • Cross Hill Pedong
Excursions
Silent Valley (5km) • Sillery Gaon • Rikisum (10km) • Reshi Khola (15km) • Ramitey View point (17km) • Rishop (20km) • Lava (22km) • Changay Water Falls (25km) • Aritar Lake (34km)
Know your Host
Prajjwal Sinha and family will host you. Prajjwal Sinha is an Ex Hotelier and has worked with brands like Lemon Tree Hotels, Ananda in the Himalayas, Ista, Hyatt and Marriott for more than 7 yrs. Although a housekeeper by profession, he has a keen interest in cooking. As a person, he is learner at strumming the guitar, sings a few songs along, loves to click nature photographs at leisure and also writes once in a while. Asha Bhujel – Prajjwal's wife is an ex hotelier like him and has worked with biggest names of Hospitality. She carries a very friendly aura around her and is more than delighted to interact with new guests. She ensures that they have a very comfortable stay.
PP Sinha, Prajwall's father and head of the family is a retired serviceman and M L Mukhia, his wife is a retired high school teacher. The family goes out of the way to make your stay with them comfortable and homely.
You may like to check many other Homestays in West Bengal