Why work from home when you can work by a beach, lakeside or from the hills!
That's the mantra today for a stable working life. The events in past few years have completely changed the ways in which we work, showing us that we don't always have to be in the office to do our jobs.
Workation is the perfect way to spend an extended period of time in a destination you want to explore without worrying about depleting your leaves quota. And what can be better than getting to do it within your budget!
Keeping this in mind, Homestays of India has curated 13 budget friendly homestays in India that are ideal for Workation. The good news is that they all are below 7000/- per week.
#1. Colour's Medley Homestay – Mcleodganj
Located centrally in the heart of Mcleodganj, this charming place has hi speed wifi, is at a walking distance from the market and also has self cooking option. Not just that, it has magnificent mountain views and a lot of open space. You might find clouds walking into your room while you are busy in a VC. No wonder it is one of our best selling Workations in Himachal.
Tariff starts at 5000/- per week
Know More
#2. Nature's Art Homestay – Pushkar 
Situated in the lush green country side of Pushkar, this is a cozy and comfortable option for workation in Rajasthan. Terrace has a scenic view of the fields and the Aravali mountain ranges and there is a pool on the terrace to escape the heat and chill after a hectic day. Guest kitchen is there for self cooking. There is a small rooftop cafe as well in case you don't feel like cooking.
Tariff starts at 7000/- per week
Know More
#3. Take-A-Pause Homestay, Rishikesh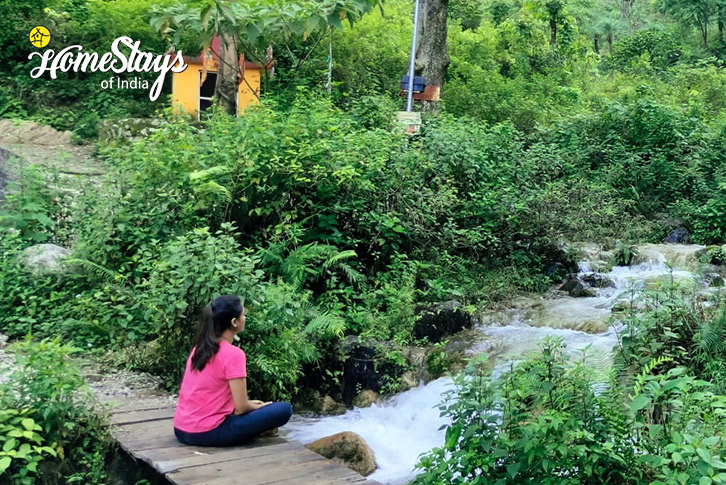 Located in the green surroundings of upper Tapovan away from the hustle and bustle of the main Rishikesh town, this is an independent house. The host family stays on the ground floor while the guest rooms are on the first and second floor. It is an ideal stay for those looking for a peaceful and homely environment to work from. Start your mornings with yoga and meditation and in your free time you can indulge in rafting, hiking etc.
Tariff starts at 5050/- per week 
Know More
#4.
Skampari Homestay – Leh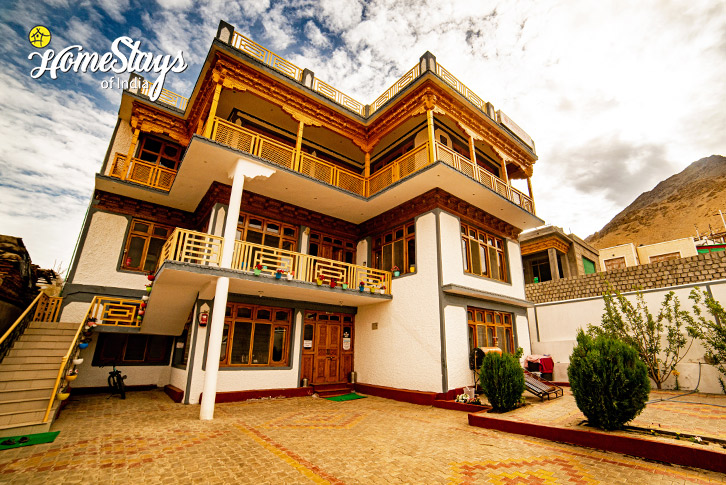 Exploring Ladakh has been on your bucket list for long but you are not getting leaves then stay at this homestay in Leh and work during weekdays and explore stunningly beautiful vistas of Ladakh during weekends. The host family will take care of your comfort and meals.
Tariff starts at 6300/- per week
Know More
#5. Wayanad Farmstay
This experiential farmstay is nestled in a 15 acre estate that is full of Coffee, Pepper, Coconut, Cardamom, Areca Nut and Rubber plantation in Wayanad, Kerala. The farm also includes a very rich livestock like Cows, Buffalo, Rabbits, Chicken, and Ducks, so you can be sure of getting healthy farm to table meals while yo work in peace amidst nature.
Tariff starts at 7000/- per week 
Know More
#6. Mali Para Homestay – Jaisalmer

And if you want to be transported back in time and work from the land of grand palaces, forts, bustling markets and vibrant culture,this homestay located hardly 100 mtr from the Jaisalmer Fort is ideal. This intricately designed homestay has a traditional Rajasthani touch in every corner, yet providing you all modern amenities. Since it is located in the vicinity of all the famous monuments, you can explore the city in your free time.
Tariff starts at 7000/- per week
Know More
#7. Garhwali Village Homestay – Chamoli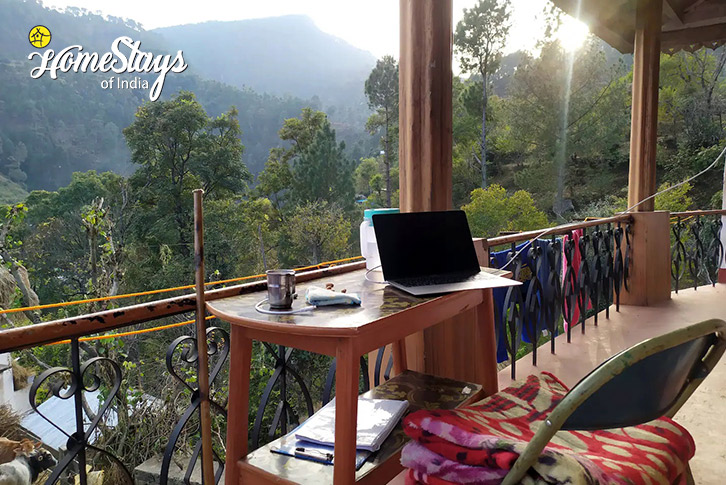 It is a beautiful Pahadi home in a quaint village of Chamoli, around 30 kms from Karanprayag, Uttarakhand. The homestay is 800 meters off the road and gives you a perfect setting to work in peace. Here you will be surrounded by the sound of water stream and Himalayan birds. In your free time mingle with the villagers, involve in organic farming, try your hand at local cooking on mud-oven and treat yourself to the local cuisine made using organic vegetables and Himalayan herbs.
Tariff starts at 4300/- per week
Know More
#8. Crazy Clouds Homestay, Mcleodganj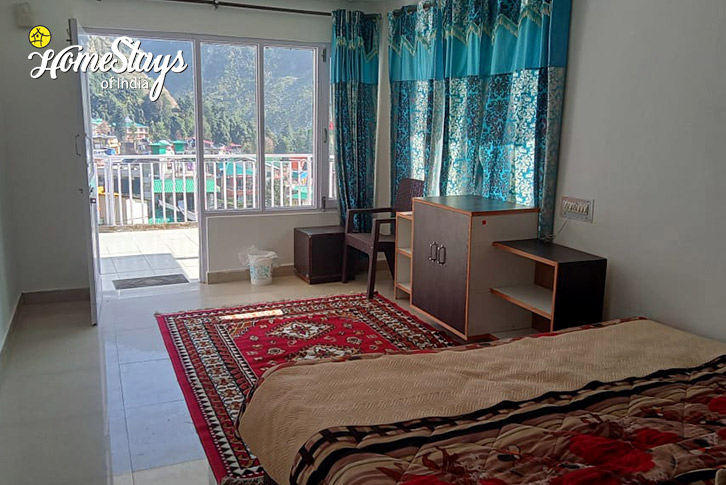 Just a few meters from Bhagsu Nag Temple in Mcleodganj, this humble abode is well equipped with all basic amenities and high speed internet. There is a shared kitchen for those who want to cook themselves. You can enjoy majestic views of the surrounding Dhauladhar ranges of Himalayas. The major highlight of the homestay is the balcony to sit out for dreamy sunsets, heavy-misted evenings and pine-fresh mornings.
Tariff starts at 6500/- per week
Know More
#9.
Pahadi Soul Riverside Homestay, Kasol
Situated along the banks of the river Parvati, this cozy little homestay is one of the best budget homestays in Parvati Valley. It is surrounded by apple orchards and provides lovely mountain view. Run by mother and son duo, this is an ideal place to work from. There are ample of activities that you can indulge in during your weekends. Explore hidden trails and waterfalls, hire cycles or bikes or go hiking. The love and care of this humble pahadi family will make you feel at home in no time.
Tariff starts at 7000/- per week
Know More
#10.
Mountains & Beyond Homestay – Kanatal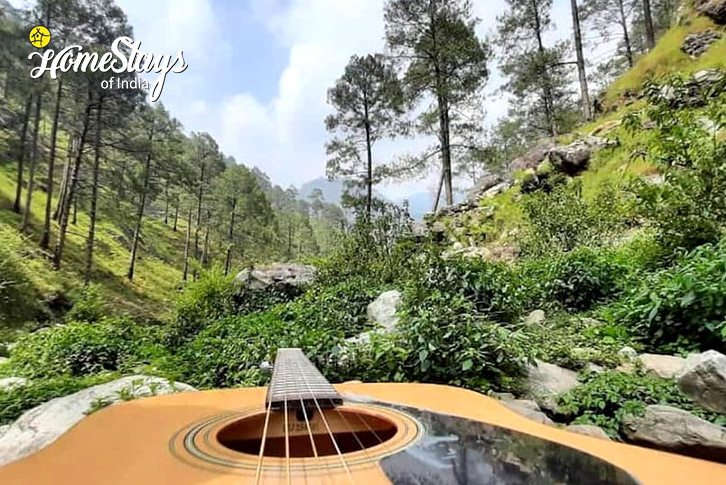 This lovely house is blessed with magnificent views of Himalayas, deep valleys and many unexplored forest trails nearby and is undoubtedly a piece of paradise for those looking to work from mountains. Work while enjoying breathtaking views of snow capped Himalayan ranges and fresh mountain breeze, explore the nature trails during your breaks and sit by the mountain stream or chase butterflies to get yourself refreshed.
Tariff starts at 5500/- per week
Know More
#11. Kais Homestay, Kullu
If you are nature and wildlife lover, this homestay in Kullu, Himachal is the place to be for your next workation. It is located in Kais Wildlife Sanctuary that inhabits different types of Bears, Musk Deer, Himalayan Tahr and Monals and many more. It lies in the middle of rice fields and Plum orchards in Village Kais and has wonderful views of green fields and mountains. It provides peaceful environment to work and healthy food options. You can also enjoy freshly plucked Apricot, Plums, Peach and Apple during the fruit season. During the free time you can do bird-watching, fishing, reading, star gazing and farming.
Tariff starts at 5500/- per week
Know More

#12.
Srinagar Homestay – Uttarakhand
Located in a tiny village near Srinagar in the serene hills of Garhwal, this homestay provides absolute solitude and is perfect for workation. The untouched beauty of lush green mountains, surreal sunset view and the vibrant colors of nature will inspire you to write, paint or do photography during your free time.
Tariff starts at 6300/- per week 
Know More
#13.
Holiday Hues Homestay – Bir
Nestled amidst quaint mountains with the mighty Dhauladhar range in the backdrop, this homestay is located just a few meters from the paragliding landing site in Bir.  Watching the sunset while the parachutes are landing is the sight to behold. The surrounding areas have tea gardens and pine forests and numerous big and small water streams. You can socialise with other working nomads and travelers while staying here.
Tariff starts at 5500/- per week
Know More