Vibrant and culturally rich Rajasthan is known for its colorful bazaars, historical monuments and deserts. However, Rajasthan is not just about the palaces, forts and sand dunes; it also boasts of an exceptionally rich wildlife despite the comparatively hostile terrain that ranges from the scrub thorn arid forests, barren desert, rock and ravines to wetlands and lush green forests. Each of these areas houses a large variety of rare animals and birds. It may be hard to believe but Rajasthan is one of the best wildlife destinations in India. Read on and you will agree!
1. Jhalana Leopard Sanctuary – Jaipur
Located in the foothills of Aravalis with amazing landscapes, it is said to be the world's most densely populated leopard reserve. Its rich geographical diversity and picturesque sights makes it the most sought-after destination for wildlife enthusiasts and nature lovers.
Known for: It is not just home to Leopards but is also a safe haven for striped Hyenas, desert Fox, Golden Jackal, Cheetal, Civets, Nilgai etc.
Best Time to Visit: The park is open around the year with very good Leopard sightings
How to Reach: It is 7 km from Jaipur Airport and around 8 km from the Jaipur Railway Station.
Stay at: Gangapole Heritage Homestay, Elegance Boutique Homestay
2. Chambal Gharial Sanctuary – Palighat
Picture Credits: Travellers World
The sanctuary is spread across the river Chambal. Boat Rides available at several points along the river, offer good opportunities for the sighting of gharial, dolphins and various species of water and shore birds with a amazing backdrop, adding to the photography experience.
Known for: The critically endangered Gharial, the red-crowned roof turtle and Ganges river dolphin. Other threatened inhabitants of the sanctuary include mugger crocodile, smooth-coated otter, striped hyena and Indian wolf.
Best Time to Visit: Winters is the best time for sighting as you can observe them basking.
How to Reach: Nearest Airport is in Agra (60 Km) and Gwalior (60 Km). Nearest railway station is in Dholpur. Some major trains from places such as Delhi, Mumbai etc. stop here. Alternately you can take a train to Agra (60 km) or Gwalior (60 km) or Bharatpur (100 km) and take a cab or bus from there to reach the sanctuary.
Stay at: The Naturalist's Homestay; Ethnic Homestay Ranthambore
3. Keoladeo Bird Sanctuary – Bharatpur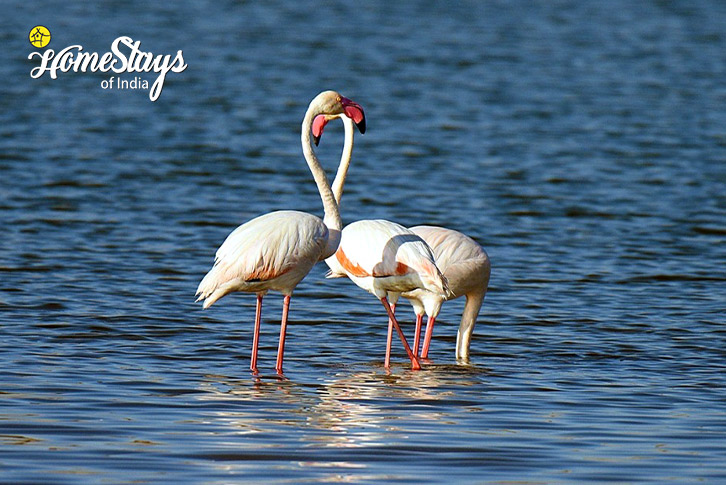 Located amidst a semi-arid terrain in Bharatpur, Keoladeo Bird Sanctuary is a UNESCO World Heritage Site and is amongst one of the finest bird sanctuaries on the planet. It is a major wintering ground for migratory birds, with species from as far away as Siberia making it their temporary home. Every year, thousands of birds, including ducks, geese, herons, cranes, and raptors, flock to this park, making it a truly spectacular sight for ornithologists and nature enthusiasts.
Known for: The park hosts over 365 bird species and is the only regular migration ground for the endangered Siberian Cranes. It also serves as a wintering area for other globally threatened species like the Greater Spotted Eagle and Imperial Eagle. 
Best Time to Visit: From the month of August to November, this is a breeding ground for resident birds, while October to February witness migratory birds making this place their home. Rest of the year is relatively quite dry and spotting a bird is rare.
How to Reach: The nearest airport is in Agra, which is 56kms from Bharatpur. Delhi is 184kms from Bharatpur. Regular rail services connect Bharatpur with all the major cities like Delhi, Mumbai, Jaipur and Agra. The Bharatpur railway station is about 5 kms from the bird sanctuary.
4. Jawai Leopard Conservation Reserve
Located in the Pali district, Jawai Conservation Reserve is not the typical jungle, there are a range of granite hills along the Jawai river. The region is home to cave-dwelling leopards and has a history of harmonious co-existence of human and leopards for over 150 years. The inhabiting tribe of Rabari consider these big cats as the guards of their local deity. Jawai Bandh is famous for an easy leopard sighting opportunity as these wild cats are often spotted over the rocks, in search of food.
Known for: It is home to Leopards and other wildlife like hyenas, sloth bear, jackals and many birds mainly waders like flamingos, egrets, herons and cranes. Many migratory birds also flock the area in winter season.
Best Time to Visit: You can spot leopards at any time, irrespective of the season or climate. October to March remain cool & pleasant so preferred.
How to Reach: Udaipur is the nearest airport at a distance of around 120 kms. Bera, Jawai Bandh and Falna are the railway stations nearby. Jawai is well-connected by road with the major cities of India such as Jaipur. Jodhpur, Udaipur, Ahmedabad, Delhi and Mumbai etc. from where you can reach here by driving your vehicle.
Stay at: The Wild Wonder Homestay, Wild Acres Farmstay
5. Sitamata Sanctuary – Pratapgarh
Located in Pratapgarh district, the thickly wooded Sita Mata Sanctuary sprawls over the Aravali ranges and the Malwa plateau, with the seasonal rivers Jakham, Karmoi, Sitamata, Budho and Tankiya flowing through the forest. This Sanctuary is the only teak forest in Rajasthan, and is known for the presence of an isolated population of Large Brown Flying Squirrel. It is also an ideal habitat for herbivores, carnivores and a variety of territorial and water birds.
Known for: Flying Squirrel and Panthers.
Best Time to Visit: The best time to watch flying squirrels is between February and March when most of the mahua trees shed their leaves and it is easier to spot the squirrel gliding between branches of leafless trees.
How to Reach: Udaipur is the nearest airport at a distance of around 92 kms. Mandsaur has the nearest railway station to the Sanctuary and is located at a distance of 28 kms.
Stay at: Lazy Dreams Homestay, Marwari Charisma Homestay
 6. Tal Chhapar –  Churu
Picture Credits: Travellers World
Located in the Churu district this sanctuary spreads over the Thar Desert and the famous Shekhawati region. The sanctuary is a saline depression and has its own unique eco system.
Known for: Blackbucks, along with rarely seen species like Jungle cats, Desert fox, Desert jird, Chinkara, Spiny tailed lizards and more than 300 species of resident and migratory birds.
Best Time to Visit: November to February is considered the best time to visit Tal Chhapar Sanctuary. During this time the weather is pleasant and the migratory birds also flock in.
How to Reach:The nearest railway station is Chappar which lies on Degana-Churu-Rewari line of North Western Railways. The nearest airport is Jaipur which is 215 km from Chappar. There are many buses as well to Tal Chhapar, operated by Rajasthan State Road Transport Corporation.
Stay at: Tal Chhapar Forest Rest House, Sujangarh
7. Gajner Wildlife Sanctuary
Located at a distance of about 32 km from Bikaner, it is a natural haven on the shores of a lake. Nestled atop a small hill, Gajner Wildlife Sanctuary is an oasis and reserve enriched in flora and fauna with dense green forest cover.  A variety of animals come here to quench their thirst in summer. 
Known for: The lake at Gajner attracts water birds in thousands which include Imperial Sand Grouse, Indian Houbara Bustards, Water fouls, Demoiselle Cranes, and other varieties of migratory birds. It is also home to blackbuck, chinkara, antelope, wild boars, deer, wild fowls, neelgai and desert foxes.
Best Time to Visit: November to March
How to Reach: You can take a cab from Bikaner which is well connected by rail and road. The railway station is within the city. Regular buses from major cities are available for Bikaner. The nearest airport is Nal Airport Bikaner (17 km) but has limited flights. Nearest major airport is in Jodhpur (240 km)
Stay at: Flavours of Rajasthan Homestay, Bikaner
8. Ranthambore National Park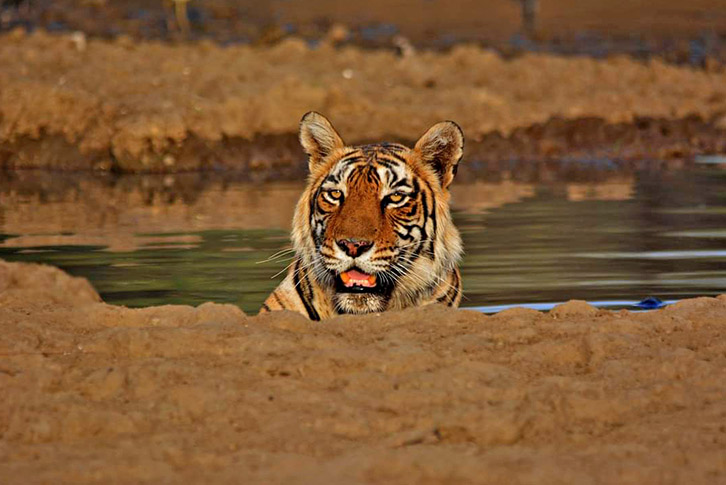 Picture Credits: Travellers World
Located near the town of Sawai Madhopur, this is one of the most renowned tiger reserves in India.  Situated on the plateau that lies between the hills of the Aravali and Vindhya Range, the forest is endowed with the amazing natural bliss.
Known for: Apart from Royal Bengal Tigers, Ranthambore is also home to leopards, sloth bears, sambar deer, and a wide variety of bird species.
Best Time to Visit: The forest is open for the safari from the 1st October to the 30th June
How to Reach: Jaipur is the nearest airport at a distance of 160 kms. Sawai Madhopur railway station is the nearest railway station. The station is located at the distance of about 11 km from the park and the tourist can catch the local bus, taxi or cab to reach the Ranthambore Park from the Sawai Madhopur station. 
Stay at: Ethnic Homestay, Ranthambore
9. Sariska Reserve Forest
Situated in the Alwar district, it is nestled in the Aravali Hills and is divided into the grasslands, dry deciduous forests, sheer cliffs and rocky landscape. The reserve also houses the ruins of medieval temples of Garh-Rajor that date back to the 10th and 11th centuries. A 17th century castle on a hilltop at Kankwari provides a panoramic view of flying vultures and eagles. 
Known for: It houses a range of wild animals like Tigers, Leopards, Hyenas, Jungle cats, Nilgais, Sambar deer, langur, Rhesus macaque, antelope, wild boars, Indian civet and many more.
Best Time to Visit: The forest is open for the safari from the 1st October to the 30th June
How to Reach: Jaipur is the nearest airport at a distance of around 120 kms. Alwar is the nearest railway station. The park is well connected on road so you can drive or take a cab as well.
Stay at: The Wild Trail Homestay
10. Desert National Park – Jaisalmer
Situated near the town of Jaisalmer, it is renowned for its diverse desert ecosystem. Surrounded one side by Aravalli Hills and the other side by prolific plains of Indus River, it is home to a variety of animal species, including the Great Indian Bustard, a critically endangered species. The park also provides a habitat for blackbuck antelope, desert foxes, monitor lizards, and over a hundred species of migratory and resident birds.
Known for: The Great Indian Bustard. Apart from that various eagles, harriers, falcons, buzzards, kestrel, vultures, Short-toed eagles, tawny eagles, spotted eagles, laggar falcons and kestrel can also be seen here.
Best Time to Visit: October to March is a good time to visit.
How to Reach: Jodhpur airport which is 300 Km away is the nearest airport. From Jodhpur you can hire Cabs. Jaisalmer railhead is the nearest railhead to Desert National Park.
Stay at: Khuri Homestay