Forget the woes of city life for a few days and head to rural India to soak in the tranquility of the place and savor simple pleasures of life. Wake up to chirping of the birds, start your day chatting with village kids; their unadulterated laughter and innocent talks will immediately melt your heart. Spend your day engaging in farm activities like picking fresh vegetables from the farms, milking cow etc. and learn traditional ways of organic farming or taking village walks to understand their simple ways of life. Taste earthy local flavors of farm fresh vegetables cooked on mud oven. And after a satisfying day, sleep out on a charpoy under the stars for a peaceful night.
Let your next holiday be at Authentic Eco-friendly Village Homestays where people have opened the doors of their homes and hearts to the travelers. 'Homestays of India' works with these people to help them sustain their village life through welcoming low impact tourism. While these homestays provide you a great traditional experience, the village people get an alternate income stream and job opportunities. Get the taste of slow paced rural life at these 8 village homestays in different regions of india.
.
Unwind at this traditional mud-and-stone house built in typical kumaoni style and stay in harmony with nature cut off from the modern world chaos. Kanarkha is a small village in Kumaon hills where people are mostly engaged in farming. It's just 2hrs drive from Kathgodam. Being a fruit belt their orchards are full of peach, plum, apricot and pears. Detox your mind and body with pure air and garden fresh organic fruits and vegetables. Kanarkha offers some really good short treks in the Oak forest where you might sight Sambhar, Mountain Goat, Barking Deer, and if you are lucky you might sight a Leopard also. It is perfect for birding as well.
.
Experience rustic dwellings in the mud huts at the Desert village of Khuri just 50kms from Jaisalmer. Stay here with a local family and get hands on feel of rural Rajasthan. Taste the true Rajasthani flavors and you are most welcome to join the lady of the house in cooking and learning some traditional recipes as well. All the cooking is done on mud oven. Other than spending leisurely days at the courtyard of this beautiful traditional home you can go on Camel safari for witnessing gorgeous sunset and explore untouched sand dunes of Khuri. The host may also organize a night under the stars at the desert if you like some adventure.
.
This traditional bamboo hut in Mawlynnong is just 3 hrs drive away from Shillong. Stay here and get an insight into the fascinating life of khasi people. You will be treated with delicious local food. Village Mawlynnong is awarded the title of 'Cleanest Village in Asia'. With its neat lane and perfectly manicured gardens it looks like a little heaven. You can go on nature walks, visit amazing living root bridge and waterfall and experience the magic of setting sun by the plains of Bangladesh.
.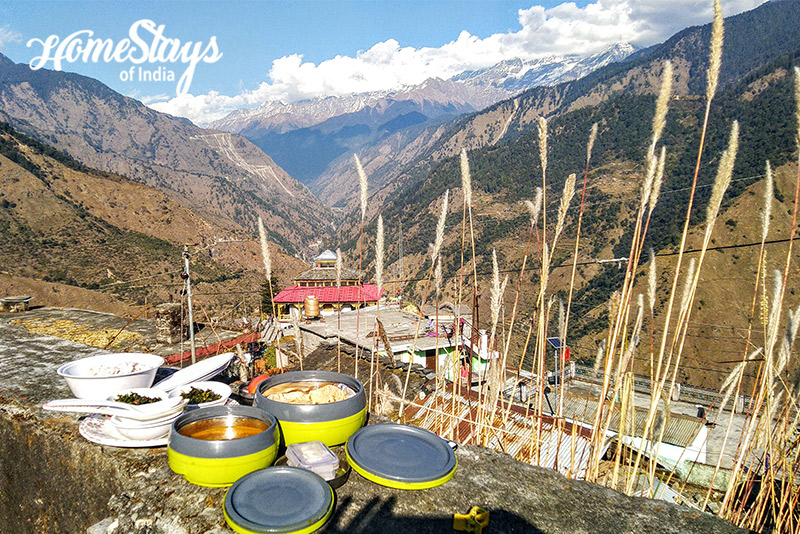 Experience absolute solitude and tranquility while staying in this traditional Garhwali Himalayan house in Raithal. There is no TV and no mobile connectivity, so you are completely in touch with yourself. Start your days with inspiring yoga mornings. Go on leisurely village walks that unravels traditional Garhwali architecture, local way of life, flourishing local vegetation and relics of history. Enjoy healthy local meals. Live ideal mountain life for a few days and come back refreshed.
.
It's a beautiful home showcasing features of traditional Kerala architecture providing all modern amenities at the same time. It is just 16kms from Allepey. Located in a peaceful beach village Marari, you can have relaxed mornings and evenings by the beach; it is hardly 200mts from the beach. It's a paradise for nature lovers too with its unique Malabar Coast ecosystem. Dance performances in local temple, visit to the community church, chatting with locals over a cup of freshly brewed coffee, or just relaxing by the beach with your favorite book – it's a perfect place to unwind.
Start writing or type / to choose a block
.
Tucked away in a remote village in high Himalayas, this homestays is perfect to give you an essence of local Spiti life. Other than exploring the vast out-of-the-world landscapes, you can take part in daily activities of the villagers like farming, learning to cook local dishes and spending time with your host to understand how life thrives in such harsh conditions. The homestay entirely runs on solar power. You will be amazed to see how happy and self-sufficient people are. This is the place where you may find million years old fossils. You may also spot many endangered species like Snow Leopards, Himalayan Griffon, Tibetian Wolf and Ibex. The nights here are blanketed with a million stars; something that cannot be enjoyed in the city–it is a sight not to be missed. It is 16kms from Kaza, the commercial hub of Spiti valley.
.
Driving through the picturesque lanscapes of Sikkim, you will reach this homestay located in village Lachen in North Sikkim in 5-6 hrs from Gangtok. Lachen is a scenic mountain village and is home to Lachenpas, a unique Sikkimese Bhutia community. This traditional homestay provides you a unique experience of the local culture, traditional lifestyle and local cuisine.
Start writing or type / to choose a block
.
You will be welcomed to the remote village of Turtuk by extremely friendly people who host this lovely homestay. Turtuk is one of the northernmost village of India prior to Pakistan located in the Leh District. It lies along the shores of Shyok River, flanked by Nubra valley on one side and Baltistan on the other, The journey to reach here is challenging, but once you are here you will find yourself in a different world all together. It is an amalgamation of all the cultures that have lived here. It clearly reflects in Turtuk's Mosque where you can see the delicate combination of Swastikas, Buddhist patterns and Iranian designs. Spend a few days here and experience its unique culture, location and legendary Balti hospitality. You are sure to come back as an improved version of yourself.