There were times when we were not required to cut on our carbs and go to the gym, regular meals prepared using farm fresh vegetables and the active lifestyle kept us healthy. Those were the times when there were no OTTs for our entertainment, nature had enough to keep us happily occupied. We did not have to take pills to go to sleep, our simple and healthy lifestyle ensured good nights sleep. Don't we all crave for a life like that? Unfortunately, we are stuck with our hectic schedules, work deadlines and responsibilities. Wouldn't it be great if you can live both!
HOI have curated some homestays in villages where you can live healthy life and detox. And since they do not burn your pocket you can live here for as much time as you want to refresh your body and soul and get ready for your normal life again. These homestays are ideal for students preparing for competitive exams, families who want their kids to experience village life, couples who crave healthy lifestyle and even for work-from-home people in some homestays who have good connectivity.
Lets start with the ones in Himalayan villages, explore whats there is Rajasthan and then go down south.
#1. Kanarkha Homestay, Padampuri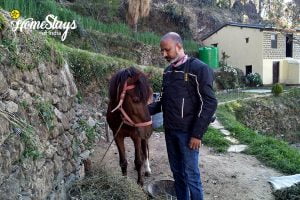 Located in Kumaon region of Uttarakhand near Padampuri, this tiny village Kanarkha is ideal for the much deserved break you are postponing. Just a walk of half an hour through zig-zag village ways will take you to this piece of heaven. Wake up to the fresh morning listening to the music of birds while tea is waiting for you, and end your days sitting by the chulah (mud oven) having fresh hot rotis just out from the oven with farm fresh vegetables. You will love this village homestay for the simplicity, love and warmth of its people. Never has it happened that the guest stayed here and did not come back.
Know More
#2. Sarmoli Homestay, Munsiyari
Sarmoli, a small village situated above Munsiyari in the Kumaon region of Uttarakhand has unmatched scenic beauty with breathtaking views of Panchachuli range. The vehicle reaches the homestay and there is enough space to park the cars. Since the homestay is located at a good height, there is amazing Panchachuli View from the terrace. Bask in the sun and read a book or enjoy work from home while sipping pahadi chai with the host family.  The place is also good for bird watching and studying Himalayan butterflies and moths.
Know More
#3. Sunkiya Homestay, Mukteshwar
Far away from pollution, noise and chaos, Sunkiya village in Mukteshwar is nestled in Oak and Rhododendron forest. Located about 350 mtr off the road, Sunkiya homestay provides you ultimate peace & privacy. You will be hosted by a farmer's family, so you will get farm fresh meals. Milk and milk products are also homemade. There are Peach, Plum, Apricot and Apple trees to ensure regular supply of fresh fruits to the guests.
Know More
#4. Mirai Homestay, Dwarahat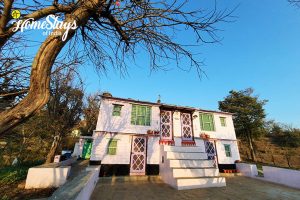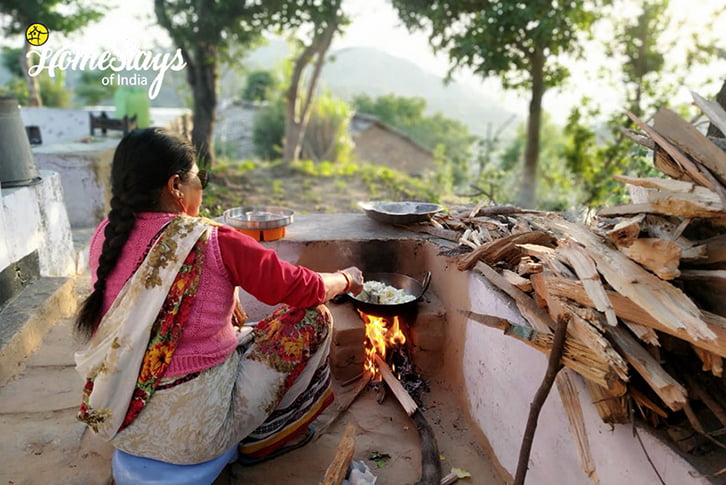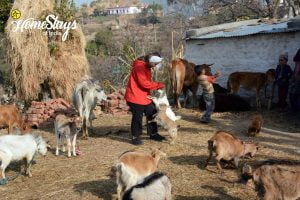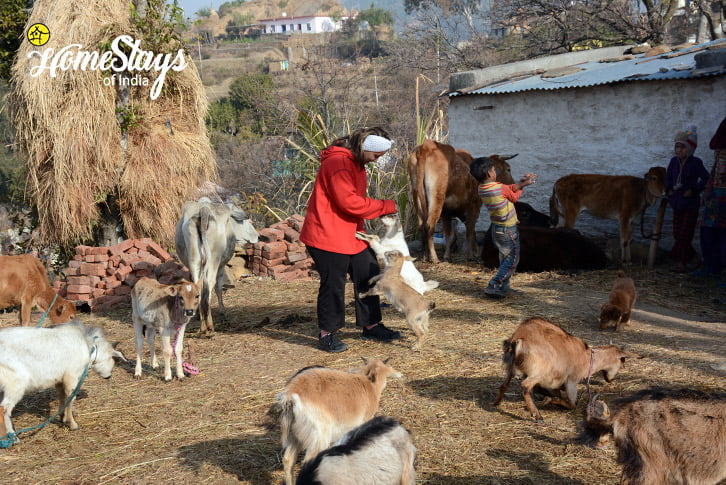 This serene little village is located 4 km from Dwarahat and offers a lovely view of Dunagiri Temple and Ranikhet. An easy walk of around 700 meters takes you to this traditional mud and stone village home. Live in this local house to experience the traditional way of living – sleep on the Charpoy, get involved in organic farming, pick vegetables and herbs from the garden and learn to cook them in Kumaoni style. At night you can see the whole valley glittering with lights.
Know More
#5. Sainj Valley Homestay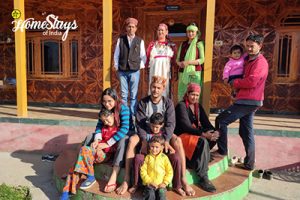 This homestay is located in Deohari, a small peaceful village surrounded by lush green fields by the banks of Pundrik Rishi Lake in Sainj Valley, Himachal. This traditionally built homestay showcases local culture through its hospitality, décor and architecture. It is a perfect getaway for nature lovers, explorers, artists, writers, yoga & meditation enthusiasts and many more looking for a simple peaceful stay.
Know More
#6. Kais Homestay, Kullu
Kais is an untouched beauty of rural Himachal located 14 kms from Kullu. The major attraction is Kais wildlife Sanctuary that inhabits different types of Bears, Musk Deer, Himalayan Tahr and Monals among many other species. In the middle of Rice fields and Plum orchard in Kais wildlife Sanctuary, lies this beautiful homestay. Serene environment, natural beauty, singing birds and gushing stream are few things that best describes this place. It is a perfect place to experience Himachali village life. You can relish Apricot, Plums, Peach and Apple in fruit season.
Know More
#7. Pahadi Dacha Homestay, Banjar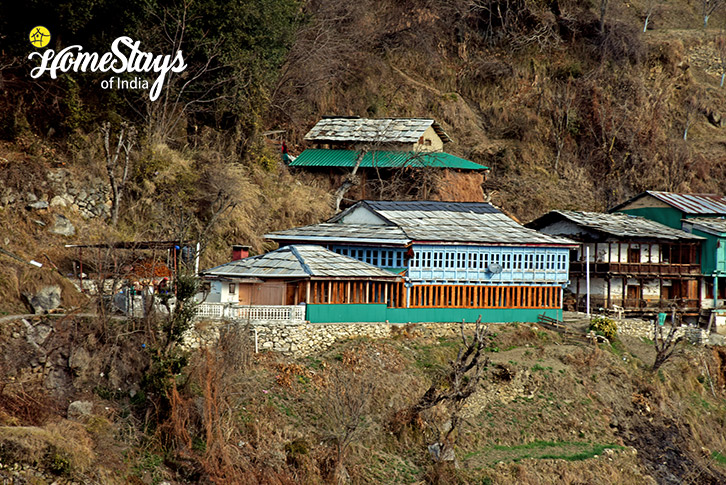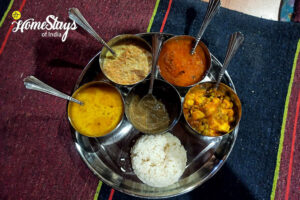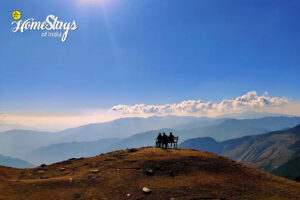 This traditional Himachali style homestay is located in the midst of nature in a small village Laida in Banjar valley. The house is perched on the hillside with amazing valley views. A small walk of 250 mtr from the parking takes you to this hidden gem. Surrounded by pine forest and Apple, Plums, Persimmon orchards, it is ideal if you are looking for a serene rustic stay in the midst of nature. There are some nice village hikes and treks nearby. You can experience peace, calm and traditional pahari rural lifestyle while staying here.
Know More
#8. Trekker's Delight Homestay, Losar
Losar is an absolutely delightful village, located on the right bank of Spiti river. Visit this homestay to experience life in a high altitude Himalayan village. The local family here has opened the door for travellers. Stay with them to learn about their lifestyle, which interestingly has not changed for more than a thousand years. The scenic vistas you can enjoy here with snow-clad mountains in the backdrop are unmatched.
Know More
#9. Tsogsti Community Homestay, Ladakh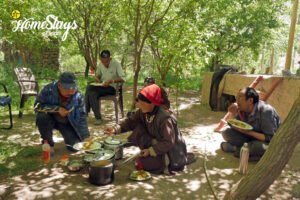 Tsogsti is one of the remotest village of Ladakh located on a cliff above the mighty Zanskar. It is a true eco-village running completely on solar power with no mobile towers or network around. So if you have a plan to get lost in nature for a digital detox, this is the place to be in. You can get one of the most unique homestay experience here. There are just 4 households in the village and you get to eat your meals and spend your nights in different rooms and houses interacting with new people each day. Since its an eco village, they still use traditional Ladakhi toilets.
Know More
#10. Mashimi Living Homestay, Mawai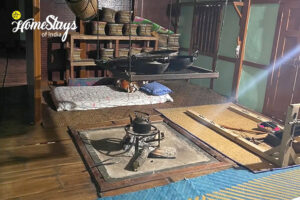 Mawai is a tiny village in Lohit district of Arunachal Pradesh and is a homeland to the "Mishmis". The homestay is nestled in foothills near Parshuram Kund. Great mountain view, calm and serene atmosphere and warm hospitality of a beautiful soul who belongs to Mizu Mishmi, one of the many ethnic groups in Arunachal Pradesh will make your stay here memorable.
Know More
#11. Lagay Homestay, Pelling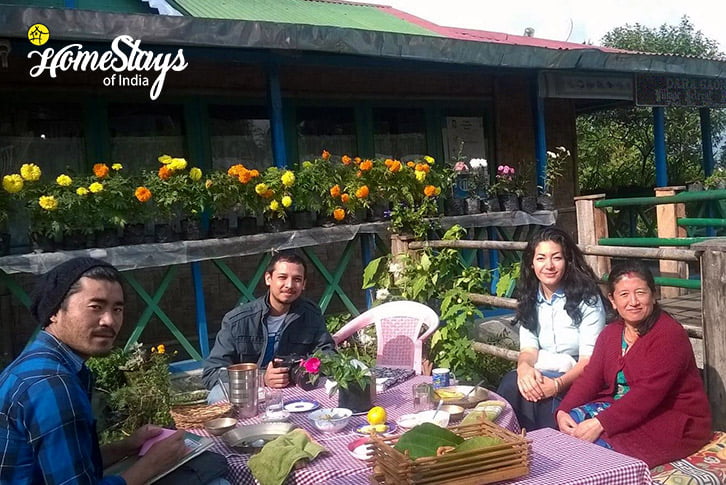 The homestay is situated in quiet surroundings of village Lagay, popularly known as Darap in West Sikkim near Pelling. It is surrounded by the grand pinnacles of the Himalayan extents and paddy fields. A short walk up the cemented steps surrounded by the calm forest leads you to this traditional Sikkimese house. You will be hosted by  extremely welcoming Limboos. They have preserved their rich culture and traditions since ages. Participate in handicraft making; do bird-watching or visit the caves at Kanchenjunga National Park. It is a base for several short treks around Pelling and to plantations of millet, cardamom, and corn.
Know More
#12. Khuri Homestay, Jaisalmer
If you want to experience village life in the secluded sand dunes of the Thar, this village homestay in Khuri is perfect. Khuri is an ideal desert village untouched by the modernity. Stay in traditional mud huts on a charpoy and enjoy simple home cooked Rajasthani food.  The family members collectively take care of needs of the guests.
Know More
#13. Weaver's Paradise Homestay, Jodhpur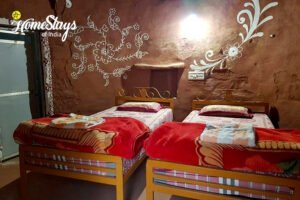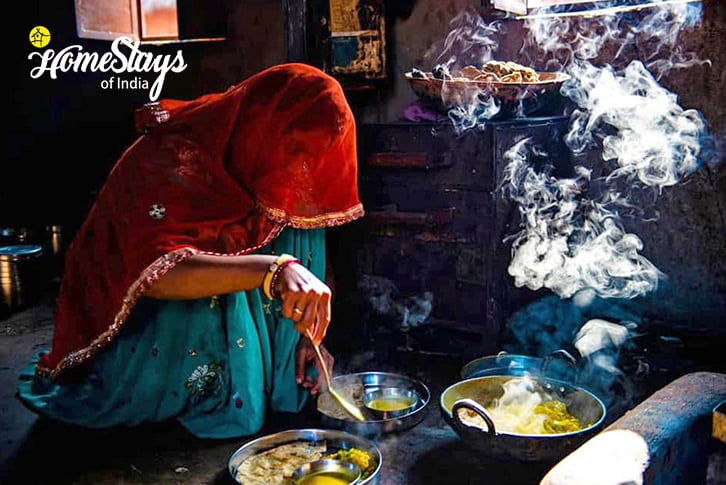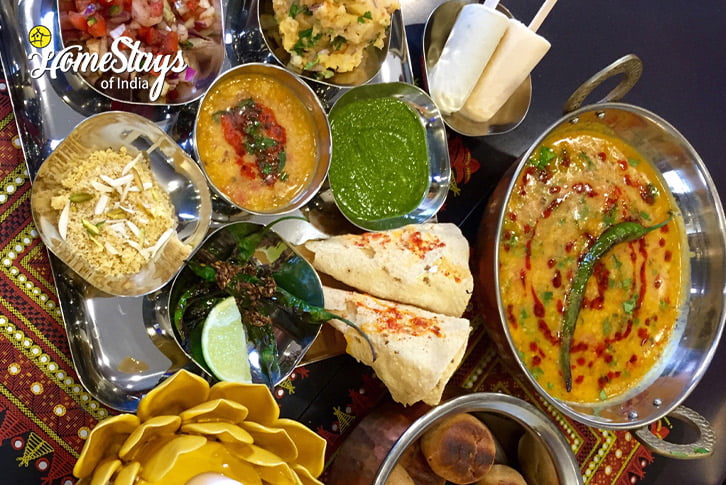 Located 19 km from Jodhpur, village Salawas is known for its vibrancy, culture and durries (rugs) made by the local craftsmen. This is one if the first village homestays near Jodhpur and was started with an aim to promote rural tourism and local art & craft. It provides the real experience of rural Rajasthani lifestyle. Live in ethnic style cottages, enjoy tradtional food and experience warm hospitality of Rajasthanis.
Know More
#14. Kallada Homestay, Munroe Island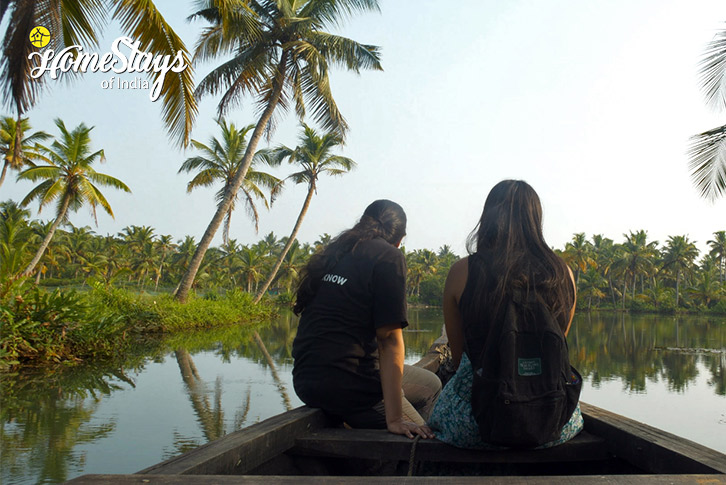 Munroe Island is a group of eight small islets located in the Kollam district of Kerala. Secluded from the outside world even today, it stands strong to preserve the ancient culture of Kerala. Located right in the center of the island, the homestay is a blend of traditional architecture and modern facilities. Having delicious home cooked local food in the open dining area amidst the sounds of breeze hitting the trees and the chirping of birds away from any bustling noises is a relaxing experience you can have here in addition to traversing across narrow canals and backwaters to the vast Ashtamudi lake during sunsets or the sunrise.
Know More
#15. Morning Breeze Homestay, Coorg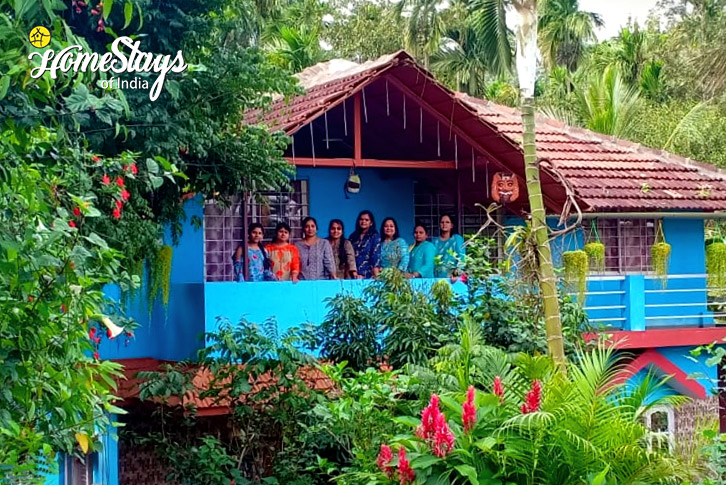 Kaggodlu village, 6 kms from Madikeri is covered in lush green forests and the landscape is dotted with coffee plantations. Situated in the midst of a coffee plantation and paddy fields, this homestay is ideal to spend a few peaceful days in the lap of nature. The only sounds you get hear is humming of birds and chirping of crickets. Nature walks, angling and bird watching are a few things that will keep you engaged while you enjoy you stay with simple local family who will treat you like their own family member.
Know More