India is well-known for its beautiful landscapes, diverse culture and variety of cuisines. Every region has its own distinct flavours. And the best way to truly immerse yourself in the culinary wonders of India is to live with locals. Homestays provide a unique opportunity to experience the local cuisines and indulge in traditional recipes passed down through generations.
Here is a list of 10 incredible homestays in India that will tantalise your taste buds. So, pack your bags, prepare your taste buds, and embark on a culinary adventure that will leave you craving for more!
.
#1. Bright and Breezy Homestay – Thiruvallam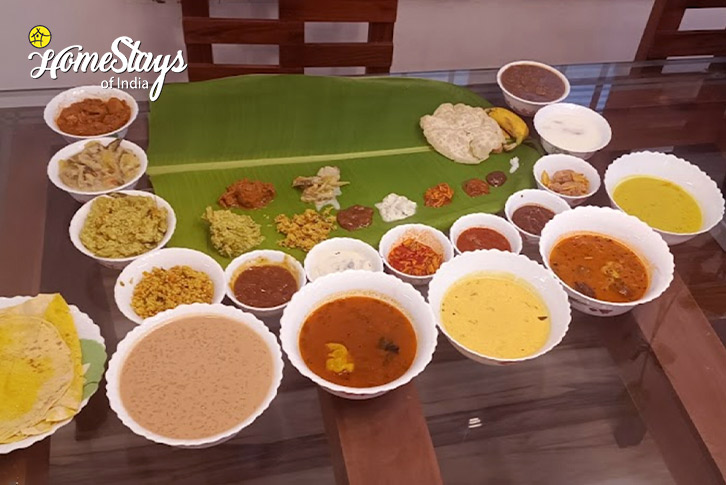 Situated on the sea-facing side of a cliff in Thiruvallam in Kerala, this eco friendly homestay is located in a calm and quiet place and is surrounded by greenery. Ashwathy, the host loves to cook and will amaze you with delicious organic and healthy homely food. You name it and she will make it for you with all her passion and love. Every meal is an abundance of flavors, and you might be ruined for any other food in India – everything is fresh and local, and you will learn the history and context for each dish. You must try Kerala Sadya, Podi Dosa , appam and puttu. Y
ou can also join the host for a cooking course to soak up all their experience and knowledge.
.
#2. Dreamwood Homestay – Rimbik
Located on a hill top overseeing the Rimbik village in West Bengal, this serene homestay provides stunning views of the snow- capped peaks of Kanchenjunga and the surrounding landscape. In addition to the comfortable accommodations and amazing views, this homestay offers delectable cuisine. The host serves a range of delicious and authentic local cuisine. From steaming momos and thukpas to flavorful curries and stir-fried dishes, the food is made with fresh, locally sourced ingredients and is sure to tantalise the taste buds of even the most discerning foodies.
Know More
#3. Harmony Heritage Homestay Mattancherry – Fort Kochi
This century-old heritage home is situated in a quiet neighbourhood of Mattancherry in Kerala. Surrounded by coconut trees all around and back-waters of Arabian sea, this beautifully crafted homestay is an amalgamation of Kerala and colonial styles of architecture. And the same can be felt in the food they offer to their guests. While you can relish traditional Kerala cuisine and the aromatic sea-food, such as shrimp, crab, prawns fishes, etc. you can also enjoy continental or a Full English/Irish food. Dosa/Idli with Sambar and Chutney, Puttu and Kadala Curry, Appam and Egg Curry, Chapati/Poori Bhaji, etc. are few of the Kerala delicacies that are most popular amongst the guests.
.
#4. Baspa Riverside Homestay – Rakchham, Sangla
This is a traditional wooden house nestled amidst a huge apple orchard
by the gushing Baspa i
n the serene surroundings of lush green Rakchham in Kinnaur, Himachal Pradesh.
This is the best place to relish
traditional Himchali food.  They offer
dishes like chilta, madra, tingmo, siddu and teliyah maah. Visit in September or early October and you can enjoy crunchy farm fresh apples as well.
.
#5. Weaver's Paradise Homestay – Jodhpur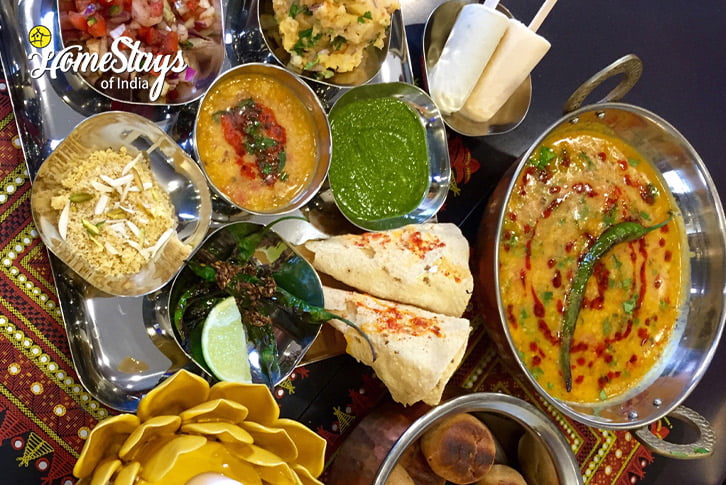 Started with an aim to promote rural tourism and local art & craft of Rajasthan, the homestay provides all comforts and homely feel in a rural setting. The highlight of the stay is food that is prepared by Chhotaram's wife and mother. The family will  treat you with mouthwatering dishes with typical Rajasthani taste and there's no limit to the servings. Their menu includes traditional Rajasthani dishes like Dal Bati Churma, Gatte ki sabji, Kakari ki Sabji, Ker Sangari, Kadi, Chatney and much more.
.
#6. Mystique Village Homestay, Chhotebodal – Bastar
Located in a peaceful and scenic surrounding in a small village in Bastar, Chhattisgrh, this mud house has pure village atmosphere. Traditional tribal food is what you will love about this homestay. Meals cooked on a wood fire by local women and is usually prepared using millets and is served on Sal-leaf plates. You must try tribal dishes like Fish Pucha (fish prepared with Saal leaf), Chaur Bhaja (similar to Biryani), locally grown vegetable, roots and tubes. 
.
#7. Sea Delight Homestay – Alibaug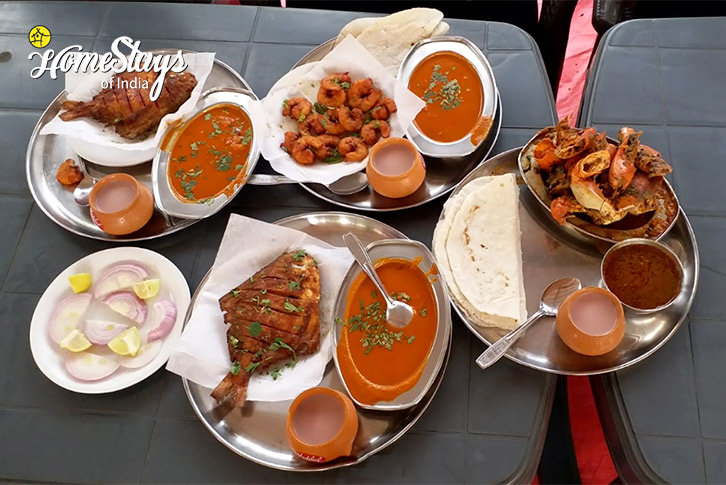 This 2 storey bungalow is located in green & peaceful surrounding in a beautiful coastal area of Nagaon, Alibag. It is ideal for friend and family get-togethers and surely a must-stay for sea food lovers. Freshly cooked Konkani style food cooked on chulah is something you would love to come back here for. And to top that are the authentic Maharashtrian sweets like Puranpoli, Modak etc. 
.
#8. Brews & Hues Heritage Homestay
This heritage bungalow is located amidst a peaceful coffee estate in Kesarike area around 18kms from Chikmagalur in Karnataka. It is ideal for a peaceful vacation and experiencing the warmth of Malanad hospitality and culture and indulge in regional delicacies. Deepthi serves authentic Malnad cuisine that is prepared with lots of care and you will be fed generously with love. The ingredients she uses change as per the season and the vegetables often come from their own farm. Gorge on Kadbu, Shavige, Ghee rice, Biryani, Thatte idli, Akki roti to your heart's content. And you are sure to get one of the best coffees in the region.

.
#9. Gangori Homestay, Uttarkashi
Located in the Himalayan foothills of Uttarkashi, this eco-friendly homestay promises a peaceful outing in the lap of nature serving travelers with the essence of Garhwali culture and traditions yet keeping in sync with all the basic amenities required for a modern traveler. Guests here can enjoy best of local cuisine that includes pahari daal, gutka aloo, pahadi raita, mandua roti and seasonal vegetables sourced fresh from the kitchen garden. Milk and dairy products also come from the in-house farm. Beyond local food, they can also cook other Indian dishes and guests are free to use the kitchen as well. The parathas and homemade butter is a favourite among guests.
.
#10. Singi Homestay – Bardhaman
Nestled in the lap of nature, this is a lovely homestay located in a quint village in Bardhaman (Burdwan) district of West Bengal. Food is a huge affair here. In fact this homestay was curated to provide 'Bishmukt Bhojan' mean pure organic food. Sudeshna is an expert on authentic Bengali food. She cooks in traditional way using wood oven, clay and iron pots. Almost every supply to the kitchen comes from in-house resources. Fish comes from own pond, ghee and curd are home prepared and spices also grounded at home only. Sometimes she also invites local people for cooking to add variety.