Many articles are written on solo women travelers but no one ever thought or wrote about men traveling solo. What do they want? What's their criteria to pick a destination and the stay? What problems do they face while traveling solo?
HOI spoke to a set of men from metro cities who are frequent travelers and prefer to travel alone. Here's what they say: 82% of them feel that the location should have ample activities to indulge in; like trekking, walking, cycling and driving trails. For 45%, privacy and comfort are the main criteria to choose a stay along with good wifi connection. And 23% said that there should be cafes to hang around or the accommodation should have a good variety of food in their menu. Some also said that smoking should be allowed. For almost everyone, budget is important. Mostly solo travelers are frequent travelers and hence they travel on a budget. 
And when asked what are the problems do they face while traveling solo, they say it's the perception most Indians have about single men. Singlehood is not seen as a choice that a man can make, it is seen as an inability to find a partner and friends. Thus, single male travelers are often judged as losers with no purpose in life. It is thought that either they are into drugs or looking to get laid whereas a solo female traveler is admired for her courage. Solo male travelers are also presumed to be dirty and smelly. So many properties do not allow single men. 
So what could be an ideal destination and stay option for solo male travelers? The stay where the host do not judge their guests, that is comfortable and have wifi, there are cafes to hang around and ample opportunities for indulging in activities. So considering it all, Homestays of India have consolidated a list of top 10 homestays that fulfil most of the above criteria and are ideal for solo travellers, specially men!
# 1. Mountain and Meadows Homestay, Chelusain – Uttarakhand
If you wish to live a relaxed Himalayan village life for some days, this is the place to be. Wake up to surreal sunrises, eat pahadi food, go on nature trails and live a slow paced life. And if you have interest in music, spend time with host Pankaj who has a good collection of unique musical instruments. You can also have a jamming session with other travellers.
Tariff: 1600/- per night including Breakfast.
Know More
#2. Pushkar Homestay – Rajasthan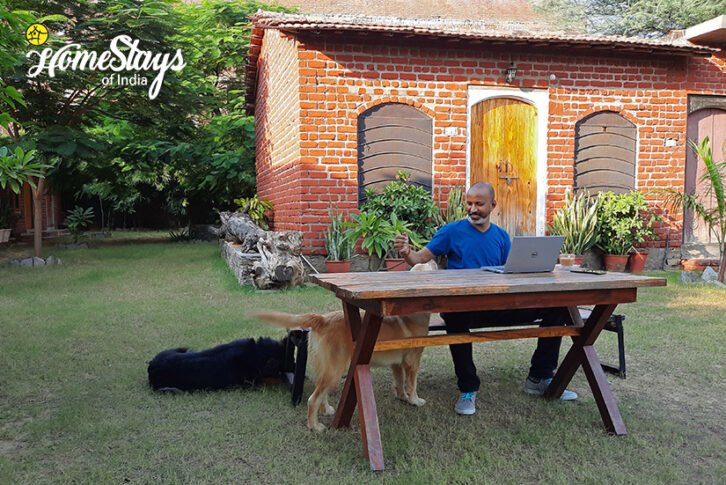 Surrounded by Aravali Ranges, the homestay allows you to stay close to nature with the open lush green garden and cozy brick cottages while staying within the town. Located just 500 meter from the main market it's away from the hustle-bustle of the town yet close enough. It is home to three friendly dogs, two horses and numerous birds and squirrels. The host runs a cafe as well so you can have a variety of food including Islearli, Italian, English and all types of Indian.
Tariff: 1500/- per night including Breakfast and Wifi.
Know More
# 3. Heaven on Hills Homestay, Kalimpong – West Bengal
Tucked away from the hustle and bustle of the main town of Kalimpong, this quaint little homestay provides absolute peace, privacy and quiet to loosen up and relax. It is a typical mountain house with a beautifully maintained garden and an amazing view of the mountain and the valley from the compound.
Tariff: 1600/- per night including Breakfast and Wifi.
Know More 
#4. Star of Shillong Homestay – Meghalaya
Located in a peaceful locality of Shillong, this well maintained 80 yrs old house is perfect for solo travelers. The warmth and hospitality of the host, delicious food and independent spaces to sit and relax will make you feel like home. Being on a hill, it offers a beautiful view. You can almost see half of Shillong from here which looks amazing especially at night with lights blinking away.
Tariff: 2500/- per night including Breakfast and Wifi.
Know More
# 5. Gateway to Himalayas, Manali – Himachal 
Surrounded by an apple orchard, this beautiful cottage is the place to be at if you want comfort, nature and proximity to market, all at the same time. Located on an elevation, it offers an unobstructed view of the mighty Himalayas and is just 5 mins away from the mall road. The rooms are spacious with all modern facilities and have beautiful views either of Hamta pass or of Rohtang. There is a huge entertainment and fitness area and high speed internet is also there.
Tariff: 2500/- per night including Breakfast and Wifi.
Know More
# 6. Ramblers Paradise Homestay, Dharamkot – Himachal
Tucked in a peaceful corner of Dharamkot, it is surrounded by tall Deodar trees on one side and open to the mountain peak on the other. Plan to stay here for amazing hospitality, delicious food and happy vibes. There are some interesting excursions and treks around the homestay. Plan a day out to Bir-Billing, Andretta and Palampur; forest and village walks can also be arranged by the host.  And if you do not feel like venturing out  just do nothing and chill, soaking in nature while sipping your tea at the homestay. Make your evenings soulful with music and interesting talks with your host and fellow travelers.
Tariff: 2700/- per night including Breakfast and Wifi.
Know More
# 7. Tea By The Lake Homestay, Ooty – Tamil Nadu
It is a beautiful lake view homestay built on an independent 100 acres tea estate. It provides a perfect setting for a solo trip. Take a walk in the tea gardens, go fishing or just relax with your favourite book in the beautiful sit outs in the garden overlooking the lake. Enjoy your evenings hatting with host and fellow travelers over the bonfire and barbecue.
Tariff: 3000/- per night including Breakfast and Wifi.
Know More
# 8. Oasis of Ladakh Homestay, Leh – Ladakh
Leh is all time favourite destination for solo male travelers. It is a perfect base for exploring Ladakh, there is a happening market and cafe to hang out and wifi is availabe to catch up on work and social media. This homestay is a perfect family run budget homestay in Leh away from the hustle and bustle of the main market yet not very far from it. It has a kitchen garden and the lawn that is unbelievably green.
Tariff: 950/- per night including Breakfast and Wifi.
Know More
#9. Kallada Homestay, Munroe Island – Kerala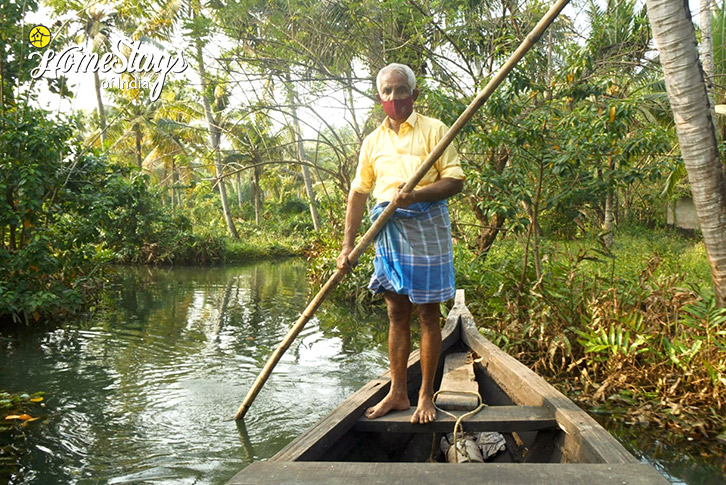 For those who want to get cut off from the world for sometime, the Munroe island is a perfect location. Secluded from the outside world even today, it is located at the confluence of Ashtamudi lake and the Kallada riverand has huge mangrove plants and coconut farms along the shores. This homestay is a blend of traditional architecture and modern facilities. Have delicious home cooked local food in the open dining area amidst the sounds of breeze hitting the trees and the chirping of birds away from any bustling noises, take a canoe ride through the heart of region or traverse across its narrow canals and backwaters to the vast lake during sunsets or the sunrise.
Tariff: 1800/- per night including Breakfast
Know More
# 10. River Symphony Homestay – North Goa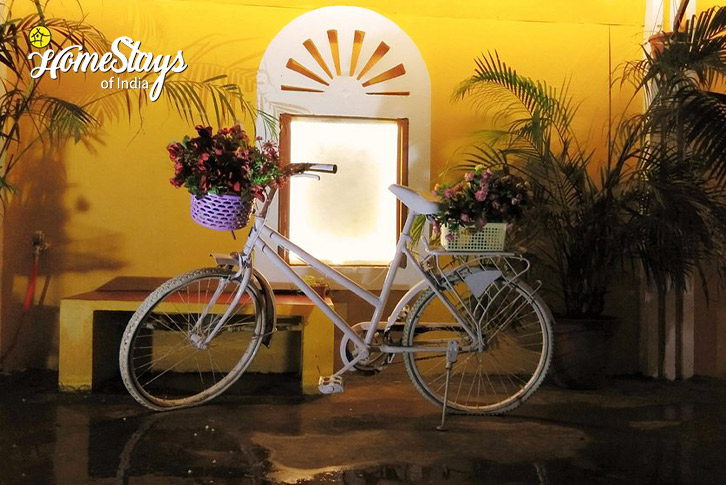 Another all time favourite destination is Goa and it surely is ideal if you are travelling solo. Situated by the River Mandovi's backwater, this homestay is an ideal place to stay in North Goa if you are looking for a calm and peaceful place. Set in a beautifully landscaped area, you will get a feeling like you are in a forest surrounded by trees even though it is in a bustling area. A riverside open space makes it very interesting for late night chats, early morning Sunbath and bird-watching.  There is an infinity pool that is perfect to spend cool afternoons. You can pick your favourite book from the library, go cycling or play indoor games in the well maintained lawn.
Tariff: 1800/- per night including Breakfast and Wifi.
Know More