Gone are the days when homestays were the modest budget places to stay. Now a homestay can be a royal residence, tea estate, fort, heritage bungalow or some beautifully curated home in the tranquil backwaters. They are exotically located and sometimes give you better experience than 5 star hotels. You not only enjoy the best of the facilities in these homestays but also get to feast on delicious local cuisine, know the culture and tradition of the place and get personalized attention. The common thing in all is, they get you an experience of the famed Indian hospitality. The warmth of your hosts will touch your heart every time you pay a visit.
Check out our pick of 20 Incredible Homestays of India. These homestays will provide you a unique experience which you will cherish for life.

#1. Song of the Sea Homestay, Kasaragod – Kerala
This 150 yr old traditional beach house is located on an island with white sandy beach on one side and wide backwaters on the other; both at a walking distance from the house. Wake up to a mesmerizing sunrise, kayak to the nearby mangrove island, walk along the beach, listen to music by the river, watch the sunset, enjoy a bonfire and gorge on delicious seafood.
Salient Feature: Its breathtakingly beautiful and unique location.
Tariff: 3,500 rupees per night for double occupancy including breakfast.
Know More
#2. Mountain Breeze Homestay, Jibhi – Himachal
Located in a peaceful valley in Jibhi amidst deodar forest, this traditional pahadi house made of stone, wood and mud is renovated and refurnished to address the needs of the city dweller. This is a perfect place to reconnect with nature. Wake up to bird songs and a beautiful view, chase butterflies and watch herds of sheep, enjoy scrumptious food and live a slow village life for some days; experience all this while enjoying the comforts of modern living.
Salient Feature: Village living with all modern facilities.
Tariff: 3,000 rupees per night for double occupancy including breakfast and dinner.
Know More
#3. Ancient Glory Heritage Homestay, Takdah – West Bengal
Set amidst pine forest in a tiny hamlet Takdah, this 110 years old British bungalow is located in Himalayan foothills in the Teesta Valley, West Bengal. It provides the true essence of the vintage lifestyle. Thick brick walls, slanted roof, arches, chimney and fireplace, high ceilings, large open green spaces with amazing view is a testimony of elegance, comfort and old-world charm that you can experience while staying here.
Salient Feature: Colonial architecture that provides an old world charm.
Tariff: 3,600 rupees per night for double occupancy including breakfast, lunch, tea, snacks and dinner.
Know More
#4. Tsogsti Community Homestay – Ladakh
Just about 31 kms from Leh, this is one of the most unique homestays in the region. There are just 4 households in the village Tsogsti and they have adopted a collective homestay system so that every house gets a fair share of income. The sense of togetherness and unity is marvelous among the four households where each festival, every occasion is celebrated with brotherhood. As the guest of the village you get to eat your meals and spend your nights in different rooms and houses interacting with new people each day.
Salient Feature: The unique cultural experience in a 'Collective Homestay System'
Tariff: 1,500 rupees per person including breakfast and dinner.
Know More
#5. Chandaka Eco Homestay, Bhubaneshwar – Odisha
Spread across one acre of land surrounded by mango, guava, chikoo, pomegranate and custard apple trees, this eco-friendly wilderness homestay is located on the outskirts of Bhubaneswar on the periphery of Chandaka Dampara Wildlife Sanctuary. The beautiful cottages are made of locally available material, mimic traditional tribal architecture and use rainwater harvesting and drip irrigation. All the food at the homestay is whipped up by the host Indrani herself, who is an excellent cook and loves to feed her guests.

Salient Feature: It is a perfect example of sustainable tourism and community development.
Tariff: 3,750 rupees per night for double occupancy including breakfast and evening snacks.
Know More
#6. 1914 Tea Farms Heritage Homestay, Dhekiajuli – Assam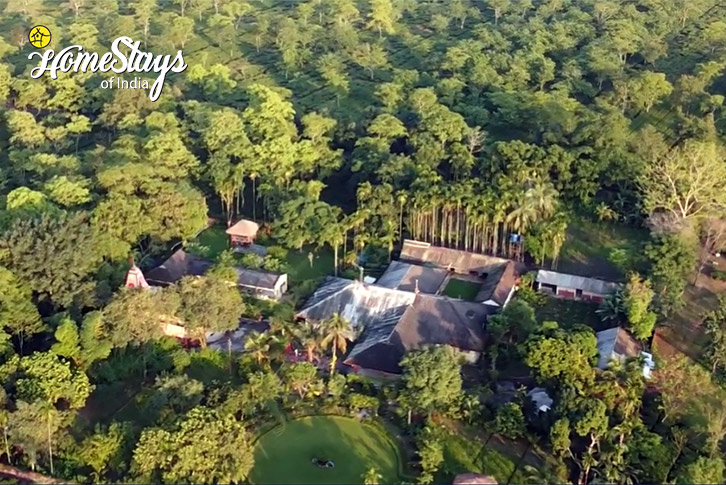 Legacy of Five Generations, this more than 100 years old heritage Colonial Tea Bungalow is surrounded by 2600 acres of tea plantations. It belongs to the 'Keshav Kanoi Family' that has been manufacturing Black premium CTC tea since 1914. A heady concoction of old world architecture, birdsongs, vivid flora, delectable home cooked meals and a range of activities to indulge in is what makes the stay here truly an experience to cherish.
Salient Feature: The Heritage bungalow is nestled in 2600 acres of tea plantations that offers the guests to engage in variety of activities.
Tariff: 6,000 per night for double occupancy including breakfast; tour of the tea garden and factory visit complimentary.
Know More
#7. A Leader's Legacy Heritage Homestay, Kolkata – West Bengal
Located in a quiet corner of the Kolkata city, this hundred years old heritage bungalow belongs to an era lost in sepia prints and provides the vintage Kolkata experience. Built in 1900, it's the residence of eminent Lawyer and former Chief Minister of West Bengal Mr. Siddhartha Shankar Ray. The library is full of law books along with hundreds of novels; some of the records in the library date back to the 16th century and are priceless.
Salient Feature: The heritage, legacy and history attached to the homestay.
Tariff: 3,600 rupees per night for a double occupancy including breakfast.
Know More
#8. Nostalgia Heritage Homestay, Wayanad – Kerala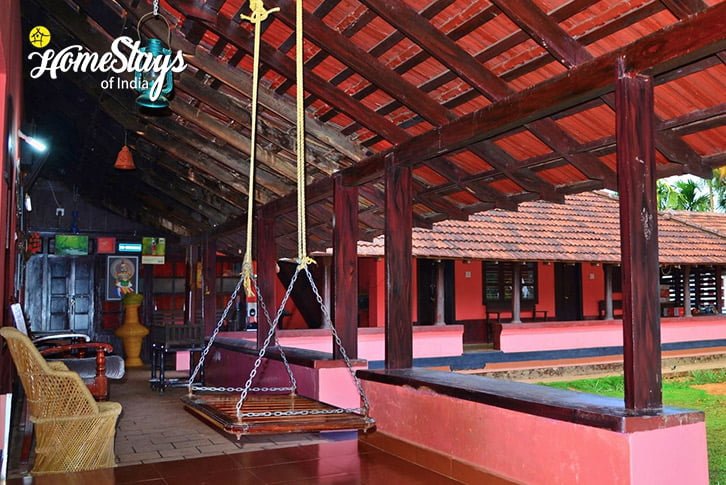 This is a 100 year old traditional home nestled in the peaceful green surroundings of a quiet village. The location and its vastness will immediately make you feel happily nostalgic and at home. The old world charm, calm and quiet atmosphere, warm hospitality, experienced hosts, and delicious local cuisine is what makes it unique.
Salient Feature: The traditional stay with warm hospitality
Tariff: 2,300 rupees per night for a double occupancy including breakfast.
Know More
#9. Keibul Homestay, Loktak – Manipur
The Homestay is located on a floating Island right in the middle of Loktak Lake in Manipur. You will be picked up and dropped back at Moirang Bazar by local boat. This 20 min journey is an unforgettable experience in itself. The homestay provides the unique experience of living like a local in a traditional thatched hut, do fishing and savor the lip smacking local meal served in traditional style.
Salient Feature: Unique experience of living on a floating Island
Tariff: 2,300 rupees per night for a double occupancy including breakfast complimentary.
Know More
#10. Nathuakhan Homestay – Uttarakhand
Tucked away on a hill, this lovely cottage in a small village near Nainital is somewhere you want to be for those relaxed vacations. Not just the tastefully done interiors, elaborate home cooked delicious meals and articulate and warm host but also the wide range of books and music collection make it one of the best homestays.

Salient Feature: Hearty elaborate meals prepared by the host herself.
Tariff: 5,000 rupees per night for double occupancy including breakfast.
Know More
#11. Parsatola Ecostay, Kanha – Madhya Pradesh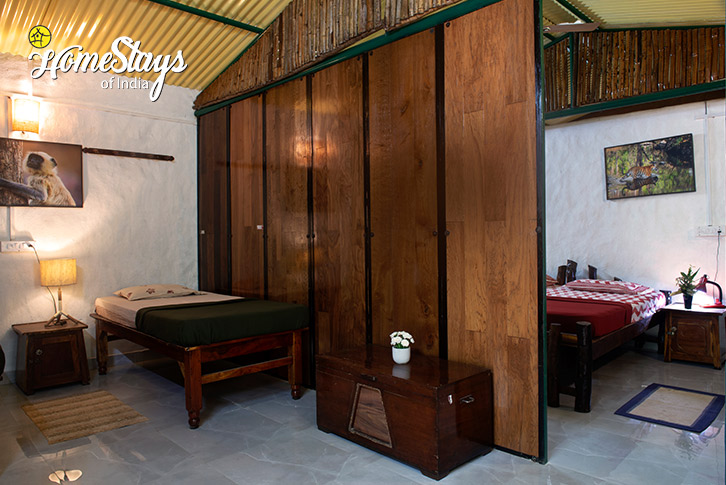 Spread across 3.78 acres of Kanha woodland, this solar powered jungle stay is a best example of sustainable ecotourism. The layout of the land is unaltered and in its natural condition. It boasts of being the only pure solar powered tourism project in India with 4 KV solar power plant. It is built in traditional mud and brick style and a high and heavy gauge metal roof has been thatched with a local grass which regulates the temperature and keeps things cool in the summer.
Salient Feature: It is a completely solar powered jungle eco-stay.
Tariff: 4,000 rupees per night for double occupancy including breakfast, lunch & dinner.
Know More
#12. River Symphony Homestay – Goa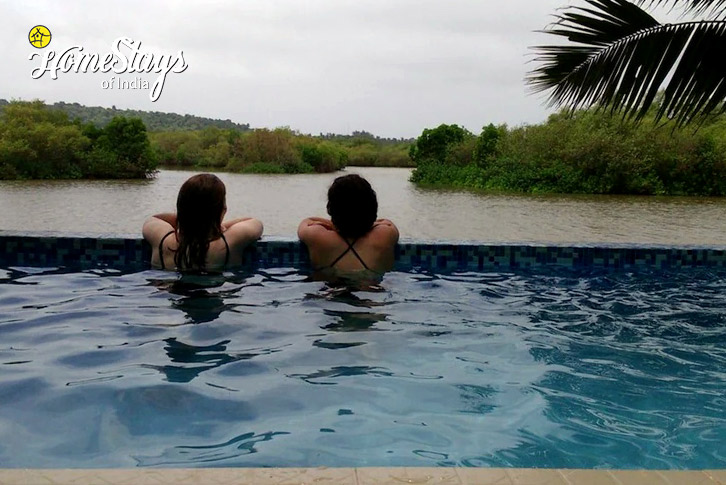 The list of best homestays in India is incomplete without one in Goa. Unlike many beach side homestays in Goa, this one is situated by the backwaters of River Mandovi in a calm and peaceful area of North Goa. It is hosted by the lovely Goan family of Leo and Jacqueline Fernandes. You can relish finger licking delicious authentic home cooked Goan cuisine. Beautifully landscaped riverside open space with shaded canopy of trees makes this place a few degrees cooler than the rest of Goa. The place is ideal for bird watching and if you are lucky you can spot otters as well in the river.
Salient Feature: Riverside homestay with an infinity pool
Tariff: 1,950 rupees per night for double occupancy including breakfast.
Know More
#13. Bordi Homestay – Maharashtra
This 150 years old ancestral property is originally a part of a 100 acre orchard that is thoughtfully laid out over 8 acres of land. It is located just across the road from the Bordi beach, a hidden jewel that still retains its old world charm. The home is filled with quaint antique pieces and tastefully upholstered furniture, the roof is still held aloft by Burma timber beams over a 100 years old and even the flooring and other parts of the entire home showcase the timeless design of a bygone era. Here the echoes of time still speak of an era of relaxed style, rich taste and sheer class.
Salient Feature: Located amidst orchards of Chickoo and Lime and Coconut palms just opposite to one of the cleanest beaches near Mumbai.
Tariff: 14,000 for the entire property.
Know More
#14. Chadiara Heritage Homestay, Chamba – Himachal
This gorgeous farmstay is one of the oldest and finest in the Panj-La Valley perched mid-way up a steep terraced slope and provides bird eye's view of the mighty River Saal. This traditional house, set amidst a 10 acres organic farms, is made of clay and wood with verandas overlooking the hills and valley. The inhouse farm provides organic fruit and vegetables for farm to table meals.

Salient Feature: Working organic farm with cattle, chickens and fish pond.
Tariff: 3,500 rupees per night for a double occupancy including breakfast.
Know More
#15. Katha Heritage Homestay, Bagpat – Uttar Pradesh
This heritage home was built more than 700 yrs ago by the Qazis of Katha and is restored by Shariq along with Alka Raza who wanted to settle down here after working abroad as an International Civil Servant for 24 years. It took almost 13 years of extensive reconstruction, renovation and refurbishing of remnants of their ancestral Haveli to get to the position it is in now. Every room is designed and furnished to give a different feel.
Salient Feature: Experience the royal stay in age old haveli
Tariff: 8,000 rupees per night for double occupancy including breakfast.
Know More
#16. Lagay Village Homestay, Pelling – Sikkim
This traditional sikkimese house is located in a serene village just 8 kms from Pelling. Experience the diverse culture, rituals, and customs of the locals from close quarters. It is one of the best places to experience Sikkemese hospitality. You will be treated like a family member. Enjoy an elaborate spread of local food prepared by the lady of the house herself.
Salient Feature: Experience authentic Sikkimese culture and lifestyle.
Tariff: 3,000 rupees per night for double occupancy including breakfast.
Know More
#17. Hilltop Castle Heritage Homestay, Udaipur – Rajasthan
This 18th-century castle in Udaipur is a place of opulence with the warmth of a home. Located on a hilltop overlooking a beautiful lake and providing a 360 degrees valley view. Here every time of the day has its own beauty; starting from the mesmerizing sunrise to the gorgeous sunset and then the sparkling night view of the city.

Salient Feature: The location that provides the breathtaking views of the valley and Udaipur city.
Tariff: 4,000 rupees per night for double occupancy including breakfast.
Know More
#18. Sounds of Nature Homestay, Bhimtal – Uttarakhand
Located in the calm lush green surroundings of Bhimtal, this is a tastefully constructed cottage overlooking the lake. You can feel the silence and hear the sounds of nature in the mornings and the evenings. The clear view of the lake is the highlight of the stay. Listen to the chirping of birds, the rustling of the leaves and enjoy picturesque views of the lake from the comfort of your room.

Salient Feature: The uninterrupted lake view right from your bed.
Tariff: 4,500 rupees per night for double occupancy including breakfast.
Know More
#19. The Tree House, Katakeri – Karnataka
Located in 1 acre of forest land and coffee plantation in Katakeri Village, this Tree House in Katateri is probably the most exotic stay in Coorg. It is equipped with a personal dry kitchen, fridge, microwave and in-room tea/coffee facility. Unlike most tree houses this one has attached bathroom and a private balcony in both rooms. Staying here is an experience in itself.

Salient Feature: Well designed tree house with all facilities.
Tariff: 18,000 rupees per night for entire tree house including breakfast and Dinner.
Know More
#20. Srinagar Homestay – Kashmir
Just a short stroll away from Dal Lake, this extremely charming homestay is surrounded by Zabarwan ranges. Every room of this tastefully done homestay is thoughtfully designed to provide maximum comfort and sophistication. You can enjoy delicious home cooked kashmiri meals in the well manicured garden or the courtyard.

Salient Feature: Meticulous attention to details
Tariff: 4,000 rupees per night for double occupancy including breakfast.
Know More