With our hectic routines, weekends are the best time when we get to relax our body, mind and soul. And we Delhites, are blessed to have so many destinations within 350 km that take just 5-7 hr drive to reach. Here is a list of a few such destinations that are ideal for those rejuvenating weekend breaks.
1. Lotwara – Rajasthan
This hidden gem in Dausa district of Rajasthan is only 240 kms from Delhi. Lotwara is located on the bank of Banganga River and is surrounded by lush green fields. It is thickly populated with peacocks and is also called the Peacock Town. The highlight of the village is the Lotwara Fort where the royal family continues to reside for centuries.
Things to Do: Go for a morning walk to the river and explore the village on foot during the day. High tea can also be organized on the river bed. Enjoy the bonfire and barbeque in the evening and a traditional style dinner on the terrace while the twinkling stars give you company. While staying here you can also go on an excursion to Bhangarh or Sariska, on the way back visit Chand Baori, the largest step well of India. 
Places to Visit: Radha Krishna Temple • Chhatries • Mehndipur Balaji (8 km) • Chand Baori – Abhaneri (11 km) • Sikandra – the hub of stone carving (26 km) • Jhajhirampura (40 km) • Bhandarej (45 km) • Bhangarh (72 km) • Sariska (82 km) • Alwar (84 km) • Bharatpur (90 km) • Jaipur (110 km) 
Stay at: Lotwara Heritage Homestay
2. Bhanoo Village, Panchkula – Haryana 
Just 240 km from Delhi, Bhanoo village in Panchkula is the place to be if you want to spend some quality time with family. It is a small village situated in the foothills of Shivalik famous for the ruins of Chandel Rajputs. You can explore Khol Hi-Raitan Wildlife Sanctuary, Bir Shikargah Wildlife Sanctuary and Morni hills while staying here. 
Things to do: Hike to unexplored nature trails chasing birds; spend quality time with family over bonfire and enjoy the barbecue; visit the village and get involved in the farm activities; try your hand at local cooking; shop at Chandigarh and get some good bargains. 
Places to Visit: Cactus Garden (14 km) • Mata Mansa Devi Temple (16 km) • ChattBir Zoo (17 km) • Sukhna Lake (20 km) • Kaushalya Dam (20 km) • Khuhi Nepli Forest (24 km)  • Khol Hi-Raitan Wildlife Sanctuary (23 km) • Bir Shikargah Wildlife Sanctuary (27 km) • Morni Hills (34 km)
Stay at: Panchkula Heritage Homestay
3. Corbett National Park – Uttarakhand
A lovely drive of just 5 hrs will take you to Corbett. 245 kms from Delhi, Corbett National Park has the glory to be India's oldest and most prestigious national park. The park is situated at the foothills of Himalayan belt and has a magical landscape with hills, river, forest, marshland and grassland. It is well known and fabled for Royal Bengal tiger's rich presence. It is one of the most sought after weekend destinations near Delhi. Ditch the main area and choose to stay in one of the many villages in the periphery of Corbett National Park. Some of them being Teda, Dhela, Kotabagh, Pawalgarh and Kyari. 
Things to do:  If you are wildlife enthusiast, go on jungle safaris to Corbett Tiger Reserve. You can also explore the surrounding nature trails on foot and enjoy the varied flora and fauna of the region. If it's a long weekend you can do a day trip to Nainital or Pangot. And if you do not feel like doing any of this, just relax in the peaceful environs of the sleepy little village. 
Places to Visit: Corbett National Park • Corbett Falls • Sitabani Temple • Kosi River • Pawalgarh • Haldwani • Nainital • Bhimtal 
Stay options: Teda Village Homestay, Kotabagh Homestay, Gebua Khas Homestay, Kyari Homestay, Pawalgarh Homestay
4. Dehradun
– Uttarakhand
Nestled in the Doon Valley at the foothills of Himalayas, Dehradun is one of the oldest cities of India and is just around 250 kms from Delhi. It lies between the Ganga and Yamuna Rivers and is known for its calm and relaxing life. Dehradun is surrounded by high mountains and lush green forests and is a gateway to several popular hill stations like Mussoorie, Chakrata, Kanatal etc.
Things to do: Go for a morning walk or drive to the Robber's Cave and take a refreshing bath there. After a delicious breakfast, you can go cycling or hiking; there are some gorgeous trails around. You can also delve into the flora and fauna of the region at Malsi Deer Park and Rajaji. There are opportunities to do adventure activities like rafting and paragliding. If you have enough time you can go on excursion to Mussoorie and Landour
Places to Visit: Chandrabani (5 km) • Buddha Temple (6 km) • Forest Research Institute Deemed University (6 km) • Indian Military Academy (6 km) • Tapkeshwar Mandir (8 km) • Robber's Cave (12 km) • Malsi Deer Park (14 km) • Khalanga War Memorial (13 km) • Sahastradhara (19 km) •  Maldevta Waterfall (19 km) • Mussoorie (36 km) • Dakpathar (43 km) 
Stay options: Go-Green Homestay, Utopia Lush Villa, The Opulent Stay, Serene Embrace Homestay, Majhaun Farmstay
5. Rishikesh
– Uttarakhand
Situated beside Ganga River in the Himalayan foothills of Uttarakhand, Rishikesh is 270 kms from Delhi. Also called the yoga capital of the world, It is an excellent place to meditate and study yoga. A few minutes walk from Laxman Jhoola is a quieter, relaxed area Tapovan, known for its yoga ashrams and laid-back terrace cafes with river view.
Things to do: There are ample things you can do in Rishikesh. You can just relax or meditate by the banks of Ganga; for the adventurous people, there are opportunities for white water rafting, cliff jumping, rappelling etc; you would love to do cafe hopping here if you are a foodie. Whatever you decide to do during the day, do attend the ganga aarti in the evening. With all the chants and the diyas floating in the river, it is something not to miss.
Places to Visit: Lakshman Jhula (1.5 km) • Ram Jhula (2 km)  • Tera Manzil Temple (2 km) • Neer Garh Waterfall (5 km) • Triveni Ghat (5.5 km) • The Beatles Ashram (4 km) • Jeen Mata Kali Temple(12 km) • Vashishta Gufa Temple(18km) • Shree Neelkanth Mahadev Temple (21 km) • Rajaji Tiger Reserve Cheela Zone (25 km) • Byasi (27 km) • Haridwar (31 km)
Stay at: Take-A-Pause Homestay – Rishikesh
6. Lansdowne
– Uttarakhand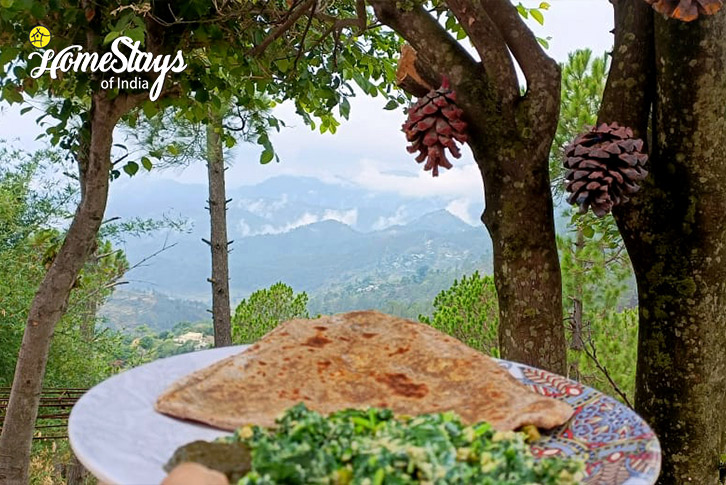 A beautiful drive of 6hrs through pines will take you to this little haven in Uttarakhand dotted with pines and oak. On a clear day, you get a breathtaking view of 300kms long Himalayan range and a vast valley view from Jaiharikhal, 6kms from Lansdowne.
Things to do: The best way to explore Lansdowne is on foot. Enjoy serene nature trails, relax at cool cafes, and visit old churches and temples.
Places to Visit: The War Memorial • Garhwali Museum (450 mtr) • Gurudwara (750 mtr) • Kaleshwar Mahadev Temple (1km) • Dice Stadium (1km) • Paltan Bazaar (1km) • Bhulla Lake (1.7km) • Tip In Top (2.4km) • Jaiharikhal (5km) • Waterfall (10.5km) • Bagji Bugyal (14km) • Kalagarh Tiger Reserve (13km) • Siddhi Valley (17km) • Prachin Durga Mandir (27km) • Tarkeshwar Mahadev Mandir (36km)
Stay options: Solitary Nook Homestay; Whispering Pines Homestay
7. Jaipur – Rajasthan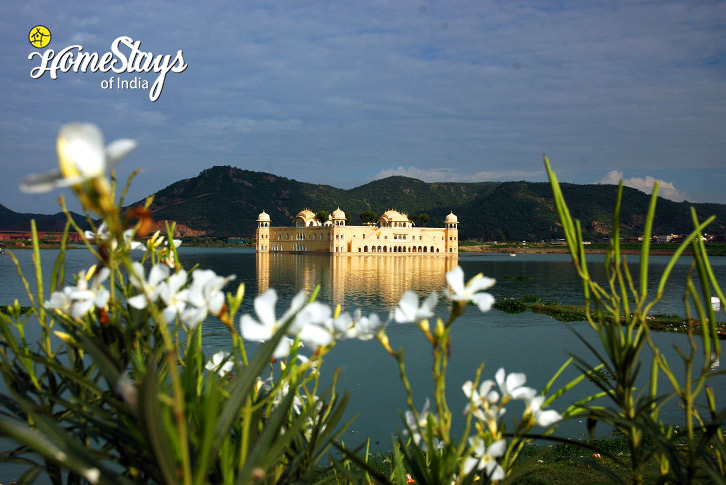 One of the most vibrant cities of Rajasthan, Jaipur is just 280 kms from Delhi and is an all time favorite weekend destination from Delhi. Art and culture, architecture, history, nature, shopping and food; there is something for every taste.
Things to do: Explore the timeless charm of Hawa Mahal, iconic Amber fort and many other forts and palaces; trek or cycle your way to Nahargarh fort; discover the ancient world of astronomy at Jantar Mantar; stroll through its gardens and courtyards; e it exploring the architectural brilliance of its forts and palaces, experiencing a royal stay or shopping and getting good bargains on handicrafts, ethnic jewelry and attire or jaipuri quilts and treat yourself to best of Rajasthani cuisine. 
Places to Visit: City Palace • Hawa Mahal • Jantar Mantar • Govind Dev Ji temple • Albert Hall Museum • Birla Mandir • Moti Doongri Fort • Monkey Temple of GaltaJi • Jhalana Dungri • Leopard Safari Reserve • Chokhi Dhani • Jaigarh Fort • Nahargarh Fort • Amber Fort • Textile villages of Sanganer (14 km) 
Stay Options: Elegance Boutique Homestay; Gangapole Homestay; Pride of Rajput Heritage Homestay; Vaishali Homestay 
8. Pangot
– Uttarakhand
Pangot is a small village tucked away in Kumaon Hills, 320 kms from Delhi. It is surrounded by dense mixed forest dominated by oak, pine and Rhododendron trees that are home to a plethora of exotic bird species like Red-billed Blue Magpie, Lammergeier, blue-winged minla, Greater Yellownape, Koklass Pheasant, Black-throated Sunbird etc.  
Things to do: Pangot is surrounded by many unexplored nature trails where you can walk and take in the freshness of nature, listen to the birds chirp and leaves rustle and have a picnic by a stream. The sunset in Pangot is extraordinary. The sky turns into a canvas with multiple hues of pink and purple, the clouds get a silver lining and the sun shyly sets making way for dusk. You can also trek to Naina Peak. Pangot also offers adventure activities like rock climbing, rappelling, zip lining and the Burma-Bridge. And of course it is a birding paradise, so pick up your camera and go chase birds!
Places to Visit: Ganiyal Devi Temple (500 mtr) • Local Hikes • Brahmasthali Temple Trek (5 km) • Naina Peak Trek • Kilbury and Pangot Wildlife and Bird Sanctuary (9 km) • Nainital (15 km) 
Stay options: The Birdsong Cottage; Pristine Wooden Cottages; Birder's Dream Homestay
9. Bhimtal
– Uttarakhand
A picturesque drive of around 320km through pine and oak forest will take you to this tranquil town nestled in the lower Himalayan region in the Nainital district of Uttarakhand.  This scenic lakeside destination is a treat for love birds, family and friends. In contrast to Nainital, which is always bustling with tourist crowds, Bhimtal is more peaceful and less touristy. 
Things to do: Indulge in boating and kayaking; angling can also be done here. To see the wildlife in its natural habitat, trek to Hadimba parvat that is located in the outskirts of Bhimtal. It is known to harbor a large number of wildlife species. Or just enjoy you cup of tea with your favourite book.  
Places to Visit: Bhimtal Lake • Nal Damyanti Lake • Bhimeshwar Temple • Garg Parvat • Victoria Dam • Butterfly Research Center • Hadimba Parvat (5 km) • Naukuchiatal (7 km) • Sattal (13 km)  • Nainital (22 km) • Mukteshwar (38 km) 
Stay Options: Sounds of Nature Homestay; Jone's Estate Homestay; Bhimtal Heritage Homestay
10. Padampuri
– Uttarakhand
Nestled in the foothills of the Himalayas among the Kumaon ranges of Uttarakhand, Kanarkha village near Padampuri is the perfect weekend destination for those who want some time off to rejuvenate in the lap of nature. It is just 334 kms from Delhi and is rich in flora fauna. Being a fruit belt, orchards here are full of Peach, Plum, Apricot and Pears. 
Things to do: Trek along the less-traversed-paths and explore the forests full of Kumaon lemon trees and Rhododendrons. You may sight Sambhar, Mountain Goat and Barking Deer. Its gorgeous star-studded nights can easily refresh your romance. And you can also experience village life and participate in farm activities and local cooking on chulha. 
Place to Visit: Snow Peak View (15 minutes walk) • Jilling Estates (2 km) • Padampuri (6 km) • Bhimtal (23 km) • Mukteshwar (26 km) • Naukuchiatal (28 km) • Nainital (37 km)
Stay at: Kanarkha Homestay – Padampuri 
11. Kanatal
– Uttarakhand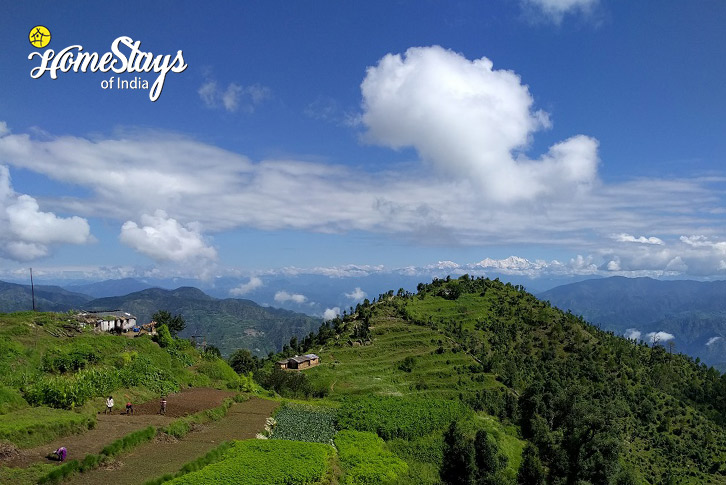 Kanatal is a small hamlet, situated in the Garhwal region of Himalayas in Uttarakhand. If you like walking along undiscovered forest trails, sitting by the mountain stream and chasing butterflies across meadows, plan your weekend break at Kanatal. It is just 324 kms from Delhi and is located on Mussoorie – Chamba road.
Things to do: There are ample hiking opportunities here. Traverse through the winding paths through Rhododendron and oak forest. There are some serene nature walks as well to enjoy the beauty of nature and get surreal views of Himalayan ranges. The forests here are home to some rare bird species so if you like birding, do carry your binoculars and camera. In addition you can go on jungle safari at Kodia village, hike to surkanda devi temple, indulge in water sports at Tehri Dam and do some adventure activities like rappelling and rock climbing.
Places to Visit: Local Trails and Treks • Surkanda Devi Temple (5 Km) • Kaudia Forest (5 Km) • Dhanaulti Eco Park (11 Km)  • Chamba (18 km) • Tehri Lake and water sports (33 Km) • Mussoorie (43 km)  
Stay at: Rising Sun Eco-stay
12. Chail – Himachal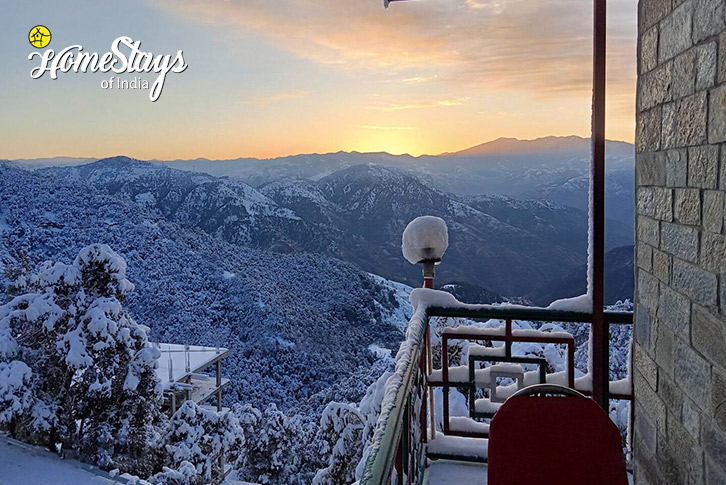 With its lush greenery, fabulous climate and breathtakingly beautiful views of the snow-capped Himalayas, Chail, a quiet little hamlet is a slice of heaven just 337kms from Delhi. Situated amidst the Shivalik range of Himalayas, it provides one of the best vantage points that you will get in all of Himachal. Chail is the home for the world's highest cricket ground. 
Things to do: Visit Chail Wildlife Sanctuary and Himalayan Nature Park. Trek up to Kali ka Tibba where you can walk through varied flora and fauna. Angling and horse riding can also be done near Kali ka Tibba. Get yourself lost in the antique charm of the Chail palace; enjoy pristine nature and delicious food at the open air dining area in the Palace.
Places to Visit: Stoned Kumbh Shiv Temple (2km) • Chail Palace (6km) • Chail Gurudwara (7km) • Sidh baba ka Mandir (8km) • Chail Cricket Ground (8km) • Chail Wildlife Sanctuary (8km) • Kali Tibba temple (12km) • Sadhupul Lake (15km)  
Stay at: Sweet Breeze Homestay
13. Darima, Mukteshwar
– Uttarakhand
Darima is a quaint little village located near Mukteshwar in the heart of Kumaon region of Uttarakhand just 348 kms from Delhi. Darima is covered in lush green fields and fruit orchards and is ideal for a peaceful stay away from regular tourist crowds. The dense oak forests that it is surrounded with has a variety of Himalayan birds. 
Things to do: There are many nature walks around where you can spot many species of birds; visit the Mukteshwar temple and the church; go for a picnic at Bhalugad falls; indulge in adventure activities like rock climbing and zip lining at Chauli ki jali and enjoy the mesmerizing views of snow covered Himalayan peaks. You can also trek from Darima to Mukteshwar and from Mukteshwar to Peora. 
Places to Visit: Nathuakhan (6km) • Ramgarh (14km) • Mukteshwar Dham Temple (15km) • Mukteshwar MahadevTemple (15km) • Chauli Ki Jali (15km) • Peora (17km) • Bhalu Gaad Waterfall (18km) • Padampuri (26km) 
Stay Options: Darima Boutique Homestay; Nature's Bounty Homestay
14. Mashobra – Himachal 
Mashobra is a quaint little town of Himachal Pradesh, 350 kms from Delhi. It is a part of Shimla Water Catchment Wildlife Sanctuary and you can spot Baboons, Jackals, Barking Deer, and the occasional Leopard here. It has a variety of bird species as well. Originally the retreat for British families who wanted to have some quiet time away from, yet accessible to, their official summer retreat, Shimla, it still has the feel of British countryside. 
Things to do: Explore the lush green surroundings, apple orchards, and the reserve sanctuary on foot. Walk through the coniferous trails during the day and sit around the bonfire with your group at night. 
Places to Visit: Craignano National Park (3 km) • Shimla Water Catchment wildlife sanctuary (4 km) • Jakhoo Temple (9 km) • Mall Road (10 km) • The Ridge (10 km) • Shali Tibba (10 km) • Naldera (12 km) 
Stay at: Jagoti Homestay 
15. Ramgarh
– Uttarakhand
Popularly referred to as the fruit bowl of Uttarakhand, Ramgarh is a serene hill-station situated in the Kumaon region. It is dotted with orchards of apricots, peaches, plums, apples, etc. Ramgarh is an ideal place to soak in the beauty of the Himalayas in solitude, peace and quiet. Its beauty and pristine environs have inspired many writers and poets.
Things to do: Don't plan a packed itinerary but enjoy leisurely nature walks and maybe a hike up to Jhandidhar through oak and rhododendron forests.
Places to Visit: Dadi Point • Mahadevi Verma Library • Tagore Top Nathuakhan (9km) • kainchi Dham (17km) • Mukteshwar (28km) • Bhimtal (34km) • Nainital (36km) • Almora (46km) 
Stay at: Bohrakote Homestay 
1 comment