Sweet earthy smell, cool breeze and lush greenery; the season of monsoon undoubtedly brings out the best of the already beautiful landscapes of India and make them even more incredible. Relaxing on the balcony watching the rain while sipping hot tea; trekking through misty pathways and chasing some of the rarest birds; sitting by the banks of sparkling rivers and bathing in cascading waterfalls; going wild in the rumbling cacophony of thunderous storm clouds. Monsoons throw open a whole new world of experiences and make it an interesting time to travel.
From the misty mountains in the north to the refreshing green landscapes of the south, from the rain lashed Konkan coast to the wet and wild north east – the country has no dearth of choices when it comes to monsoon destinations. Here we present to you a list of 15 top destinations in India that come alive during monsoons
1. Ghoom – WB
Misty mountain roads, clouds playing with the tall pine trees, gorgeous green shades all across the valley, toy train chugging through the white blanket of mist and sweet aroma of Darjeeling tea makes Ghoom a perfect getaway in Monsoon.
How to Reach: It is just around 66 kms from Bagdogra airport and 70 kms from NJP Railway station
Stay at: Ghoom Homestay
.
2. Pahalgam – Kashmir
Beauty of Kashmir is unparalleled in all the seasons but Monsoons bring out the best. The valley looks amazing with swollen rivers, greenest meadows and a sweet scent of pines. Apart from the regular places, you can go on Tarsar Marsar trek which is one of the best amongst the monsoon treks. Be it the secluded alpine lakes, green meadows with wildflowers and wide swathes of green, this trial has all the flavors. Visit in September to avoid the Amarnath yatra crowd.
How to Reach: Srinagar airport is the nearest airport, 94 km away from Pahalgam.  Hiring a local cab from there is the most comfortable option to reach Pahalgam. A good network of roads connect Pahalgam with the rest of Kashmir Valley.
Stay at: The Greenwood Cottage • Scenic Delight Riverside Homestay • Shades of Spring Homestay
.
3. Goa
Rainy season is supposedly the most beautiful time of the year in Goa. There are many unconventional things you can do in Goa in Monsoons. Head out on a road trip to the ghats like Chorla, Amboli and Anmod that'll take you through dense forests, lush green mystic valleys and gushing waterfalls. Witness the lively waterfalls that are in their full glory during this time. Apart from Dhudhsagar falls, you can visit visit Tambdi Sula waterfall in the Bhagwan Mahavir Sanctuary, Mynapi and Savri waterfalls in Netravali Wildlife Sanctuary and Hivre waterfalls in Valpoi. The rivers are also in full force, making it a good time to enjoy river rafting, especially in the Mhadei River. 
How to Reach: Dabolim International Airport is 34 km, Karmali Railway station is 8.5 km and Vasco Da Gama Railway station is 26 km. Regular road service is also available from Mumbai.
Stay at: River Symphony Homestay • Inheritance Beach Villa • Sand and Shore Homestay
.
4. Karjat – Maharashtra
Karjat is abundant in raw natural beauty and heavenly landscapes during monsoons. It is the starting point for trekking trails like Kondane Cave trek, Chanderi Fort Trek, Matheran Trek and Peth Fort Trek. The pleasant weather and the slight drizzle add to the charm of the treks. The water streams in Karjat like Bhivpuri, Palasdhari, Ashane and Kalote also get lively during monsoons and you can enjoy river rafting as well.
How to Reach: The nearest airport is Chhatrapati Shivaji Maharaj International Airport, Mumbai, 76 km from Karjat. From there you can go on road or take a train.
Stay at: Ulhas Farmstay
.

5. Chail – Himachal
It is a peaceful paradise for those who want to soak in the beauty of nature. This tiny hamlet looks gorgeous in monsoons with lush green fields, pine and cedar trees covered in fog and fascinating views of Himalayan mountains. Chail has some beautiful nature trails to explore and many peaceful corners to soak in the serenity of mountains. And having hot cup of tea while watching the rain outside is something you can always enjoy.

How to Reach: It is around 45 km from Shimla and Solan. The nearest airports are Jubbarhatti at 62 km and Chandigarh at 117 km. To reach Chail by train, you first have to reach Chandigarh or Kalka. Then take the narrow gauge train to Kandaghat. Chail is well connected by road.
Stay at: Sweet Breeze Homestay
.
6. Udaipur – Rajasthan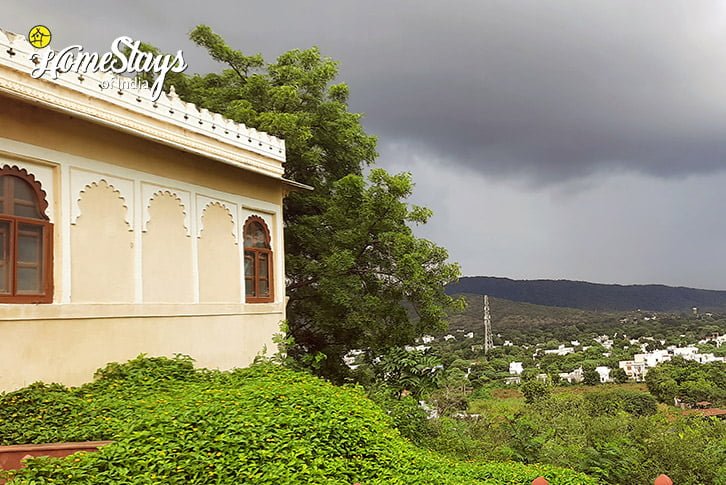 Udaipur is a beautiful city of tranquil lakes, exquisitely laid out gardens & opulently decorated palaces and forts narrating stories from the past. Beauty of Udaipur is further enhanced in Monsoon. Not only is the temperature just perfect for moving around, you get to see the lakes in their true glory. Do not miss visiting Sajjangarh, also called the Monsoon Palace, to view the picturesque city during rains; Ambrai Ghat and Fatehsagar Chowpatty for mesmerizing sunsets and Lake Badi.
How to Reach: Udaipur airport is just 24 km and the Udaipur railway station is 4 km from the city. Shuttle service is available from both the airport and the railway station.
 Stay at: Hilltop Castle Heritage Homestay • Marwari Charisma Heritage Homestay • Lazy Dreams Homestay
.
7. Takdah – West Bengal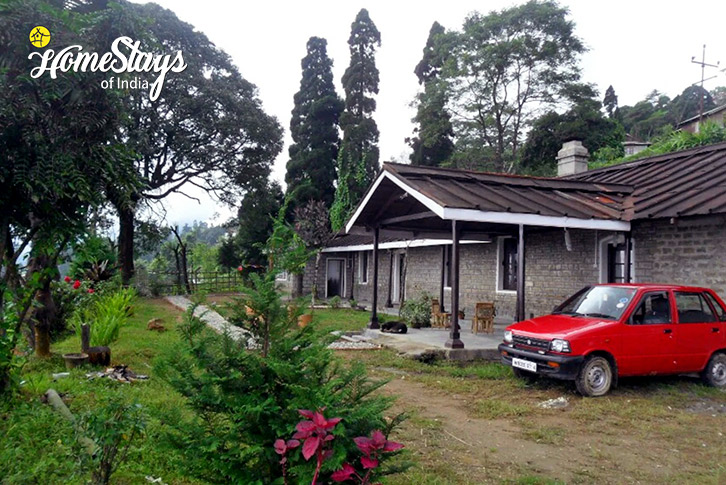 Takdah literally means land of misty clouds, and is a perfect monsoon retreat in West Bengal. With the long stretches of cider bound streets, sprawling tea gardens, blooming orchids, clouds playing hide and seek, it is paradise on Earth, especially this time of the year. Celebrated for its heritage bungalows, you must stay in one of themwhen you visit these idyllic mountains.
How to Reach: Nearest Railway Station is NJP at a distance of around 78 km. Bagdogra is the nearest airport, around 86 km away. 
Stay at: Ancient Glory Heritage Homestay • Tea Trails Homestay • Misty Garden Homestay
.
8. Nongriat – Meghalaya
With drizzle all along, the clouds floating around and lush green outdoors, it's difficult not to step out and taste the wilderness in Meghalaya. This is possibly the best time to see the living root bridges of Meghalaya when the surrounding vegetation is at its best. Trekking to Nongriat till the double-decker root bridge can be an experience in itself for the adventure lovers. Walk down 3500 steps that pass through the rare flora including some exotic orchids. To make the most of the trip take it slow and plan an overnight stay in Nongriat and come back the next morning.

How to Reach: Umroi Airport at Shillong is the nearest airport located at a distance of 80km from Cherrapunji. Another major international airport close to Cherrapunji is Guwahati Airport (LGBI Airport) around 165 kms away. You have to walk down a trail of around 5kms (around 3500 steps) to reach the village. The hike starts from Tyrna village near Cherrapunji.
Stay at: Nongriat Homestay
.
9. Ranikhet – Uttarakhand
Give a refreshing twist to your busy life and quench your thirst for natural beauty at Ranikhet, a picturesque hill town with old colonial charm. It is surrounded by dense pine, oak, rhododendron and deodar forest and is blessed with unique flora and fauna. Take long walks to experience the beauty of dense forests and lush green pastures. Some of the walking trails include the Army holiday home to AMU Guest House, the mall to the AMU Guest House, and from Jhula Devi Temple to orchards of Chubatia. You can also hike from Chaubatia Orchards to Holm farm, Chaubatia to Bhalu Dam and Meghdoot to Jhula Devi Temple. 
How to Reach: The nearest railway station is Kathgodam, 78 km away and Pantnagar airport is 113 km.
Stay at: Rautela Homestay
.
10. Hampi – Karnataka
Hampi is one of the most beautiful places in Karnataka and its beauty is enhanced by the onset of monsoon. The dry vistas turn into vibrant green pastures and the myriad of temples dotting the scenic landscape look gorgeous drenched in rain. Walk through green paddy fields, climb Matanga hill for a perfect aerial views of the city, cross Tungabhadra river in a coracle boat, sit in between thousands of boulders with the river flowing by your side or just relax in one of the huts next to Tungabhadra river.
How to Reach: The nearest airport at Hubli is 143 km away. The nearest railway station is in Hospet, 12km away from Hampi from where you can take a local bus or an auto-rickshaw to the town.
Stay at: Rub of the Green Homestay
.
11. Mararikulam – Kerala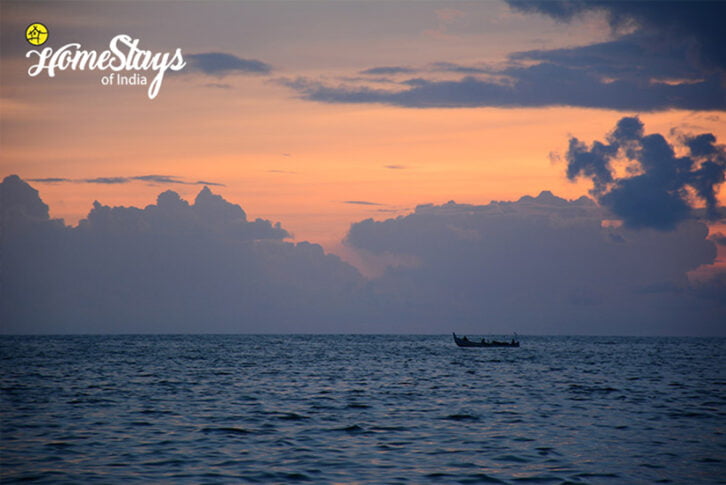 Monsoon is one of the best times to explore Kerala. Mararikulam, a tropical paradise enveloped in peace, serenity, and untouched natural beauty can be a great choice if you are looking for a quiet romantic holiday. The softly swaying coconut palms and empty golden sands of this beach are perfect companions for your monsoon vacation. Plan it around Oman to be a part of the local festivities. Also if you plan to take any Ayurvedic treatment, monsoons are the best time.

How to Reach: Cochin International Airport is 75 kilometers away from Mararikulam
Stay at: Marari Homestay
.
12. Coorg – Karnataka
Known to be a biodiversity hotspot, Coorg reaches a different level of jaw-dropping beauty when it is pouring. Soak in the serenity at Abbey Falls, catch stunning views from Raja's Seat, embark on a coffee plantation trail, meet elephants in Dubare and trek to Chelavara and Iruppu waterfalls. If you like some adventure, go for river rafting at Barapole river which pounces with heavy bumpy waters during the rainy season. You get to eat some yummy food during this season – mushrooms (many varieties which only bloom in the rainy season), bamboo shoot, freshwater crab and fish. 
How to Reach: It is just 5 hrs drive from Bangalore. The nearest railway station is at Mysore (120 Km) and the closest airport is Kannur (97Km).
Stay at: The Tree House, katakeri • Coffee n Spices Homestay • Escape to Wilderness Homestay • Coffeeana Heritage Homestay;
.
13. Mukteshwar -Uttarakhand
This season comes with an amazing opportunity to experience the greener side of Uttarakhandand and Mukteshwar is a best choice for its easy accessibility, spectacular views of the Himalayan ranges, enchanting deodar forests, and range of stay options offering all kinds of experiences. Wake up to the bird songs, have a lazy day and enjoy pahadi meals, go for a lunch picnic to bhalu gaad falls. There are many unexplored nature trails as well that will be at their best after rains.
How to Reach: The nearest airport is Pantnagar which is 94km away and Kathgodam is the nearest railhead at a distance of 60km. Regular road bus services and taxi are available from Delhi, Kathgodam and Haldwani. 
Stay at: Sunkiya Tree House • Nature's Bounty Homestay  • Sargakhet Homestay • Darima Homestay
14. Ooty – Tamil Nadu
The charm of Ooty is at its peak during the rainy Season.  Enjoy the natural landscapes with cool weather, hot tea, aroma of eucalyptus and beautiful lakes inside the shola forest. Nilgiri Mountain Toy Train, Doddabetta Peak, Catherine falls and Pykara Lake are the hotspots where you can experience the mystic clouds flowing across your head. Sipping your hot tea amidst the scenic landscapes is surely a blissful experience. 
How to Reach: The nearest airport is at Coimbatore which is located around 88 km and the nearest railway station is Mettupalayam, 49 kms  from Ooty.  kilometers away from Mararikulam
Stay at: Tea by the Lake Homestay
.
15. Gangtok – Sikkim
Sikkim in monsoon has a mystic charm that will leave you spellbound with splendid views. You can witness the monsoon flowering in Changu Lake, Kupup, and NathuLa when colors explode all around and you can smell the mild fragrance of wildflowers in the air. You can also spot the rare species of the birds at this time. There are many local festivals also that are held in July and August.
How to Reach: Pakyong airport is the nearest airport, just 25 kms from Gangtok but it has limited connectivity. The nearest well-connected airport is in Bagdogra about 128 kms away. Cabs are available from the airport. 
Stay at: Antiquity Heritage Bungalow • Lineal Homestay • Tales n Trails Heritage  Homestay

Whichever destination you choose, make it a point to sit in the balcony enjoying rains while having pakoras with a hot cup of tea, hike through the lush green misty pathways and chase rare monsoon birds, drown yourself in the sound of raindrops falling from the eaves of a thatched roof and wake up to a green rain-washed morning.
Bon Voyage!